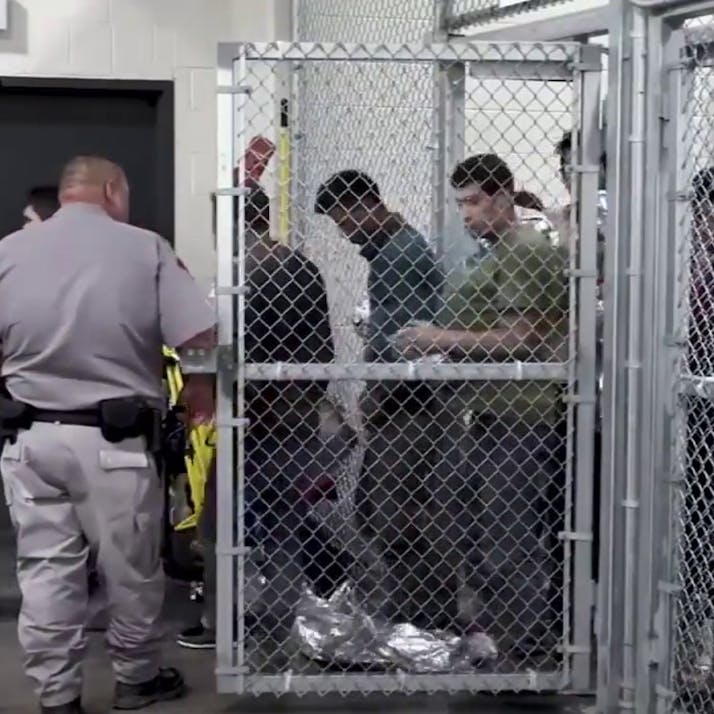 Crimmigration: I Was Detained by ICE for Two Years and I'm Still Fighting the Power
Released by Immigration and Customs Enforcement, the author moves forward in search of justice.
/ / /
Cancer season recently passed and as I sit here celebrating my 35 cycles around the sun, I cannot help but reflect on what I've learned so far about the complicated, super-racist immigration and "criminal" (in)justice system. I've been in and out of jails, detention centers and prisons, and the most critical lesson I've learned from being in those spaces is that no cage is capable of healing a human being. The personal transformation that occurs to someone on the inside is due to their resilience and their fight for dignity in a place that was built to forget them.
I refuse to forget. I refuse to make other lives forgettable. 
This time last year, I was planning my first annual justice fundraiser at a nightclub in downtown Phoenix. I'd created it to fund the commissary needs of women inside of Perryville State Prison. At the event, the host of the nightclub not only recognized our table but stopped by to discuss the treatment of incarcerated womxn inside during Arizona's mass incarceration crisis. It was so powerful, and it was happening at a nightclub in downtown Phoenix.
This year, for our second fundraiser, I want to honor my comrade who has been in prison for over five years now—by sharing her strength and needs from inside, and to use my platform on social media to highlight the violence prisons inflict on our communities, so it can serve as a tool for popular education about criminalization and mass incarceration.
My goal for these events has been to create pathways for our community to discuss mass incarceration.
Incarceration is so stigmatized that even those of us who have experienced it have a hard time talking with one another about the harm that prisons inflict, particularly by separating families. Most of us have loved ones inside but they may be too far away for us to see, or we're too ashamed, or there are simply too many financial hurdles for us to clear. These are barriers set up by those in power to make the lives of incarcerated and formerly incarcerated people harder.
It's important that we remember everyone deserves to live a life with dignity.
I've Experienced the Worst of the Prison System Firsthand
I too have been processed into Perryville, for a DUI, before I was passed on to Immigration Customs Enforcement to face deportation. I too have been funneled into prison through the immigration-to-prison pipeline. My experience led to the modern concentration camp referred to as a "tent city," where the xenophobic former Sherriff Joe Arpaio brought back the disgraced tradition of prison chain gangs.
In March of 2018, my mom and sister-in-law held my hands as they walked me into hell.
Immigration activists have long reported that ICE relies on algorithms to assess a person's risk level while in custody, determining your bond amount or if you're even eligible for release at all. The day before walking into hell, my deportation officer emailed my lawyer and told them that the system said I had to be detained again. I had already spent two of the most awful years of my life there, and those memories kept flashing through my mind. My mother looked at me. "I don't have another two years to give them," she cried, as she held me and prayed for strength and wisdom from the Virgencita.
Spending two entire years of life in ICE custody was incredibly tough and having to prepare myself and my family to walk into the unknown again was even more difficult. Memories of an ICE box overwhelmed me. I remember asking my sister-in-law to buy me thermals and pack me warm clothes. What other choice did we have? What other choice did I have? I've seen ICE break into homes and hunt people down.
Their only purpose is to target, incarcerate and deport. Immigration is a civil matter, but this country is now charging people with felonies for migrating in search of a better life.
What Is Crimmigration?
"Crimmigration" is the intersection where criminal law meets immigration law. We cannot talk about it without talking about criminalization, a term that encompasses the various ways in which people in positions of power label the migration, movements and actions of certain people and communities as criminal. Criminalization can involve many different aspects, including media narratives, political rhetoric and, of course, the writing, passing and enforcement of criminal laws. How does the legal system deal with non-citizens? How do we deal with these labels enforced upon us by the state? These policies historically are not created or voted on by the community that faces the brunt of their harm.
This strategy is demonstrated through the everyday violent interactions that Black, indigenous and immigrant communities face daily in Arizona. We're still feeling the harm of Arizona SB 1070, also known as the "show me your papers" law that shook the world when it was passed in 2010. SB 1070 was blatantly racist and xenophobic legislation meant to deport undocumented people by racially profiling entire communities.
We are being haunted by ICE through cops. Phoenix police still have to verify the immigration status of every person they arrest. The state is still criminalizing.
So, now I ask, what is criminal activity? Who is a criminal?
It's crucial that we think of the shared interest of criminalized citizens and non-citizens alike, as we are building power and relations with one another. The same right-wing politicians and fanatics that push outright racist rhetoric do so through policies and laws that associate immigrants and people with convictions to criminality. Yet it is these politicians and fanatics who are the ones caging children and families at the border just for wanting a better chance at life.
We, the most impacted people, did not consent to over-policing policies, hyper-criminalization and racialized laws that have been imposed upon us. We continue to deal with police killing people with impunity, and Black lives being snuffed out merely for living at the bloody hands of blue lives.
I'll never forget getting brutally attacked by a Department of Homeland Security cop after practicing my First Amendment rights. How are police above the law when activists and protestors are seen as enemies of the state?
We're Fighting to Create a New World for the People With the Greatest Needs
My favorite part of organizing against the state is, well, all of it.
Dismantling and fighting back against labels. Organizing to defund the police and ICE. Causing an awakening for the rest of the world to witness the cruelties of state-sanctioned violence. Now the whole world is seeing the truth about the awful "peacekeepers" that are supposed to protect and serve us. This is not just about ICE and police—it's about rejecting white supremacy and transforming how we see each other. It is about unlearning the impulse to police one another.
We must reject systems that don't serve those with the greatest needs in our communities: Black people, undocumented people, unsheltered people, those labeled "felons," those who are trans and nonbinary. We are witnessing how we are actually safer without the police and ICE. We need resources that the state clearly doesn't care about fulfilling: support, food, each other. All of this is part of the new world we are creating.
We didn't break laws. Laws have broken humanity.