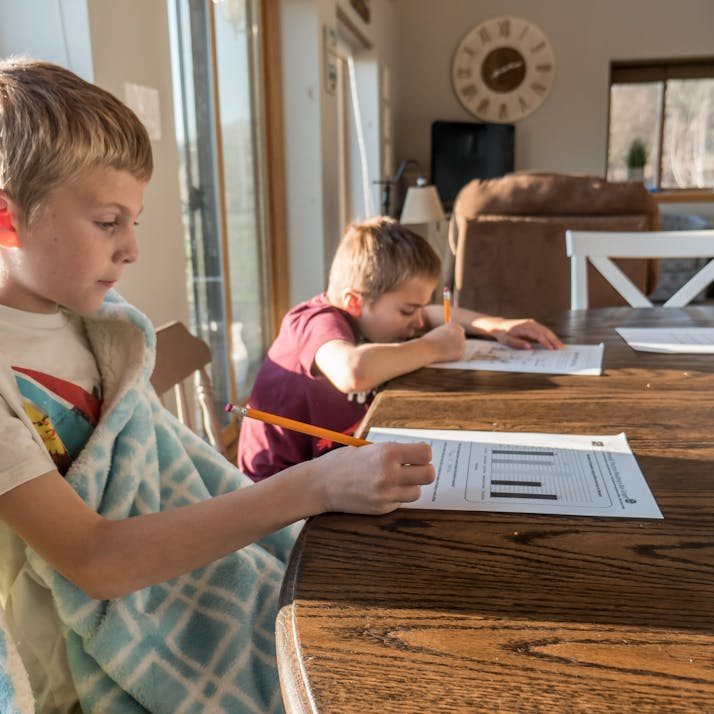 We Had 48 Hours: How Teachers Transformed the Education System Over a Weekend
A high school teacher explains how she and her colleagues overhauled how they teach in two days.
/ / /
I went back to my classroom in late April, a month after our world exploded. Entering the building, I felt the surge of morning adrenaline that usually precedes a day of teaching, but the vacant hallways and absent cacophonies of voices were a sober reminder that this wasn't a typical morning. No quick footsteps to beat the bell or steam from the contraband coffee that students snuck into their seats. The memory of all that vibrant classroom life imprinted in my mind pained me like a phantom limb.
Picture this: You've been in your career for over a decade. While there is incremental evolution in your field, the comprehensive, systemic change it really needs often feels infuriatingly impossible. If you know anything about education, you know that it's as weighed down by bureaucracy as just about anything. March of this year now feels as far off and remote as those Chernobyl photographs of life frozen in 1986. Those first weeks of that month were marked with the early stages of the pandemic and rumblings of the possibility of remote learning. While our curiosity was piqued by the rumors, no one truly believed we'd actually be doing it. 
Before that fateful Friday the 13th, when lockdown went into effect, my office sounded like a carnival of uncertain birds. 
"Who knows? We might go remote, but I doubt it." 
"Do you even think that's possible?" 
"What would that even look like for teachers and students?" 
"It's not going to happen." 
But it did happen. 
What's worth noting about my district, as opposed to many other districts around the country, is that we were notified on a Thursday night that we'd be going remote the very next Monday. While other districts added buffer weeks onto their spring breaks in order to prepare for this change, we navigated a paradigm shift that was beyond all of our imagining just a week before—all in the span of a weekend.
Bureaucracies Don't Become Nimble Overnight
We spent that final Friday of in-person classes navigating a complicated balancing act of staying calm to quell our students' panic while simultaneously grappling with the frantic unknown of the sweeping transformation we had just 48 hours to pull off. Students deserved to see that we as human beings could be resilient in the face of an unexpected challenge, but that it is was also okay to feel anxiety, to feel fear. In each class there was a mix of calm and frenetic direction; I told my students to take everything they could home.
And then we had 48 hours to figure out how to do it all differently.
Two days to plan and fret and fret and plan. Two days to not only prepare for a radical reimagining of our teaching careers, but also to process what it meant to be in a global pandemic. What would it mean for my family? What would it mean for my son in first grade? 
How would I do my job, teach my students and facilitate my child through the content his own industrious teachers crafted for him?
Teachers are consummate problem solvers and world-class improvisers. I quickly realized that we'd be inventing things as we went along. Even though we were blindsided by the timing and pace, there was always that underlying sense of our fine-tuned ability and gumption: If we can teach amongst lockdown drills and endless budget cuts, we could do this. 
And we did.
How to Revolutionize American Education in Two Days
That first day we only had time to test out new tech tools, collaborate with our colleagues via Google Meet and Zoom, and prototype what we hoped would be a successful first week of online curriculum. As with most prototypes, there were glitches. Before we left our brick-and-mortar setting, the mission we were given was loud and clear: recreate the school day, with the same levels of work and rigor you would offer in a normal in-person class period.
How naive we were. Oh, the missives I wish I could send back to my first-week self.
My teaching teams and I created what we hoped would be rich, meaningful and engaging content that still challenged our students and maintained their baseline motivation to learn. Without that intangible magic of the in-person interface to rely on, we had to engage in some content design acrobatics, although we didn't quite understand how acrobatic we'd really need to be.
From the outside, it may have looked like we had one single problem to solve—how to teach classes via video chat—but there were an endless number of complicating factors: How to meet the needs of all of our students with special educational needs and plans. All of the students acting as stand-in facilitators for their siblings. All of the students with jobs. All of the students grappling with mental illness. All of the teachers with underlying health problems. All of the teachers with children at home, whose learning matters as much as their students. All of this while we are about to have our salaries frozen, if not potentially cut for the second time in over a decade. (And again Betsy Devos has dug her heels in on diverting public CARES Act funds to private schools.)
Teachers Tried Hard to Fix Things; We Still Failed
On Tuesday, March 17, it all began in earnest. By the middle of the day, I'd received a message from one of my more vocal and cynical students (who I love for it) bemoaning the workload and claiming she'd spent more time on schoolwork in our first day of remote learning than she did on a regular school day. Regrettably, I didn't believe her at first, which violates all of my teacher's instincts. I think in those early days I felt so determined to perform under the pressure, and that my snap judgments had to be right the first time, that I forgot the most essential rule of teaching: Listen to your students.  
After hearing from more stressed-out students, I knew remote learning version 1.0 was not going to work. Deflated and defeated, I slid my chair back from my dining-room-table-turned-desk, head in hands, heart overloaded with the weight of this colossal task.
Thankfully, I snapped out of it. The stress of those hectic 48 hours hadn't taken away my ability to reflect. Our plan to replicate a normal school day was untenable—in fact, the pressure it levied on our students uncovered a new hierarchy of needs specific to remote learning. Perhaps this will be one of the most important lessons we'll take away from this experience.
With each mounting Zoom call, I realized our initial version of direct instruction and discussion was no longer feasible and was no longer priority number one. Test scores and grades had started to seem abstract and tertiary. In these same moments, I realized it wasn't all that gorgeously-designed instruction that would keep us afloat, but the deeply entrenched relationships we'd cultivated painstakingly throughout the year.
Relationships kept students checking in. Relationships persuaded them to hop on Zoom calls when they were needed. Relationships encouraged them to trust us and trudge through new types of work.
But there were times when relationships weren't enough. By the first Thursday of remote learning, I started to notice a handful of students who weren't answering the Google Classroom question of the day or submitting that week's piece of writing or shooting me emails to ask questions. It hadn't even been a week and I was already seeing how quickly and easily it could be for them to slip through the cracks. 
My anxiety swelled.
Real Change Means Learning From Those Mistakes
The universal teacher mantra is, "Am I doing enough?" Yes, it's phrased as an anxious question instead of an affirming statement, but we're teachers—we want to learn and grow right along with our students, and we know that questioning our world is the swiftest path to wisdom. We have high expectations for ourselves and we don't need any underfunded, ill-designed evaluation system to force this question. But with these first-week epiphanies came an intensified cycle of asking myself this question—a cycle that dominated all of my decision-making as we anxiously awaited news about the fate of our remaining school year.
It was only when we knew it wasn't an extended spring break, when we accepted this was the reality of this semester, that we perhaps fully understood the magnitude of what we'd just accomplished. That first week following Friday the 13th wouldn't go down as a blip or a Band-Aid or a patch job. The decisions we made in that brief time would affect the trajectory of the rest of the semester, and most likely the school year to come.
Now, as we look forward to a year beginning during this pandemic, I sincerely hope that we don't take the lessons of this past spring for granted. March heralded a paradigm shift, perhaps one that education desperately needed. 
We cannot simply drift back to sleep.
I wish I could end this article on an optimistic note about what this country will learn from this past spring. Sadly, I cannot. I do know, however, that at the grassroots level, this country can depend on its teachers to continue to problem-solve and innovate in the face of whatever is slung at us. Even if we only have two days to do it.