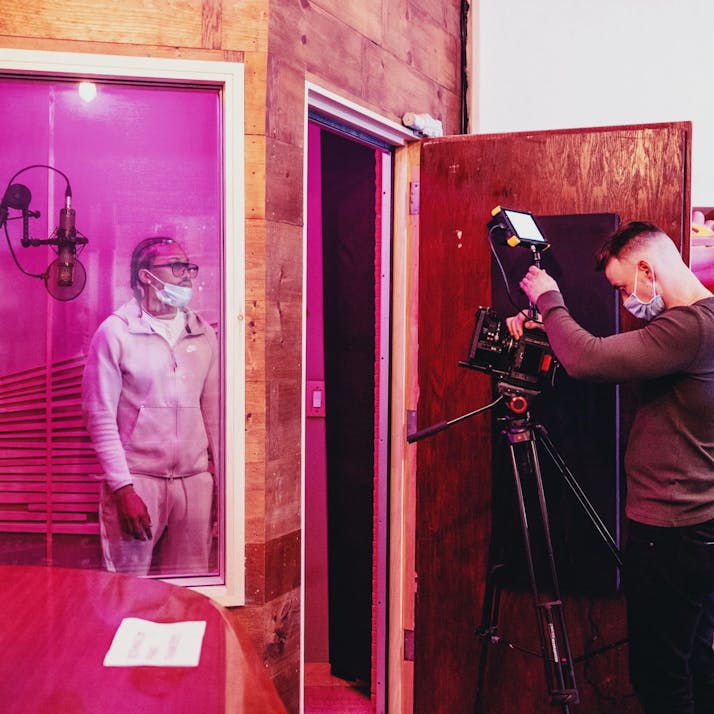 How COVID-19 Is Shaping the Future of the Music Industry
An A&R rep writes that the future of the music industry is being changed forever by the coronavirus pandemic.
/ / /
I'm an A&R at an independent record label. A&R means "artist and repertoire." Basically that means I bring in new artists to sign, and then I become the person at the label that they speak to about everything before their release comes out. I work with them on the recording side to line up collaborations, features, remixes and other ways to shape their sound. Then I coordinate with the other departments of the label to make sure their campaign goes smoothly the way they want it. So it goes from recording stuff to music videos and photo shoots to ads and other promo. I'm basically their trusted friend along this road.
It's very personal. All my artists and I were on texting and calling terms before COVID. I have artists around the world so I was always checking in with them before and traveling to see them perform in their local town performing. There was a lot of chasing new acts, and then being there physically and mentally for everything else.
There's no traveling right now. I've signed a few artists by Zoom, but mostly my job right now is a lot of checking with people. Since we're not there for people as much, there's so much checking in to see if someone is doing okay, outside of just music. It's a lot of making sure everyone's still in a good creative headspace, or like a good headspace in general. 
I feel like being an A&R to me is just being sure that everyone is just doing okay, and finding ways to inspire creativity over the computer, just keeping in touch and having regular communication. I think for a lot of people, when you're not in the office or around others, everything becomes a lot more serious. You have a lot of time to just think about every word over email, so I think for me it's been a lot of damage control, with me defending the label or me defending the artist, and there's no positive right now, for me at least. It's been really stressful. 
The Biggest Music Industry Issues in 2020
A lot of releases this year got pushed back and scaled down. I think this year was the first year where I felt deadlines and release dates don't really matter. There's no point in stressing about that. All the artists have been super understanding that nothing they wanted to achieve is going to be possible unless we can do it remotely. 
Before when I had bad news I usually had a solution. But these last months have just been like, "This is impossible. We have to wait until next year." Most of my artists are moving their releases and waiting to shoot all the visual stuff when things get back closer to normal. 
Telling artists they can't do things now isn't that big of a deal, because everyone is battling the same things. I've had to pull out of a couple of deals just because of the budgets on certain things. That was really sad, because I feel that the way I do A&R is, I spend so much of my personal life getting to know them before an offer is even on the table. I had a major setback of not being able to sign at least three or four artists that I thought would be on the label next year. I'm extremely sad about all of that, which probably makes me down all the time now.
Especially on the video production side and photo shoots, there have been some times that people just stop responding to you or don't deliver any assets after you've paid them and asked them to do it. There's definitely that scare of like, oh shit, is this person alive? Are they okay? And a couple of times it was because they had COVID.
How COVID Has Impacted Me as an A&R
I have two therapists now, to just basically manage my feelings from different artist conversations. I guess we talk about my personal life too, but mainly work and not knowing how to figure it out. It's a lot of emotional stress, dealing with their feelings and not being there to talk about things in person. But that's something we're all missing right now. It's like having seven long-distance boyfriends. This one artist of mine, I think he kinda spiraled. I want to say he had a psychiatric episode when everything went into lockdown. He's in a small town, and I'm still not able to reach him, which is pretty scary.
Right now it's definitely like you have to "break it or make it," like they say. It's just understanding and using your resources outside of touring and making music. The artists that are thriving right now are the ones channeling their creative talents elsewhere, not just recording music and relying on the label to push everything. 
I have this one artist who, to him, being a musician means making the records and going on tour, and now he's not able to record anything or tour. I've also had artists be really stuck. I have an artist who can't finish her album because nothing's inspiring to her. She's not dating around right now so she can't write any love songs. She got stuck for a few months, but I think she's over the hump now. 
What's Next in Music Is Already Happening
But people are finding other ways now that we've been in lockdown for so long. Artists are getting really creative with exploring the digital space and getting paid for their creativity. People are using Twitch, especially if you're a DJ or a producer. Then there are paid content platforms like Patreon that they're using. 
I have this one artist who was able to make three music videos from her parents' attic. We had directors Zoom with her and get her all the right equipment. She's just shining from this experience. Because those videos are beautiful and she's learning a lot of new skills and got a green screen and everything. The whole album campaign came out of her bedroom, when she's usually touring around the world. 
Another positive side effect of everyone being stuck at home is that remote sessions can happen. I feel like a lot of artists before were like, you have to physically come to our studio for us to work together. Since that's not an option, people are meeting collaborators around the world on Zoom, and that's good. More opportunities are happening. The other day I got to connect one of my artists in New York with a producer in London and his manager, who's based in China. It was a challenge to figure out a time for all of us to hop on a call, but that was a pretty special moment. And they've continued to do sessions together.
I think everyone is figuring out different ways to get through this. (Or at least I hope so.) Some just take longer than others. I hope we come out of this experience still being open to doing as many video calls and video sessions. The music industry is improving in some ways. We're checking in on each other way more than before and being more self-aware. But please, once this is over: no more virtual DJ sets.