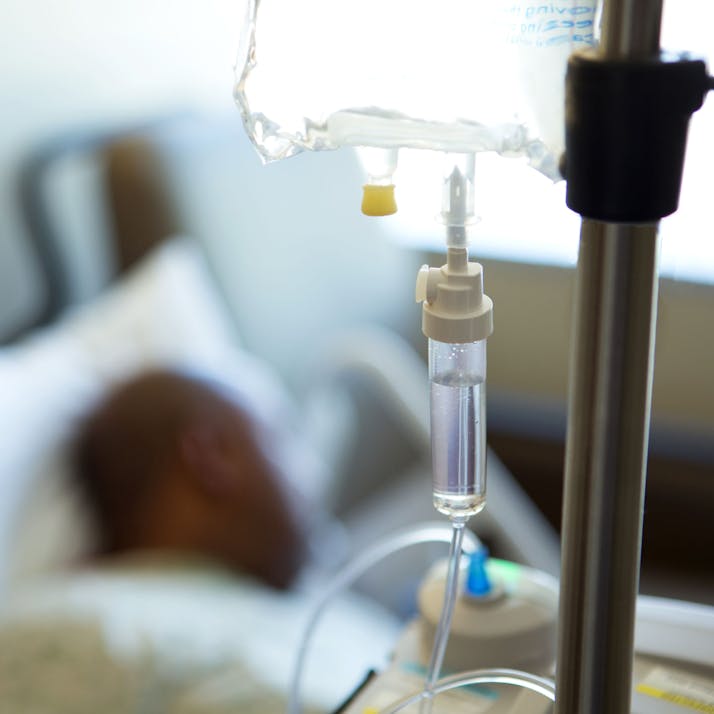 My Painful Encounter With Homophobia in a Kenyan Government Hospital
All of my horrors were realized when I sought treatment for an STI.
/ / /
Being a journalist, I have, on several occasions, written about homophobia and the numerous struggles the Kenyan LGBTQ community encounters daily.
To survive in the largely conservative and homophobic society, gay people in Kenya are forced to live a rather secretive life and forego many things, including religion, education, family and employment. Most churches reject LGBTQ people; they face discrimination in schools, forcing many to drop out; many get rejected by families once they come out as gay; and government institutions are reluctant to employ gay people.
Just like in many African countries, the Kenyan public detests gay people to an extent of seeing them as outcasts. In Kenya, gays are held in utmost contempt. The Kenyan constitution lists healthcare as a human right that should be accessible and affordable to all Kenyans without any form of discrimination based on religion, gender, age, social status or tribe, but for gay people, this right is often and openly disregarded and violated. Under Kenyan law, homosexuality is outlawed, and government institutions and the public take advantage of this to humiliate, intimidate, harass and extort people believed to be gay or gay-friendly.
In Kenyan public hospitals and prisons, homophobia is rife. Ask any gay person in Kenya and they will tell you the two places they would wish not to visit are public hospitals and prison.
I Was Refused Treatment Because I Had an STI
My experience with homophobia in a public hospital was a nasty one: It almost drove me into committing suicide. I'm thankful for the swift action from a gay support group; otherwise, mine would have been a nasty story.
What started as a simple rash on my genitals turned out to be the worst experience of my life. For weeks, I had experienced some sort of discomfort in my ass when walking or while sitting. The rashes had spread all over my genital area, and this got me worried. At first, I had assumed that maybe it was a simple allergic reaction that would disappear with time. But as days passed, the condition worsened, and after a month of suffering in silence, it was evident that something was not right.
Visiting a government hospital confirmed my worst fears: It turned out that I had contracted a sexually transmitted infection.
Tests confirmed that I had been infected with human papillomavirus (HPV), which resulted in acute anal warts.
But at that point, the news of an STI did not even shock me like the reception and treatment I received from the healthcare workers at the government-run health facility. 
"Huyu ni shoga; kujeni muone shoga," (meaning "this one is gay; come and see a gay person") the doctor shouted. Shoga is a Swahili word and Kenyan slang for a gay person.
"So how did you get infected with a disease for women?" the doctor thundered, sending shivers down my spine.
Within no time, the doctor's room was full of nurses who had come to witness my predicament.
At this point, my wish was only one: that the earth would open and offer me an escape route out of the room.
For a moment, pain from the anal warts had disappeared and was replaced with pain from the mockery and ridicule I was receiving from people who ought to have given me consolation, comfort and care.
"Here we don't treat gay people," one nurse shouted from a corner of the room.
"This is satanic. These people [gays] are the cause of all calamities in this country," a second nurse interjected.
All this time, nobody seemed to be feeling my pain. To them, I deserved it.
Being a journalist, I summoned some courage and confronted them, asking them to view me as any other patient and not as a gay person.
"With all due respect, doctor, just look at me as any other patient and treat me with dignity," I thundered, but the good doctor paid by the taxpayer could hear none of it.
The doctor stood his ground and, as if adding salt to injury, told me that the STI was a "punishment from God."  
He ordered me out of his room and directed me to go and seek traditional medicine because according to him, my sickness was a curse from the heavens.
"Stop having sex with men or you will die like a dog," were the doctor's words that followed me as he ushered me out of his room.
Dejected and abused, I walked out of the hospital with two things: a story (as a journalist) and pain (as a patient).
I Got the Assistance I Needed Through an Underground Organization
I felt unwanted and unworthy. With the pain (both physical and emotional) still raging, I moved into self-isolation in my house, far from the world which seemed to work against me.
For two weeks, alone and helpless, I thought of taking my own life, but on seeing my mother's portrait hanging on my wall, a second voice would tell me to hold on.
And with the effects of the STI becoming worse, I had to break the silence and find a solution.
Through my journalistic connections, I approached a local secret gay support group in our city and search for help. The group, which operates secretly for fear of government crackdown, links LGBTQ people in need of medical assistance to private clinics and medical personnel who offer LGBTQ-friendly services. The group runs secret safe spaces where LGBTQ people who are sick, victims of violence or those being targeted can seek refuge.
"Your condition seems serious," the director of the lobby group told me before I could even narrate my ordeal to him.
I was booked in one of the rooms inside the safe house, and within an hour, a venereologist was at hand to examine my situation. I was put on intravenous fluids for three hours as tests were carried out. I commenced treatment immediately after the doctor recommended that I could still receive treatment at the safe house without being admitted to a hospital.
After a week of treatment, my body was on a full recovery path, and hope was restored.
Thankfully, the lobby group paid for my treatment and even got me enrolled in a gay support group to help heal the trauma caused from my experience at the government hospital.
LGBT-Friendly Health Centers in Kenya Provide Life-Saving Care
Hundreds of gay people in Kenya, especially those from rural areas where support groups are scarce, are forced to endure pain and suffering in silence any time they contract STIs for fear of facing homophobia in government hospitals.
However, in the last 10 years, civil organizations and rights groups are teaming up with doctors and medical personnel to set up health facilities and centers that are LGBTQ-friendly to offer services to LGBTQ people who face victimization in government hospitals. The centers offer free testing for all sexually transmitted infections, treatment of STDs, referrals for specialized treatment, free antiretroviral drugs, free condoms, as well as offering free lubrication fluids. 
Apart from offering medical services, the LGBTQ-friendly centers also act as counseling points for gay couples, safe centers for gays people who are in danger, as well as training centers.
Such free and accessible services being offered by such organizations are coming in handy for the LGBTQ community in Kenya so they no longer must battle infections and sickness in silence for fear of being victimized in government hospitals whenever they seek treatment.