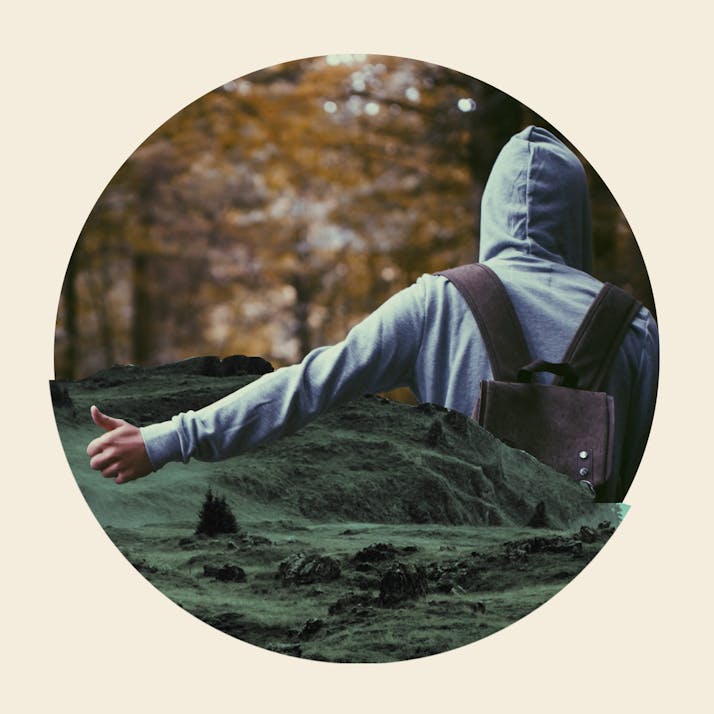 I Moved to India for Three Months and Learned How to Hitchhike
Living in the countryside for the first time in my life, I quickly developed skills to reach my destinations and made meaningful connections.
/ / /
I have worked as a state government education consultant for the last five years, solving grass root-level problems and loving my work. But in 2017, my life took an adventurous turn when I was transferred to a remote village in India for a new project. I was tasked with visiting the village's 80 schools, all set in a semi-rural area, to assess various parameters like infrastructure, health and hygiene, learning outcomes, management and community involvement. 
Until that time, I had always lived in cities and was totally unaware of village culture. The place was completely new for me. Initially, I was very reluctant and skeptical of moving there, but after my friends motivated me to explore "rural India," I was ready to experience it. 
I Was Forced to Hitchhike to Work
In the very first week, I realized that the village's public transportation system wasn't good. In some places, roads were unpaved and there was no bus network. Around 60 percent of people owned kutcha houses—houses built with unburnt bricks, bamboo or loosely packed stones—even though there were a lot of Neem and peepal trees. But the project was important, and somehow I had to visit those 80 schools in the timespan of three months and complete all the documentation.
On the first day, I decided to hitchhike to a school. To my surprise, the plan worked well, and I got a ride within ten minutes of waiting. As I was navigating my way there, I realized I needed to take four rides to reach my destination. All four times I got free rides very easily. Soon, I got questions about living in a new place. Why did I come there? Where did I come from? How am I managing lodging and food? I appreciated the concern they were showing towards me and I'd quickly met four new people on the very first morning. 
Working in the school was also smooth and people were quite welcoming. During lunch, one teacher very quickly noticed that I was struggling to eat with my hand without a spoon (that's how people eat there, with their hands). It was both funny and embarrassing for me, but the teacher empathetically taught me the art of eating with hands. People there believe that eating with hands adds extra taste to the food, which gets missed if eaten with a spoon. I found the logic both innocent and funny. Later that evening, another teacher offered me a ride for about nine kilometers, and after being dropped off, I had to take another two rides to reach my residence. I hardly had to wait for those either. Having met so many new people in just one day, I was euphoric.
I Began to Make Friends With Neighbors and Local Drivers
This continued over the following days, sharing rides with strangers and hearing their stories. It was so much fun to hitchhike seven to eight times each day.
One day while returning home, it was raining heavily, and very few people were on the road. I was completely drenched. Then a tractor came into my sight (I was in an area of agricultural fields) and the driver gave me the sign to hop on board. It was the first time I'd seen a tractor in real life and we spent time sharing our stories. I wasn't in a hurry to reach home, so I also asked about his work and how he spent his day. Sitting beside him, on the front of the tractor, having a conversation, amid torrential rain and high-speed winds on my face, was a beautiful and completely new experience for me. I loved being in the countryside. 
After a month, neighbors started inviting me for meals with their families. They knew I was living alone and was still new to the place. I got to know them better, but the best thing was the food. I ate so many different types of local dishes about which I'd never heard before. Everything was so surreal. I was completely overwhelmed by their gestures and gradually also started feeling more comfortable around them. In cities where I have always lived, most people aren't aware of even those who live next to them. It was different here.
Hitchhiking Has Changed My Perspective
Hitchhiking on a daily basis has also taught me lots of tips and  tricks to do it successfully, such as:
Be prepared to walk all day. One should be ready to approach hitchhiking as a walking adventure with a chance of getting a ride.
The most important factor for getting a ride is location. One needs to find a place where it's easy to be seen early (to give the driver time to decide to pick you up), and where the driver can safely pull over. Ideally, there should be some traffic, but also not too much, as this makes pulling over difficult and makes drivers assume that you can always get a ride with somebody else.
My three months there were some of the most beautiful days of my life. The experience changed my perspective towards so many things, and now I appreciate small things around me and in my life.