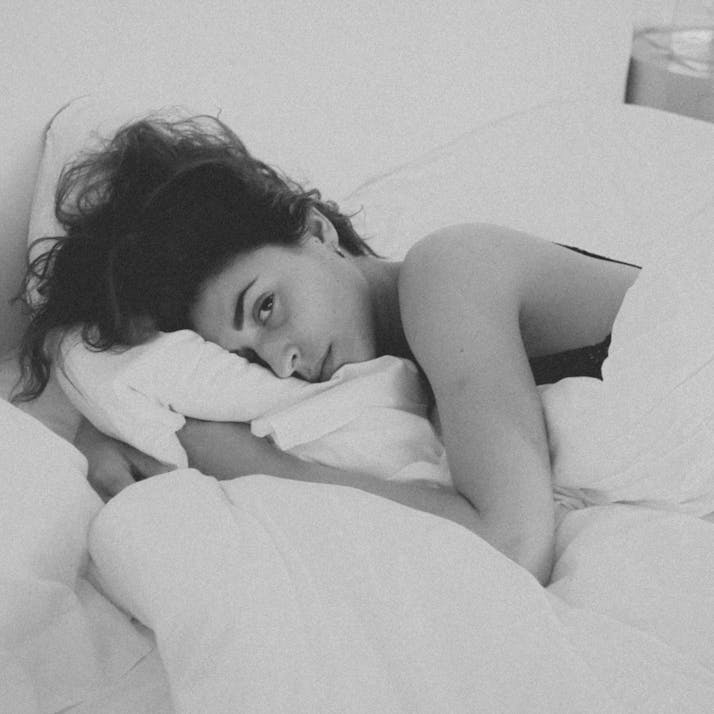 I Had an Affair With My Best Friend's Husband
An Irish woman details the affair that turned her life upside down.
/ / /
It wasn't a perfect life, but it was pretty close. I married young and, by the time I reached my 30th birthday, I had four young children, the home of my dreams, financial security and a husband who—if less than perfect—was a good person and provider. We had fun together and a busy social life, even if we never set the world alight between the sheets. I just assumed that I wasn't supposed to have it all.
A sex life that ventured from the mundane to the "grin and bear it" was the price I assumed I needed to pay for all the other trappings of a middle-class existence. One day, it just wasn't enough anymore. I first met Joe at his daughter's sixth birthday party. His wife Laura had become a good friend through numerous playdates we had organized for our daughters; the girls had become inseparable since meeting on their first day of school. Over the next few years, Laura and I became the best of friends.
Her husband Joe, however, remained something of an enigma to me. Men had always been drawn to me (as I had to them), but every time I was in his company he appeared to fix me with an icy glare that always set me on edge. He didn't like me and I didn't like that. He wasn't a sociable man but on the rare occasions that we did meet, his disdain for me bordered on rude. I was flummoxed. And intrigued. He became something of a challenge to me and, while having an affair never really crossed my mind, I was determined to win him over.
I was bored in my marriage and needed a distraction.
I Cheated With My Best Friend's Husband (and I'd Never Been Happier)
I began to find all sorts of fictional excuses to call to their home and, gradually, he seemed to warm to me. One night Laura invited me to dinner with herself and Joe. My husband was traveling for work, something that was becoming more and more common. I happily obliged. Later that evening, I finally found myself alone with Joe, Laura having had too much to drink had excused herself and wandered up the stairs to bed. In one life-changing moment, the atmosphere became electric and within seconds we found ourselves wrapped around each other in the most passionate kiss I had ever experienced. When I eventually left to return home, he came with me to spend the night. That was the beginning of the end.
Our year-long affair began that night, and as it progressed, my interest in my marriage regressed. I was completely committed to my new love who had captivated both my mind and my body. I suffered from occasional pangs of guilt, but, in general, I was a master at compartmentalizing. My relationship with Laura continued, grew even and, through it all, I blossomed. Joe, however, was not doing as well. He was a faithful man by nature and our situation distressed him greatly. He struggled with the deceit and the guilt and tried on numerous occasions to end it. He always came back.
The End of the Affair Tore My Family Apart
Throughout this time, Ireland was on the verge of economic collapse and my husband was spending more and more time traveling in an effort to save his failing business. He had become somewhat manic due to the financial stress, behaving more and more erratically. I used the opportunity to indulge myself even more in my new favorite hobby, thinking little of the consequences that might result. I was drunk on love and, as far as I was concerned, that trumped everything else.
One year and one month after our affair began, everything came crashing down when the guilt became too much for Joe to bear: He confessed to Laura about his indiscretion. He didn't mention my name but she had her suspicions, knowing her husband as she did and witnessing how he began to behave around me. My husband had also started to suspect something and when Laura confided to him what was going on in her marriage, everything clicked into place. And so, the nightmare began.
Coping With Life After the Affair
Joe left his family home and stayed at a hotel while I navigated my way through the hellscape I had created. At home, in a fit of rage, my husband decided it appropriate to tell our children every sordid detail. They ranged in age from six to 12 at the time, and knew Joe and Laura as our friends and the parents of their own friends. My first encounter with Laura—after it all came to a head—was at our children's school a few days later. It ended with her spitting in my face as the children looked on silently. I deserved it; the children didn't.
Their confusion and upset was heartbreaking for me to witness but the biggest challenge to their innocent childhood came when their father finally lost control and punched me in front of them. That's when I knew that he had truly lost it, that I had pushed him over the precipice that he had been clinging on to for dear life. Nothing excused his lashing out at me but I knew deep down that the man I had married would never have considered such an act.
The stress of the economic meltdown had put him under such intense pressure that when he found out about my betrayal, it was more than his mind could handle. The worst part was, I didn't beg for forgiveness. I didn't promise to end it and I didn't ask him to stay. In many ways, I was relieved. I could finally stop living a lie.
He left a few days after that, returning to the Middle East where he had been trying to cultivate some work. We never saw him again. He abandoned his business, his life and his children. Suddenly life became all too real. I found myself without money, security and abandoned by many that I had considered friends. I lost everything. I was the fallen woman in our neighborhood and the gossips delighted in it. Sidelong glances became the norm and the kids learned to live with the whispers about their mother. We struggled, but we managed.
A few years later, my youngest son picked up the telephone in our home as we were packing up our belongings to leave (the house was being repossessed by the bank as my husband had fled with all of our savings). I looked at him expectantly to see who was calling and watched his face change from calm to confused as he asked, "Who is this?" After a short pause, he continued, "I think you're my dad."