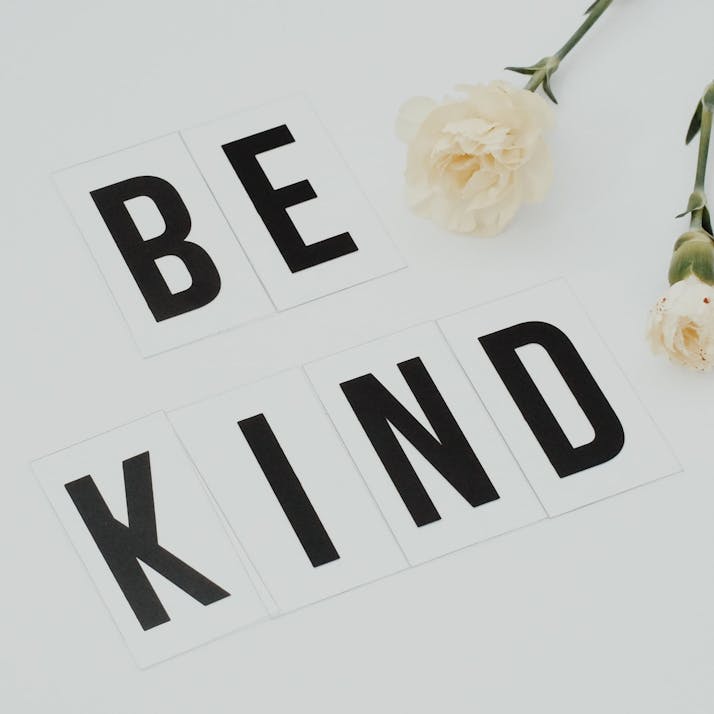 In a Critical Time, Has The U.K. Lost Its Will to Be Kind?
A British choral singer reflects on his upbringing and the disappearance of "loving thy neighbor."
/ / /
When I was young, I was told that "kindness is a virtue." Nobody really explained its significance, or that "virtue is a grace" was the second part of the phrase. But for some reason, it stuck. The current lockdown has brought a great period of reflection, one in which the orthodoxies of the day are questioned, and so I've reflected on our country's will to be kind. At a time when successive conservative governments are determined to crush the bonds between citizens, we need to hold on to kindness for dear life. But in order to foster it anew, we must first find out what has driven us to this moral deficiency, and why Britain's capacity for kindness is at an all-time low.
While kindness was always encouraged by my family, I found it could never really escape from school, and that school could never properly escape from religion. In the U.K., education is divided every which way—private or comprehensive, posh or shit, north or south, religious or secular—and our institutional battlegrounds are drawn from a very early age. I went to a shitty, comprehensive, northern secular school, meaning we were supposedly free of the religious indoctrination that leads trendy people in the media to now declare their state of "lapsed Catholicism." But did we really escape it?
For a start, we sang hymns in assembly. Most were chosen for their melodic content rather than their holy meanings. But lurking past the usual primary school fare of harvest festival calypsos and jaunty two-steps were reworkings of Enrique Iglesias songs proclaiming the second coming, along with other "new church" messages of resurrection, hope and fear of God. At Christmas, we performed the traditional Christian nativity; in the spring, I played Jesus in the school's Easter production. When studying religious education, we visited two churches (synagogues and mosques were always conveniently out of reach). And, stapled onto a puckered backboard and framed in corrugated, gold-sprayed cardboard was our own "love thy neighbor" golden rule: "Treat others the way that you would want to be treated."
In the U.K., Kindness Has Been Commodified or Forgotten
My relationship with faith is built on firm, if passive, contradictions. There's the Christian messaging in non-faith schools, sure. But then there are my parents. One is avowedly Methodist, the other stays quiet to keep the peace. There's also music. As a professional choral singer, I regularly sing in cathedrals, churches and chapels proclaiming the Word and entering awkwardly into the austere pomp and ceremony of Anglican and Catholic traditions. My politics are socialist; to believe that "religion is the opium of the people" is difficult when your most trustworthy employer is God.
The loose thread running through these situations is kindness. But even this doesn't quell my personal doubts. Is it bad to want kindness, even if it probably stems from Christian teachings and a grand ideology that has the power to control, improve but also ruin lives? This is the contradiction I find most personally difficult to reconcile, but one I'm ultimately willing to do.
I wish this was reflected in the rest of the U.K., a land where kindness has, at best, been commodified, and at worst been forgotten entirely. Guests on ITV's Loose Women appear via Zoom with "Be Kind" canvases looming behind them like ghosts at the feast, as they merrily chat about using Navy gunboats to deal with asylum seekers. Former Labor Party leader Jeremy Corbyn's wish for a "kinder, gentler politics" has been robbed of all its potential for societal change—kindness is daubed on murals while we put up with an alarmingly transparent move to the right.
Our country's COVID-19 catastrophe has dominated the news for months, a cycle only broken by more Brexit frustrations and the occasional newsworthy meme. Meanwhile, leaked Home Office plans saw detention centers for asylum seekers on Ascension Island quashed because of fears they would be "too expensive." A post-austerity ideology of frugality is the only thing stopping this country from shipping destitute people halfway around the world to assess whether they should be granted £37.75 a week to cover everything in their lives.
Kindness Must Start From the Ground Up
It's obvious at this stage that kindness isn't going to be bestowed on us from on high. Precisely because of this deficit, we should try and build a coalition of kindness from down below. And that starts with some literal applications of "love thy neighbor."
The British city center lies vacant, bereft of its usual bevy of workers, shoppers and drinkers. Whatever advice wafts down from on high in the next few months, the general consensus amongst Britain's workers is that working from home is here to stay, at least until some form of vaccine is found. This change to the U.K.'s working infrastructure is seismic—such radical change hasn't been seen since the start of the Industrial Revolution. While our cities feel out of sorts, Britain's suburbs are teeming with life. The go-to, out-of-town bars, corner shops, parks and supermarkets are where something approaching normalcy resides. It's here, among our real neighbors, that we should look to build our coalition of hope and kindness. 
Our street has a WhatsApp group, and when I was burgled last week, our neighbors all agreed to a strict neighborhood watch system. We all went outside to clap for the NHS, before it all became futile and cynical. We walked into the city center in droves for the Black Lives Matter marches. The compassion is dimmer than ever, but it's still there. With a bit of love, we can restore kindness as a unifying presence in our shattered societal landscape.