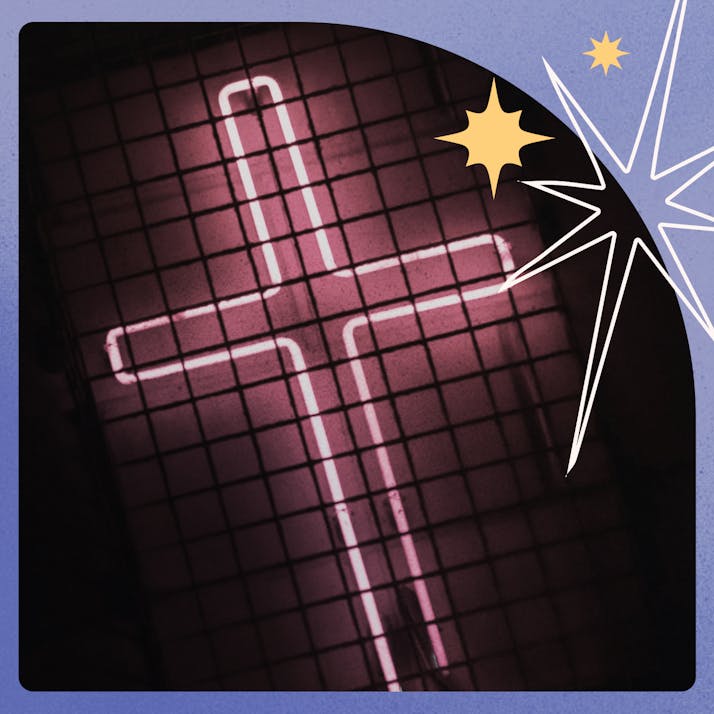 I Grew Up in a Christian Cult
The church told us what to wear, what to say and how to worship, and if you didn't conform, you weren't accepted.
/ / /
My first years of life were spent in America's Bible Belt, brimming with Sunday church attenders, potlucks and new dresses on Easter. My mom got a new job at a church in Maryland when I was 7, so we packed our bags to drive to Maryland for our new Northern life. The Baptist church we attended and loved lost its luster when it was found that the pastor, a close friend of ours, had been involved in shady financial arrangements. So once again, we had to find a new community of Christians. 
Not far from where we lived, there was a church my mom had heard talked about—Covenant Life Church. On our first visit, there was no chance we could miss it—it was huge, like a shopping mall. We were greeted at the door by friendly faces, ushered in to partake in freshly brewed coffee and taken to our seats in the auditorium with staggered seating. The music was top quality, as if we were at a concert. The pastor speaking gave an impassioned sermon, derived from the words of the Bible. And people enthusiastically introduced themselves to us when we stood up to acknowledge we were first-timers. 
We were hooked. Covenant Life Church, part of Sovereign Grace Churches, became our church just as I was turning 14. We got involved in children's ministry, home group, youth club and even attended a member's class to learn about the core beliefs of the church. We were welcomed in, accepted and part of a sort of extended family. We belonged, and that made me feel safe, covered by an umbrella to keep me protected from the outside world. 
I Found Community in the Church—but I Didn't Always Agree With Them
At the time, none of us had concerns about the church. I didn't like that I couldn't wear short shorts—they weren't modest enough. Or that I couldn't date boys—purity culture was praised and dating would surely cause one to "stumble." Or that we home-schooled—it was better if we weren't influenced by the worldliness of public schools. Or that I felt like the odd one out being from a single-parent home—marriage was upheld as sacred at all costs. But it wasn't a traumatic experience at all.
During those years, I read apologetic books to learn to defend my faith, prayed with friends about school exams and was taught how to read the Bible as God's word. I remember going to Panera Bread with friends when I learned to drive and reading Christian books about femininity together. At sleepovers, we talked about how to apply what we learned from Sunday sermons to avoid gossip, immodesty or disrespect of our parents. 
Once high school finished, I went to college at the University of Maryland but stayed plugged into Covenant Life, as it was only a half-an-hour drive away from the campus. During one of my summers, I traveled to the U.K., met the man I would eventually marry and life turned upside down. After finishing college, I moved across the Atlantic to settle down with my husband. 
Joe, my husband, worked at a church in the U.K. that was part of Sovereign Grace Churches. He preached occasionally, led the worship band, hosted a home group and ran a drop-in for the street community. We were entrenched in the church. 
Not long after I moved to the U.K., I received news that there were many reports of covered sexual abuses at Covenant Life Church—shattering my trust in the community I had so loved and helping me to see with clarity the church I had been a part of for eight years.
I Didn't Realize the Church Was a Cult Until I Left
A cult is defined as "a system of religious veneration and devotion directed toward a particular figure or object." It wasn't until I was out of the Covenant Life bubble that I realized it was indeed a cult. We were devoted to our leaders, our pastors—they felt godlike. If they said something was true, it was true. If they said to dress a certain way, speak a certain way, host a certain way, worship a certain way, work a certain way—we did it. We had to conform to be accepted. Since I always conformed, I was always accepted. But there were those who didn't conform. 
Acquaintances who drank alcohol, had sex, went to public schools—they weren't revered like the kids who abstained, kids like me. One of my friends was thrown into a disciplinary process when she started dating a guy who wasn't a professing Christian—she was 18 by that point. At the time, I just thought she had "gone off the deep end" and abandoned the faith. I didn't see the control she was being subjected to. Looking back, I regret I stood by and said nothing—I was complicit while she endured a traumatic experience.
Jump back to life in the U.K.—I had one child, with a second on the way. As I was hearing about the drama happening at my old church, my husband was dismissed from his duties by the pastors at our new church; more or less, he was fired. They sprang it on him only two weeks before my due date, with no warning it was coming. They felt he was "too proud." That was the reason given for his dismissal. 
We tried to stick around the church and humbly accept the decision made for him, for us. But trust had been broken. We were broken. Eventually, we stopped going.
The church community had been a vital part of my religion for so long—and without it, I felt lost. To compensate for the lack of sermons and Bible studies, I started listening to podcasts about different aspects of faith and began questioning the basis for all my beliefs about truth. In the past, whenever I had doubted my faith or asked a question regarding its validity, I was given a memorized answer that I could quote to myself and others, when asked. But now, alone without someone to guide me, I had to rely on my mind to think and reason. 
Is there a god?
Do heaven and hell exist?
Was Jesus real?
Is the Bible God's actual words?
Why are we here?
What is right and wrong?
The questions just went on and on.
I'm Still a Christian, but My Faith Looks Different Now
In the midst of this deconstruction, I never totally abandoned my Christian faith. It's as if I was doing a house renovation while continuing to live in the house. Some may say that isn't a good way of actually finding out what you believe and think—that you need to start at square one to get anywhere. But I couldn't bring myself to abandon encounters I have had with the divine, and I was still inspired by and believed the words and promises of Jesus. 
Five years on and I confidently call myself someone who believes and follows the words and teachings of Jesus—a Christian. Not because I think my mind is superior to anyone else's but because it is the worldview that makes the most sense to me. I have experienced and witnessed God and can't deny or convince myself otherwise. 
Yet, my faith today looks different than it did even five years ago— it's rugged, prodded and pliable. Churches disappointed me in the past, but I won't let them define my future of faith.