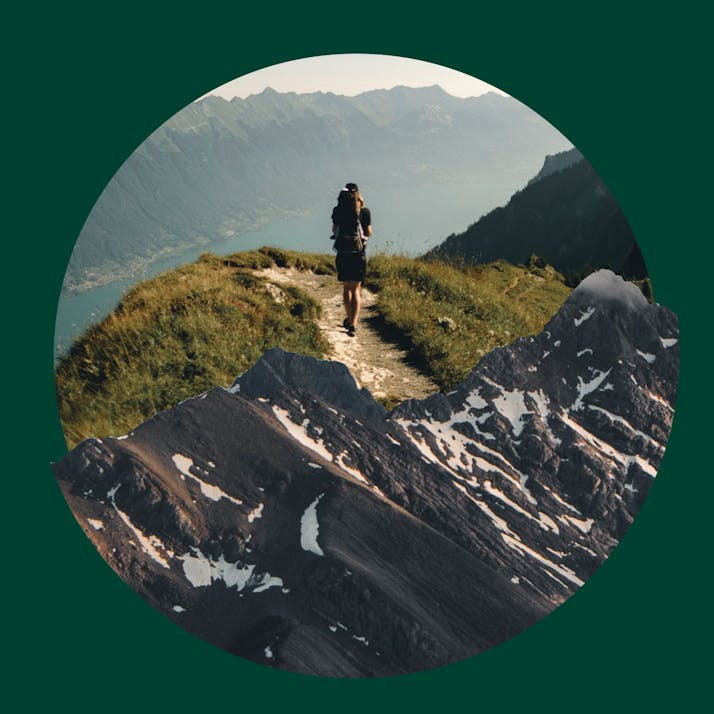 Getting Lost Hiking Path of the Gods Was the Best Day of My Life
My husband and I will never forget our trip to the Amalfi Coast, and the Good Samaritans along the way. 
/ / /
I used to dream of Italy, fantasizing about Roman piazzas and great Florentine works of art. I saw myself wandering through the rolling vineyards in my very own Under the Tuscan Sun adventure. Only, instead of craving midlife reinvention and rejuvenation, I longed for the adventure and opportunity to find myself, the one I'd missed out on when I skipped my study abroad semester to stay close to my then-fiancé. 
Seven years and a lifetime later, I still dream of Italy. I no longer picture myself taking in art or strolling through vineyards. Instead, I remember the adventures my husband and I secretly shared, getting lost and found in the ancient hamlets high above the sea, before starting our family. There are no photo albums on social media, no pictures displayed in our home to commemorate our three-week sojourn. There are just discreet memorabilia and the knowledge that you can, indeed, make both limoncello and grappa in your bathtub. 
We guarded our adventure and kept it hidden from everyone else, telling almost no one we were going away for three weeks. We wanted to be free from the judgment of his overly frugal, far too pragmatic and very disapproving parents. He wanted to give me the Italy I missed. I wanted a last bit of romance and exploring. We both wanted an adventure that was only ours.
There's Something Calming About Reliving Our Italian Adventure
"Tell me about Nocelle," I said, through gritted teeth, amid a long labor with our daughter.
And so my husband told me when all was said and done, and I could have a glass of wine, that we'd make some alcohol in our bathtub as they did in Nocelle. I laughed and held onto that thought for the rest of my labor. Several years later, I woke him from a dead sleep, choking on my heartbreak. Our son had died a month earlier and I was drowning in grief. "Remind me how we got lost on the mountain," I whispered. "Make me remember. Tell me about the grappa."
He's the only one who knows about our misadventures there. He knows how the planning we put into our stay fell apart. He knows how lost we got, time after time, including on the cliffside hike, and did everything wrong but managed to come out triumphant and intoxicated with the adventure we would never have here, in our real life.
And so, he tells me the details of the little bed-and-breakfast we booked in the ancient village of Nocelle on the Amalfi Coast so we could hike a trail, aptly named the Path of the Gods. The misty little village of Nocelle is set high in the Monti Lattari, the surreal mountain range that juts dramatically out of the impossibly blue, hazy Mediterranean Sea. Nocelle was our second stop in Italy, and in our short time on the Italian coast, we learned where I got my, ahem, creative sense of direction. 
Navigating the Amalfi Coast Was Not Easy—For Us, at Least
The inn's website said it was only a few hundred meters up a staircase from the beach near where the ferry from Capri would deposit us. We never found the stairs. Instead, we ended up making a long, albeit very scenic, trek on foot carrying backpacks stuffed to the brim with everything we'd need for three weeks abroad via the windy cliffside roads that connect the resort town beach below to the ancient village.
When we made that trek to the village, we scaled the second hillside with our bags in tow, rather cluelessly trying to figure out the directions to where we were staying. The first time had been hours after our arrival in Italy when we reached Capri. There, it took us a few confusing hours to figure out that what the Italian maps and directions say are roads are actually ancient footpaths between rocky walls. 
After a disorienting yet giddy night spent traveling over the Atlantic, stopping briefly in Germany to board a puddle jumper, where I sat wedged in between my husband and an older Italian woman, who gripped my hand at takeoff and landing muttering what I imagine to be a mix of swear words and prayers, the confusion made sense. Of course, we struggled to get acclimated to the Italian style of directions. But by the time we had left Capri for the mainland, we'd had a few days to orient ourselves and shake off the dreamy disorientation. Or so we thought.
The short trek up the cliffside staircase was supposed to take no more than 30 minutes. Since we never found the stairs, we walked up the mountain on other roads and paths. The walk turned into a multi-hour adventure through a torrential thunderstorm in the dark, leaving us trying to find this tiny and impossibly old settlement on top of the mountains.
What Better Way to Prepare for a Hike Than Pasta and Wine?
When we finally burst through the door of this charming inn, we were soaked. My ponytail clung to my back. The inn's owner, a kindly man named Pepe, fussed over us, handing us towels and exclaiming over our waterlogged selves. He showed us to our room and directed us to a nearby restaurant that was supposed to be closing for the evening. "Tell them Pepe sent you," he said. "They'll take good care of you and send you back to me with full bellies so you are ready for your big hike tomorrow, yes!"
When my husband recounts this part of the story, his voice turns effervescent. It bubbles up on the end of every word, the way Pepe's did, and bounces along. He laughs over the way the restaurant owner didn't even blink an eye when we showed up that first night, my hair still dripping from the rain, and no other patrons inside close to closing. 
"Pepe sent us?" I remember saying, fully expecting the annoyed treatment we'd get in the States if we showed up sopping wet to a beautiful restaurant. The man's face lit up, "Ah! Pepe!" He welcomed us and proceeded to serve us all kinds of delicate pasta and wine before sending us back to the inn where we slept the sleep of people both deliriously tired and happy.
Turns Out, Sticking to the Path of the Gods Hiking Trail Isn't as Simple as It Sounds
The next day, we were ready for our hike. At breakfast the next morning, we sat out on the patio, listening to the church bells ringing below and breathing in the sweet scent of bougainvillea as we gawked at the surreal view of the sea below and the shrouded cliff tops above. Ever the gracious host, Pepe came over to talk to us about our hike. "Make sure you take the time to see the town on the other side! Very pretty. You'll love it. And see the church. And just stick to the trail, you'll get there easily!"
Excited, we set out for the day, following signs to the path. We had nothing with us but a little cash, the bread and water we had bought from a small store, and a camera to take photos we would never get to share with anyone. Signs made the path easy to find and follow at first. As we wound deeper through the cliffside trail, it narrowed in spots. I was acutely aware of the striking cliff that ended just to my right and tumbled down into the rocky shore, but the view was worth it.
We could see why the legend said the Gods took this road down to the sea to visit the sirens that enticed Ulysses. Plus, until we reached the village at the other end, there was nowhere to turn off the path and get lost. Of course, as soon as we were in the charming old village, we went off in search of the landmarks Pepe had told us about, totally unaware that the village was a hub to several trails that crisscross the cliffs. 
Naturally, we chose the wrong one to take back and found ourselves looping around the same area of the cliff, weaving our way gradually lower and picking up a ragtag group of followers: a goat and a very friendly dog that followed us for the better part of two hours. The trail made its way so deep into the countryside that there were no homes around, not even the old ones that were built into the cliffs. There were no roads, no people. We knew a road closer to the sea that connected the towns on the coast and tried to make our way down to find it.
But the path we were on disappeared. Maybe the Mediterranean vegetation grew over it or maybe it just wasn't very well-traveled, but we could barely make it out. Common sense and conventional wisdom would tell us to stay put and hope someone found us. This was truly the path less traveled, though, and we knew no one was going to find us. So we pushed on, coming finally, thankfully, to a solitary house on the hillside. 
We didn't speak a lick of Italian, but we knocked anyway, trying to gesture and explain to the little gray woman who opened the door our situation. Bewildered after several minutes, she pointed and gestured in a direction.
It was enough for us. We went the way she gestured. There was nothing but sea and hill in sight. Finally, as the sun was starting to sink into the sea, we heard a road below. We followed the sound until we saw it, a ribbon of pavement cut into the cliffs with actual cars. We scrambled down the cliffside, happy to find some vestige of our bearings again. The plan was to walk, sticking to the road, back to a town where we could find a bus.
Leave It to a Good Samaritan to Rescue Us From Our Disastrous Situation
Just a few minutes after setting out on the road, a car slowed. A man was driving and he rolled his window down as he approached us.
"Americans?" he asked.
"Si," I nodded. 
"You need help? We don't see many people walking on this curvy road."
"Scusi," I recall saying, ushering my husband aside. To him, privately, I whispered, "What do we do? Do we let him help us? At home, this is how we'd die. Chopped up in the back of some guy's car."
The man cleared his throat. I wasn't sure if he'd heard me. My husband saved face for me and my serial killer paranoia. "Do you think you could tell us how to get to a bus station or a taxi stand?"
The man shook his head. "The buses aren't running here anymore. They stopped when the tourists went home last month and start again when they come back. Where are you trying to go?"
"Positano. We can catch the local bus there to Nocelle?" my husband asked, seeking confirmation.
"Yes, but it may only go halfway to Montepertuso this time of year. No more buses from here to Positano today though," the man said.
"How far away is it?"
"Far to walk on a dangerous road," he said, opening his door. "Come, I have to pick my wife and bambino up from the hotel but I am glad to take you there and help you get back to where you need to be."
My husband and I had a conversation with our eyes. We were tired, hungry and sunburnt. The idea of walking back for miles along the windy road was a lot. In the distance, we could see rain clouds and flashes of lightning. Imperceptibly we agreed.
"OK," my husband said and we got into the car, taking a chance on Italian hospitality and a little luck.
Our Adventure Hiking the Amalfi Coast Is Our Rock
The man was good to his word and ushered us back to his lavish hotel where we waited in the pretty golden lobby. While he rounded up his wife and two kids, someone gave us fresh bread and olive oil and bottles of water. Then he ushered us all back into the car, making small talk about his family and our trip while he drove us directly to a taxi stand in Positano, where he saw to it that we were going to be taken directly to the mouth of Nocelle, as close as the driver could get us to the inn in the carless town.
As we got out of the car at the mouth of the village, the storm that had been blowing in from beyond the horizon unleashed. Torrential rain fell and turned the narrow, walled streets into a shin-deep river. We waded through the water, unable to believe this was happening on the last leg of our journey, but started laughing, giddy with relief that we made it back. We stumbled through the door of the inn, laughing and more waterlogged than the night before. Pepe looked up from his soccer game and shook his head at us.
"Are you ever dry?" he asked, fetching us towels again. "Go back to the trattoria and tell them Pepe sent you." He practically pushed us out the door to the flooded streets so we could slog our way through the water to eat our fill of delicate pasta and be regaled with stories of homemade grappa and limoncello. 
It's our private reminder that we can navigate our way through a million misadventures and still make the best of things, still find a way to appreciate and enjoy what comes our way as long as we do it together with humor. And when it's too hard to do that, we can always make liquor in the bathtub.