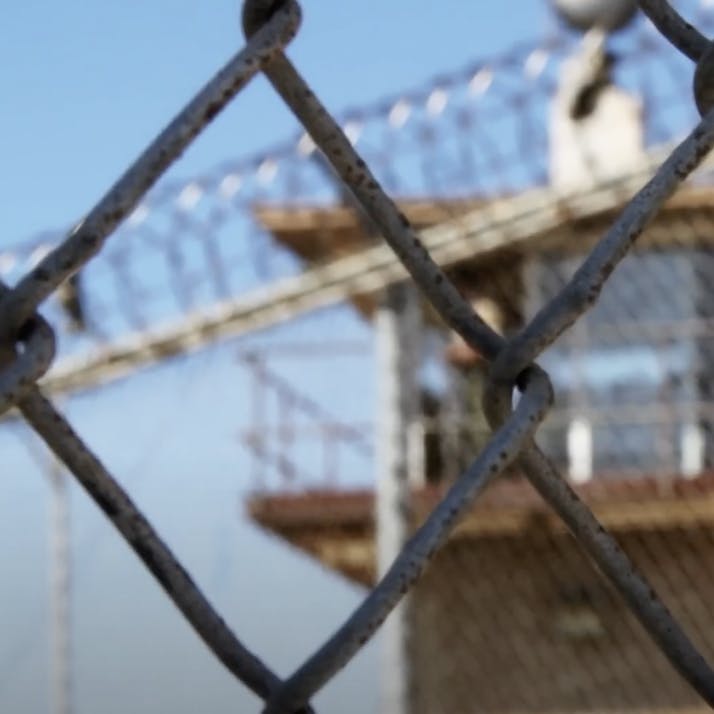 Our Black and White Friendship in Prison Led to Real Change
How a bond on the inside led to much opportunity outside of the jailhouse walls.
/ / /
"Take off your clothes and throw them in the bin. Now show me your hands. Raise your arms. Open your mouth. Turn around. Show me the bottoms of your feet. Now squat and cough three times."
This well-worn mantra is the welcome that greets all inmates upon their woeful arrival at a California Department of Corrections and Rehabilitation reception center. The institution's drab walls and razor-wire fences reflect an atmosphere of spirit-crushing control and mechanical efficiency—a stark reminder that one's freedom has been surrendered.
After this first of many such dances that will be conducted in the interest of "safety and security," a stoic correctional officer will pose the incoming inmate a simple question: "Who do you run with?"
This query is the crude byproduct of inmate-imposed segregation that the CDCR has honed into a conflict management tool. It pumps the lifeblood of an insidious system of antisocial rules that govern how thousands of people with different-colored skin and contrasting gang affiliations, inhabiting just a few shared acres of land, will live with each other.
Established by convicts from decades past and dogmatically followed by those who lack the vision to consider new possibilities, these rules leave the air of most prison yards thick with a texture of suspicion, anger, hostility and despair. Sadly, for those who give themselves over to this atmosphere, there is a genuine feeling of having no choice in their day-to-day survival. Their low expectations for living a purposeful life result from their resignation to "how it is."
Unbeknownst to these prison creatures, however, is that what they see as a lack of choice is itself a decision that they have made.
We Were Like Brothers, but Race Put Us on Two Different Paths
In December of 1999, my best friend Ted and I made the worst decision of our short lives. We committed a horrific crime that resulted in the murder of a man, the devastation of several families and life terms in prison. Ted was a 22-year-old white man, I was a 20-year-old Black man and together we entered a prison culture that did not look kindly upon interracial codefendants. While housed at one of the most notorious prisons in California, Ted and I spent seven years walking the same yards without ever feeling like we were in there together.
It didn't matter that we went to the same high school, played on the same teams and shared the same fond memories. It didn't matter that he lived with my family for a time, went with us on trips to amusement parks and shared our holiday meals. The fact that I'd been his best man at his wedding, that I was like an uncle to his two sons, that I viewed him as the only brother I ever had—these all became threats hanging over us, with dangerous consequences. Both of us had given ourselves to the status quo that Blacks and whites were enemies. We gave ourselves over to the lie of "how it is" in prison.
Ted and I took different paths during those early years of our incarceration. Having a lengthier sentence than me, Ted decided that by engaging in prison politics, he could avoid being used by others. On the other hand, I decided to immerse myself in education to avoid the gangs' powerful pull, but I also remained carefully observant of the rules of "how it is." Both of us decided that it was more important to respect those antisocial rules than to honor our friendship. As a result, we minimized our encounters—a head nod here, or a few short words there, as we crossed paths each day on a small plot of land.
It wasn't until Ted and I had been in prison for over a decade that we found the courage to break through that toxic Black-and-white mentality.
Both of us had demonstrated enough good behavior to warrant our transfer to a lower-security prison. I arrived at CTF-Soledad in 2009, and providentially, Ted arrived at the same prison a year later. When I first saw Ted in the yard, I felt a conflicting barrage of emotions. I was happy to see my childhood friend, but I was also uncertain and cautious about his motivations. Had the years of living under oppressive, antisocial prison politics changed him forever? Were there any vestiges left of the young man I once called my brother as we sat at my family's table and shared Thanksgiving dinner?
Racial Lines Keep Prisoners Divided; We Reached Across
Fortunately, the answer was that my brother had remained himself, and something new had developed that I'd never seen in him before. Ted had transformed his thinking as he discovered an insatiable desire to add value to the prison culture and community in substantial ways. After teaming up with our brothers Richard and Matt, we created a think tank to support a vision that would transform prison culture.
For the last ten years, we have been nearly inseparable. We've worked tirelessly to address our issues, create programs that give back to the community (in prison and out) and facilitate conversations that matter for the people who need them the most. We've spent countless hours enrolling other men with remarkable commitment from different backgrounds to spread the word about the lie of "how it is," and fan the transformative flame of "how it could be."
Most importantly to me, Ted and I redefined what it meant to be friends.
As criminals, we wrongly believed that friendship meant blind loyalty. Since then, our work has shown us that true friendship means being committed to the essential things in one another's lives. Today we stand for one another's commitment to God, our families and service to others.
Our team has benefited from the talents of numerous thinkers, visionaries, collaborators and scrupulously committed workers, many of whom have contributed to our accomplishments. Our team typifies what the old adherents to the status quo would call an "odd group." Living within an environment where people with different skin color or criminal factions are divided by lines of neatly manicured grass plots, it's exceedingly uncommon to see two whites, a Black, and a Hispanic walking the track together, laughing together, eating together and planning a future together.
Harming the Community Got Us Sent to Prison; Helping It Got Us Out
For ten years, our team has worked hard to achieve some remarkable milestones. From creating and successfully launching an alcohol and drugs counseling certification program (which now has 30 state-certified AOD inmate counselors), to delivering scores of transformational leadership seminars to prisoners, college students and college administrators, our team has toiled steadily to affect change. When we won an award with for our work in the recovery community, the warden of the institution remarked, "Inmates don't get things like this."
He was right. Our calling to contribute, and our commitment to each other, had produced truly unprecedented outcomes—and that was just the beginning.
In March, Ted and I were ordered by the Governor of California to be immediately released from prison. We were both commuted for our hard work while incarcerated and our willingness to contribute to others' lives positively.
Richard and Matt had earned their freedom the year before, so now the four of us are in the community, working together in a new way. Today we're directors of a nonprofit with the mission to transform the culture of restorative institutions and to help redefine the purpose of correctional facilities in America. Between the four of us, we have amassed over 80 years of lived experience within the belly of the proverbial beast known as CDCR. Now we'll be using the same expertise to help improve the lives of incarcerated men and women, while equipping them to reenter the community as productive and thriving citizens. As newly free people who live with authentic contrition for our poor choices of the past, we look to the future with excitement, as we seek out ways to add value to the restorative justice movement.