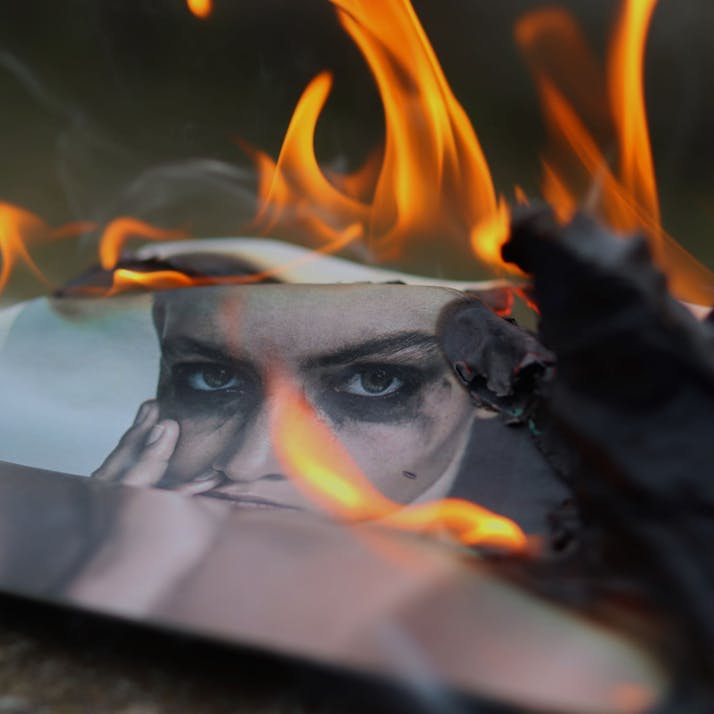 An Apartment Fire Burned My Art—I'm Still Healing
A visual and performing artist shares how a traumatic event has impacted her creative process. 
/ / /
I was preparing for an art show. 
The SoHo one-bedroom apartment I had lived in for more than 12 years certainly looked like an art studio—paint and paintings strewn everywhere. Huge canvases I spent years working on layered the walls. The pages of my handmade book channeled words and drawings, some of which I remember. There was a self-portrait with the words, "I am a song" and a drawing with the words, "I've made my own self happy. Thank God."
In 2016, I had decided that, instead of keeping a typical Passover Seder with my family, I would make a one-take documentary film. I gave out holy matzah from Israel under the white arch of Washington Square Park while the camera captured magical encounters with passersby who stopped for matzah and talked with me, revealing themselves and interacting. Around 5:30 a.m., while watching Youtube videos of Prince (who had recently passed away), I looked behind me and suddenly saw flames shooting out of my bedroom. 
I quickly tried to put the fire out but got burned. It was already out of control. I woke up my neighbor, he called 911 and then I ran from apartment to apartment, banging on doors to wake everyone up. I lived on the sixth floor, and by the time I got to the fourth floor, I noticed people bringing their computers with them, so I quickly dashed back upstairs to get mine, which was loaded with tons of original music and art, and none of which was backed up.
Words became imprinted in my mind: "Getting over you is what I have to do. Will take it till I'm through. I know I will get through, getting over you. We all go, round and round around with the one beyond a sound." Smoke filled the stairwell. I got burned trying to put out the fire on my left arm. The scar looks like a teardrop, an angel marking of a survivor. A phoenix. 
Ultimately, numerous firemen came to put out the fire. In my apartment alone, 40 years of art and music burnt to ashes. Dozens upon dozens of journals from my youth. A wardrobe that I was notorious for having. All forever lost.
I Channel a Higher Power With My Art
I have never had a nine-to-five job. I've always led the life of an artist. I have performed in front of thousands and in small crowds, in psych wards, in parks, in clubs and so forth. It is a vulnerable thing to sing your own songs. To expose your truth. To imbibe your essence on stage and to truly engage. I am brave. 
I have had many incarnations as an artist. As a little girl, I began in musical theater. I grew up with a single mom and older sister, and the summer before third grade, my wealthy aunt and uncle sent me to a girls sleep away camp. I auditioned for the upcoming summer musical, Annie and got the part of Annie's brother, Rooster. 
I was a natural. My mother, my hero, soon put me in a local musical theatre troupe where I starred in musicals. One highlight occurred during a summer tour, just before fifth grade. I starred in Alice in Wonderland.  We performed for those with special needs and, after the shows, I would talk to them in the audience. I have always, in some ways, been an empath. I have a lot of compassion and have a lot of love for humanity. 
I once wrote in a journal, "I stand for instrument."
I am a conduit, creatrix, antenna, a vessel of expression. When I perform, I channel. I connect directly to the higher power. I am aware that I am eternal energy, a spirit, a soul living in and moving this body, this instrument, this vessel of expression. I am somewhat of a tortured artist. Prolific. Talented. But I've suffered and endured a great deal. 
Mental Health Has Impacted My Career
Some of the best songs I wrote on my first album helped me "heal and deal and get to what's real," helped me get over an extreme heartache that I still live with to this day. I do feel privileged to be an artist. I want to uplift others and inspire others to do more than survive. To overcome. To prevail. To transform. To thrive. 
I have always been a natural performer. Always known how to sing and conjure up melodies, harmonies and words. I must have learned such skills in a past life. I am not a wife. And my great love is unrequited. 
A graduate of Juilliard, I had the best management, starring in independent movies, doing commercials, voice-overs and television shows, and even understudied as a lead female role on Broadway.  
At the peak of my career, I was hospitalized and diagnosed with bipolar I. I have entered states of hypomania, mania and deep depression. I have been institutionalized many times. My mental health sabotaged my blossoming career as an actress. 
I'm Beginning to Recover From the Fire's Blaze
Some blamed me for the fire. I have no memory of lighting anything. At the time, the building was undergoing electrical work.  The blaze remains a mystery to me. A trauma I am still healing from. 
In the hospital, I received my second round of shock treatment. My first came after a suicide attempt in 2011 that landed me in the hospital for months. I wasn't speaking. I thought I would be forever institutionalized. It was a lot to live through. I have overcome much. 
Since the fire, I haven't painted as much. I want to. I just ordered a lot of art supplies. I love drawings and expressing myself through visual art. I also reconnected to my voice. In a matter of days, I am releasing a new album, and after the new year, another one is already ready to go.  Like a phoenix, I am "back in the flow, in the know, getting back my glow." 
I'm in my 40s now, and I'm not on a path to becoming a typical mother. I am content that my art and creations are my children.