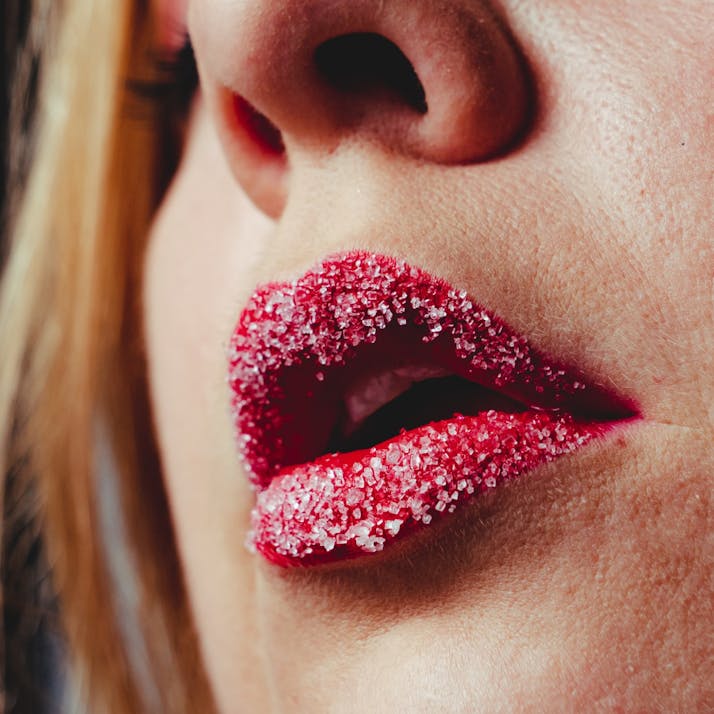 I Fell in Love With My Sugar Daddy
It was just a social experiment—until things got serious.
/ / /
Last November, I was trying to get out of a bad breakup when I came across a post on The Doe's Instagram for an article entitled, "I Date Sugar Daddies; Everybody Should." The essay concluded, "Dating sugar daddies helped me stop dating dudes and start dating men." I was intrigued. I was morbidly curious but also interested in dating men after a long history of dating dudes. I registered an account on Seeking immediately after reading the article. 
I definitely had to work through a bit of a psychological hurdle to even go on the website. I am a college student without an income, but I'm on a scholarship that pays for what I need. I left home early and prided myself on not relying on anyone, not even taking money from my parents. It matters a lot to me that I'm independent and the fact that I can sustain this independence. On top of that, as a college student who has definitely read too much normative ethics, I believe in Kant's categorical imperative—I think a lot about how to discern what is the right motive, and I care a lot about doing what's morally right instead of what is pleasurable. Still, I'm a sucker for social experiments. I am always wildly excited by the possibility of spinning yet another exhilarating story, of peeking a little more into the shadows of the human heart. Perhaps precisely because of that, I have always taken a casual interest in different dating apps and why they fail or succeed. I was so curious to see what the demographic would look like on a sugar daddy-sugar baby site and what that kind of relationship would be like. I told myself I was just there to survey the landscape. 
Seeking—its slogan: "Start Dating Up"—was much more explicit about the transactional aspect of relationships than other dating websites. A standard "daddy" or "mommy" profile includes annual income, net worth and relationship status. You'd be surprised by how many people are "married but looking." One profile I encountered stated outright, "Attached but bored. Looking to bring some discreet excitement back to my life." Most profiles mention "looking for a genuine, deep connection." Some mention wanting to offer mentorship, saying something like, "I'm looking for someone who wants to change her life." Others say things like "looking for a cute submissive." Almost all the profiles mention "generous compensation for your time." I put up a few pictures of me in school, and playing into the spirit of straightforwardness on Seeking, on my profile I wrote, "Nerdy, curious and driven. Literature and philosophy student looking for a good hug and a good debate. Learning about NFTs."  
A few interactions later, I found it very hard to keep pretending that I was just there to "check things out." When people flirted with me and I flirted back, my facade of make-believe began to crack. A lot of people seemed genuinely attractive. Some texted me to offer an arrangement of some kind and ask me what I was looking for. I found myself in a conflicted headspace, between wanting to lean in and have fun for the ride and morally condemning myself for taking a weird shortcut when I shouldn't. I couldn't quell the questions in my head: Am I selling myself? Is this bad? If I don't really need cash right now, then what am I doing this for? It was hard to keep pretending that I was there looking around, yet I couldn't pin down if and what I was looking for either. Feeling confused, I ghosted most of the messages I received.
When I Met a Sexy Architect, My Experiment Went off the Rails
That all changed when one person asked for my number and I didn't ghost. He was 30, an architect, spoke a few languages and was obviously well-read. He casually mentioned Álvaro Siza—one of my favorite architects—in a text. We got on a call when he was driving. He was just getting off a meeting with a client. He told me his name was Jay. He had a soft, gentle voice and a mixed accent—mostly British, but definitely a lot of other things that I couldn't quite make out at that time. He asked me to tell him about my life, which made me feel like he was coaxing a story out of me but in a way that I was happy to comply with. Somehow, he made me want to tell him about myself, to expose myself to his gaze, to open myself up to him, to be seen. He was every bit my type. We joked about work and COVID politics. After our hour-long phone call, I was blushing and my heart was fluttering in my chest. 
I told my friend I had called a stranger from a dating app. "Okay," they said. "Which one?" I smiled and didn't answer. 
On my second call with Jay, I joked with him that we had met on the worst dating app ever. He laughed. "Yeah," he agreed. "It's a cesspool." Then he casually asked me why I was on Seeking and if there was anything he could help me with. 
"No," I said, "absolutely not." I felt my pride growing in front of someone I actually liked. 
After about a month of texting, we met up when I was on winter break. He picked me up from wandering all around Chelsea. We got dinner and cocktails and talked about the galleries in the neighborhood. I had most of the cocktails since he needed to drive. Four drinks in, I was a little drunk and tried to make out with him in the corner of the bar. I snuggled near him and buried my face in his neck. He wanted to get me a cab, but I argued with him that I wanted to take the train. 
Before he drove me back to the station, we made out in his car. I really liked him and begged for him to touch me. I was definitely drunk. I took his hands and put them on my chest. I wanted him to touch me, badly, because I wanted him to take things from me. I wanted him to touch me just so that I could be reassured that he was interested in me. I had all of that in my head. "This is so high school," he laughed.
I kept begging him, and he put his jacket over my lap. He fingered me and edged me in the front seat of his car. He was good—of course he was. He stared deep and steady into my eyes when I moaned into his mouth and begged him for more. I was drunk, and he was sober. I was a mess, and he was in control, tidy, clean. He tasted me on his fingers and wiped his hands on an alcohol pad. After I got home, I texted him that I thought I was falling in love with him.
He Took Control, and I Caught Feelings
And I was. Even if it was just infatuation, love came easy for me this time. He texted back: "I'm overwhelmed…floored by how real you are, how vulnerable you are toward me, and I stand speechless." If I think about it now, I don't remember the first time we said "I love you" to each other, but it must have been easy, and it must have felt right. Soon, I was telling my friends that I was falling in love and lying about how we met. "Oh, he's a friend's friend, you know."
Perhaps falling in love with him was easy because it felt guided. He always seems to know exactly where we are—where I am—and where we're headed. The first time we met, I told him about the person I had just broken up with. "He was too protective of himself," I said. I told him how my ex said I had put too much effort into our relationship and how my ex felt so bad about the imbalance that he felt guilty and needed more space. 
My architect patted my head. "I'm sorry, baby," he said. "What kind of bullshit is that?" He laughed a little. "I don't want you to be protective of yourself with me," he said. "I want you to love me fully." I felt grateful and comforted. Even in sex, I begged him to take more of me, push me more, show me new things. He said, "No, we'll get there someday, but now I want to meet you exactly where you are. I'm right here." 
Loving Jay feels comforting because it feels like he's seen and done everything. I appreciate that sense of psychological security. I like that I can yield control to him and trust myself to him, knowing he'll take care of me.
The first time we met, before we headed to the bar, I was jacketless and underdressed in a tank top. It was nippy out, but I didn't mind. He picked me up in his white Tesla. I got in and smiled at him, looking at him timidly through the fourth wall of my little social experiment that was wearing very thin. He smiled warmly and took my hands, then took me into his arms. 
"You're cold," he said. "That's not okay. I can't let my baby be cold." 
I protested. I was genuinely uncomfortable, but he took me to a clothing store and bought me a down jacket anyway. "That's much better," he said. 
I didn't know how to feel. I didn't like that him buying me something was the first thing we did together. It made the sugar daddy thing feel too real. In one of our arguments a month later, I screamed at him that that made me feel like a prostitute. I could tell from the look in his eyes and his shaking hands that I had hurt him. I couldn't be angry anymore. I sighed and took his hand and placed it over my heart. "Feel me," I said. I snuggled close to him and said I was sorry. He held me close to him and told me he was sorry for ever making me feel that way.
Am I a Sugar Baby?
The truth is, I still don't exactly know what to make of this. Are we in a relationship? If so, is it a sugar relationship? Is it a "normal" relationship? Can it be? 
I still have moments of getting angry at him that feel silly, like when I insisted on paying for a box of strawberries and he wouldn't let me. He bought all of my plane tickets so that I can come over to see him on weekends. There are moments when I get uncomfortable with money, when I, for a fleeting moment, think that all of what we have is bought and sold and is doomed and could not be otherwise. Despite all of this, I know I'm still falling more in love with him every passing day. 
I've started to flinch a little less, trust him a little more. There are still "fourth wall" moments that remind me of how we met, like when his personal assistant emailed me that "Mr. __ said he had a memorable time with you and asked for me to make time for you soon. Please let me know your availability." But now it's something I can smile about.