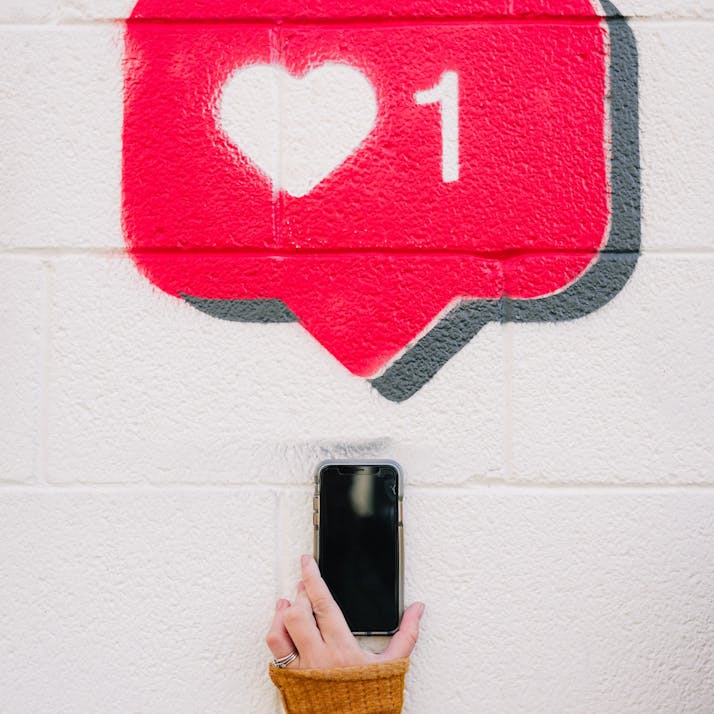 I Fell in Love Thanks to Instagram
I was looking for something to read and found something else entirely.
/ / /
Right before the pandemic hit, not quite fresh out of a relationship, I joined a handful of dating apps for the first time. It took me multiple days to assemble my first profiles, which my friend W told me were terrible because there were too many photos of trees and not enough of my face. It gave me so much anxiety to swipe or receive a match notification that I began to hide my phone in places where the cat might lay on top of it. 
After a few months, I deleted the apps from my phone, vowing to never online date again. Despite my friends' apparent successes, I resigned myself to the narrow odds of the "real world." COVID arrived in New York City in full force in early 2020, and I began teaching online full-time from my bedroom in Brooklyn, which was the size of a closet and next to a major highway; neither of these factors had previously bothered me because, like most New Yorkers, I was never home. 
Suddenly, the exasperating noise and the fact that my entire room was a bed began getting to me. My cats thought that they needed to be fed a dozen times a day because my consistent presence in the kitchen confused them. I decided that since I was a writer, I could theoretically take this time to become a well-read person and distract myself from my physical surroundings. 
One Account I Followed Piqued My Interest
I began asking friends for their favorite journal titles, eager to stumble upon new poems, short prose pieces and artwork. A handful of recommendations floated my way, and I ended up browsing a few websites and following their publishers on Instagram, some of whom were friends of friends. I ordered one that I particularly loved the look of—minimal with photographs of open landscapes and trees, what I wished my dating profile had been before I was warned to change it. 
The journal had the look of someone's hands on it—quite the opposite of an Instagram account, where it's impossible to feel someone's physical limbs or their tears. In one post, the journal was thrown into the ocean. I learned it was hand printed and bound in a garage, its colors mirroring the dirt on the ground underneath. Because of this, each one looked slightly different, and more alive than a filtered post.
After exchanging a brief series of DMs to order a copy, the publisher and I periodically commented on each other's stories—a poem here and there, sewing, things sitting on each other's tables. My interest in their life—1,700 miles away and very much not in New York—began to pique. One evening a few months later, finally out of Brooklyn and sitting in my mother's living room in the mountains, surrounded by tall pines and open alpine meadows, I realized I was now routinely messaging this person about what kind of pizza and wine I was eating for dinner. 
I had a crush on them, even though I had never met them and they had no photos of themselves on their Instagram account. I wondered if I was losing it. The conversations escalated into daily exchanges while I was away from the city.
I Fell In Love With Someone I Never Met
I gave them my actual phone number, and my address for mail, which in hindsight seems like a good thing to do if you want your identity stolen. Soon we began sending each other long, handwritten notes in the mail. I was having fun. I loved walking down to the mailbox and seeing their return address. It brought me joy that I hadn't felt in over a year. 
By the time I returned to my Brooklyn apartment, I knew I couldn't stay there. Conditions in the city weren't easing up, and I knew whatever kind of joy I had touched upon again—from some bizarre combination of reading this person's journal, our handwritten correspondence and simply being physically in a more remote area—would begin to drift away if I stayed in New York.
I texted all my friends that I was leaving. 
I also told them that I thought I was in love with a person I had never met. I knew the phenomenon of "Instagram as-dating-app" was not a new one. I also knew plenty of people who had had Instagram crushes who ended up meeting in person at some point. 
However, I didn't know anyone who counted a series of DMs and photographs of trees as one of their initial inspirations for moving halfway across the country. I never personally thought that I would meet and date someone via an app, let alone a social media app. 
I had lived in New York for well over a decade, and had sworn and re-sworn my undying allegiance to its museums, parks and, most importantly, my real-life social connections. My friends asked me when I'd be back so they could put the date in their calendar. I told them I didn't have one. 
I chose to move to a place not exactly where my new crush was living, but I thought, you know, close enough something could happen. When you live in New York long enough, the concept of geography and physics begin to deteriorate, and you think that you can take the F train between states.
Finding Love on Instagram Made Me Rethink Social Media
I asked my virtual pen pal if they'd "help me move in," failing to realize that I was actually living 12 hours away from them by car. When they agreed, I checked my phone every hour, wondering which gas station in what small town they might be in now. I was so nervous imagining them driving I couldn't think, so I was serenely calm. When they showed up on my doorstep, I knew they were a keeper.  
Flash forward a year later, and I now live a 12-hour drive closer—with them, in their apartment. Their temporary housewarming visit turned into a cohabiting that, quite frankly, never ended. I couldn't believe I was so compatible in a daily way with someone I met online.
It feels hard to believe that two years earlier I was living in Brooklyn, in what feels to be a completely different lifetime from now, in quarantine scrolling through Instagram, imagining my body somewhere else. My partner and I occasionally joke about the superficiality of social media, but it always comes back to a single fact: That's how we met. The experience has taught me that all forms of communication have their merit, with a potential for connection. It's meeting the right person, and what happens in all the spaces when you're not logged on.