Content Warning
The Fashion and Entertainment Industries Encourage Young Women to Sell Their Bodies
Tread lightly—the content in this narrative may be triggering to some. To continue, choose "continue reading", or click "explore narratives" to read something else.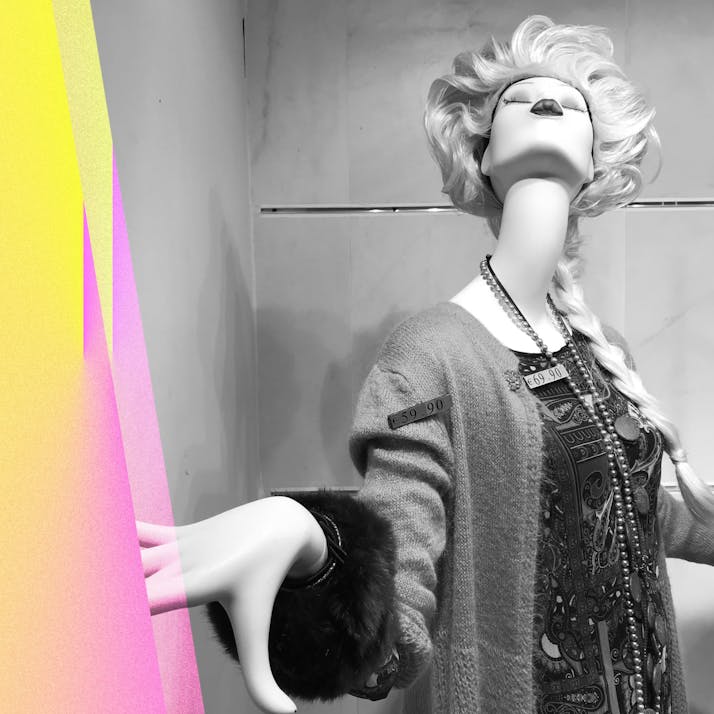 The Fashion and Entertainment Industries Encourage Young Women to Sell Their Bodies
A model and actress describes the misogynistic culture she experienced auditioning for roles and trying to find her break. 
/ / /
I was told that I shouldn't go to modeling casting calls after the age of 18. The truth is, I did, and I often lied about my age to get into them. 
Just before turning 19, I moved to New York City to pursue a career in acting. Modeling jobs became a way for me to make money on the fly without having to work a day job, which would, without a doubt, cut into audition schedules and class hours. 
I signed with my first agent while I was working at a nightclub. A regular of mine was a studio owner, who shared a space with a casting office. Soon, I met with the executive director of the casting office, and he set me up for an audition with a well-known agent in the area. "Make sure that you tell them that you're sleeping with me," he told me before leaving. This was obviously a joke, because I wasn't sleeping with him, but I did start to get some late-night texts from him every now and then.
Still, I assumed it was harmless. 
Creepy Photo Shoots Were All Too Familiar
After signing with the agency on a freelance basis, I decided to make profiles on reputable acting and modeling websites to snag my own jobs as much as I could. By the time I turned 22, I started to get a hang of the industry, getting five-to-eight auditions every week. Around this time, I had booked a modeling job for a "sportswear brand" on my own accord. The photoshoot was scheduled in a well-known studio space, but I thought it was odd considering it was mainly reserved for dancers and actors to rehearse and not for photography. The rooms were dimly lit with a soft, yellow glow that would make any photoshoot have a porno feel to it.
When I arrived, the photographer showed me the wardrobe. Instead of sportswear, there was an array of thongs and large bras that didn't even match. It looked as if he went to the clearance aisle of Century 21 and just grabbed a handful of lingerie without sorting through it. 
"Which sportswear brand is this for?" I asked the photographer.
He replied vaguely, explaining he would sell the photos to companies that were interested.
"Where are the sports bras and swimsuits?" I replied, receiving a smug look. "None of these are in my size," I said.
"Well, I guess you will just have to do the shoot topless," he said in a serious tone.
"I don't understand. My sizes are listed on my profile."
I was getting really overworked at this point and trying to think of an easy escape, but I wanted my payment.
"This is just what they had," he said.
Finally, I just exploded. "I'm too old for this shit," I told him. "You can take photos with what we can use, and you have to pay me."
"I thought you were 18," he said.
My jaw dropped.
It's commonly known that it's hard to get into modeling as you age. I never quite understood this. Besides, I know many 35-year-olds who look as if they just turned 24. We toughen as we get older. It's not just in appearance that we toughen, but it's also in our mental state. Is it possible that there are power-hungry individuals that know that younger women are easily manipulated? Plus, if every Victoria's Secret ad showed a 17-year-old's body, wouldn't that encourage pedophilia?
Women Must Stand up and Fight for Their Reputations
Modeling always seemed like such a glamorous profession, but it's far from it. I would hear female directors calling models on set "stupid" or "too ugly." I would continue to get hit on by men in the industry who promised me lavish vacations or a bigger role if I just spent one night with them. I once showed up on the set of a "short film" that had a dungeon set-up so they could strap me in and tickle my feet. Luckily I was sent home when they saw I wouldn't comply. In another instance, I was called back for a feature film that required real sex for the role. Things got pretty weird, but I was strong enough to filter out the shady jobs and requests. 
Not everyone can do that.
Unfortunately, many younger women will find themselves with the urge to do these types of jobs in order to expand their name and credits. I was just short of giving up after one dinner with the guitarist of a famous pop singer. "Most women sleep with someone to get the part," he told me. "If you're not going to do that, it's going to be really hard for you." 
Thankfully, the #MeToo movement has shined the light on some of the shady activity that happens in the fashion and entertainment industry. But this isn't enough. As women, we need to continue to stand up for ourselves and our reputations. We need to show that we can get the job because of our talent, and we need to be aware of the individuals who will prey on our desire to work in this field. 
The exploitation of women in these industries has been going on in the shadows for years and our strength in shining the light on this is only one small facet of its final departure.