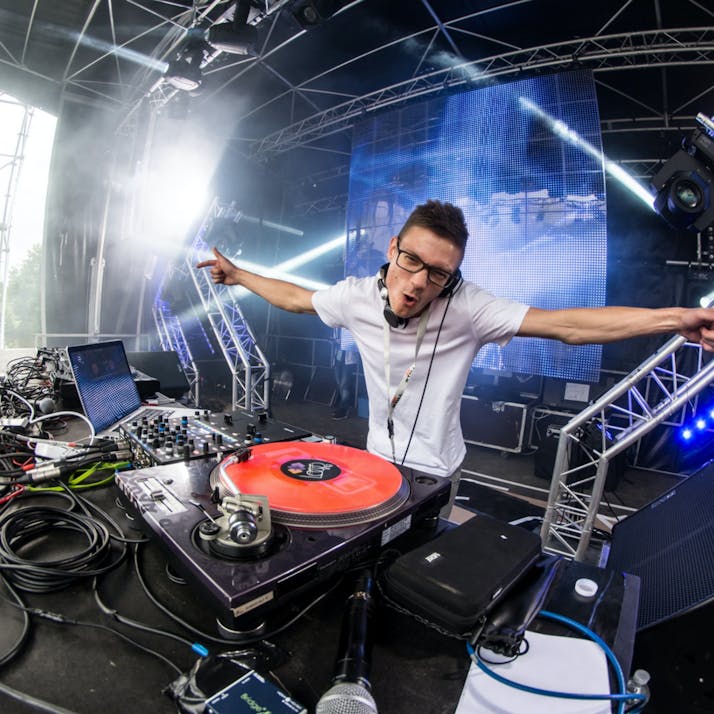 I'm an EDM DJ: EDM Culture Needs to Change
A dance musician explains that EDM needs to get back to its roots to truly thrive.
/ / /
I grew up in Chicago, listening to Chicago house music. My initial introduction to electronic music was through cookouts at my grandmother's grandma's house where my uncles and my older cousins would play cassette mixtapes of the stuff that they were hearing in the clubs. I'd never heard anything like it. That's what got me started DJing when I was in high school.
Eventually, after years of spinning underground parties, I ended up part of the second wave of EDM in America, playing some of the biggest festivals in the country. I thought that shit was corny, but I was just really trying to fuck up the system. I was always like this outsider who just came in to go on stage and be like, "Fuck you, fuck this festival, fuck your mom, here's a bunch of fucking bangers for 30 minutes." I'd make $100K in an hour and then I'd get on the plane and go home. 
EDM Needs to Recognize Its Black Roots
House music is Black music, or at least it has Black origins. EDM is its own genre that was cultivated in Europe. Starting with the first dubstep wave in America (e.g., Skrillex) and all the music that was happening around that, like progressive house and big room, it was all white music, made by white artists for a white audience, although it was definitely inspired by the music that Black artists were making. If you talk to those producers, they know all the shit their stuff is coming from. But if you just isolate the genre EDM, especially in America, it's as white as country music. These kids that found it thought the genre had just appeared from out of nowhere, and they were the first wave of fans. They don't even know about its history, let alone about its Black history.
It's not like EDM is maliciously being like, "Yo, fuck Black people, we're not trying to support Black artists." It's sort of just in general following the guidelines of everything in the world. Black people get the short end of the stick in everything. And white kids have access to so much shit. There's definitely a paywall when it comes to EDM. It's a privileged art. You have to have a laptop, software, audio gear. It's the same as how there's not a lot of great Black skiers, because to go to a ski resort you have to have $1,000 worth of equipment and $500 to spend on a couple of days on the hill. 
It's Not Just Race—It's About Class Too
Even more so than race, EDM is a class thing. A lot of the people that are in this come from means. There are so many artists in EDM that I met whose parents are doctors or lawyers. It's the kind of thing where if you as an investigative journalist were to turn over all the stones you'd probably be like, "Holy shit, Tiësto's dad invented Velcro!" They have a lot of money, they have a lot of time, and they have no pressure to succeed in it. And that's something I've felt more so than anything, more than someone coming at me and being blatantly racist, it was more just being in rooms with people who were heirs to millions of dollars, who totally didn't need to succeed at music. They had no pressure on them whatsoever to do anything, and they were like, "Okay, I guess I'll do this." Meanwhile, I'm fucking hungry, and I'm like, "I gotta pay rent, so let's play this shitty festival." 
But, at the same time as I'm saying, there's just so many fans and so much content and so much shit out there, I can say this: I can scream it from the rooftops, and it just goes over 99 percent of the people's heads. Will they ever acknowledge it? Yeah, some will. But they need all the bigger artists to say it. It doesn't need to be just Black artists. White supremacy is a white issue, for white people to figure out. So it shouldn't be a burden for Black artists and Black people to even have to come forward and say this. It should be Diplo, it should be Dillon Francis, it should be Tiësto, and Deadmau5, Marshmello, all these white dudes to come out and say, "This is the definition of this music, respect needs to be given to X, Y, and Z DJs who laid the groundwork for the genre that I make." But that's not gonna happen. That's just not.
How Can EDM Culture Fix Itself?
I don't want to put this on the fans, like, "You can't enjoy this unless…" But, as an active participant in this genre of music, I have made it a part of my job to help educate kids on the origins of dance music. And at this moment in time, with the massive reckoning America is having with race, and the fact that it's part of the conversation, I felt like it was a really good moment to speak out and say, okay, a lot of these artists that started the genres that you listen to, and that a lot of these white artists are benefiting from and profiting on, they're Black artists. 
I post links on my socials to donate to different GoFundMes or whatever, and I'll actually be able to track through back-end data to see that a bunch of people clicked through. That's awesome, but also at the same time, it's a short-lived thing and has already sort of fizzled out. Now EDM is just back to being white music for rich white kids. You see that too with all the other brands. During the protests in June, it was like Black History Month all over again with all the Black people on their social feeds. And then it went back to all-white models, all-white actors and actresses, all that shit.
I felt as if 2020 was gonna turn a corner for music. All music goes in waves: rock, electronic, whatever. Like right now rap is killing it. I felt like electronic music had started a nosedive around 2016, and I felt like this year we were gonna get some really cool shit. COVID tamped all that down. It shut down all the venues. Any of the festivals the festival promoters that weren't huge conglomerates already were then absorbed by the ones that were. And we're gonna get another four to ten years of regurgitated shit. 
But the upside to it, the optimistic side to it, is the more commercial and shitty and boring that music gets, the better the rebound. The pendulum swings. It's gonna be over here in commercial land a little longer or further than we thought, but it's gonna go back in the craziest way. Hopefully a few years from now, we will have a big "fuck you" to this moment.