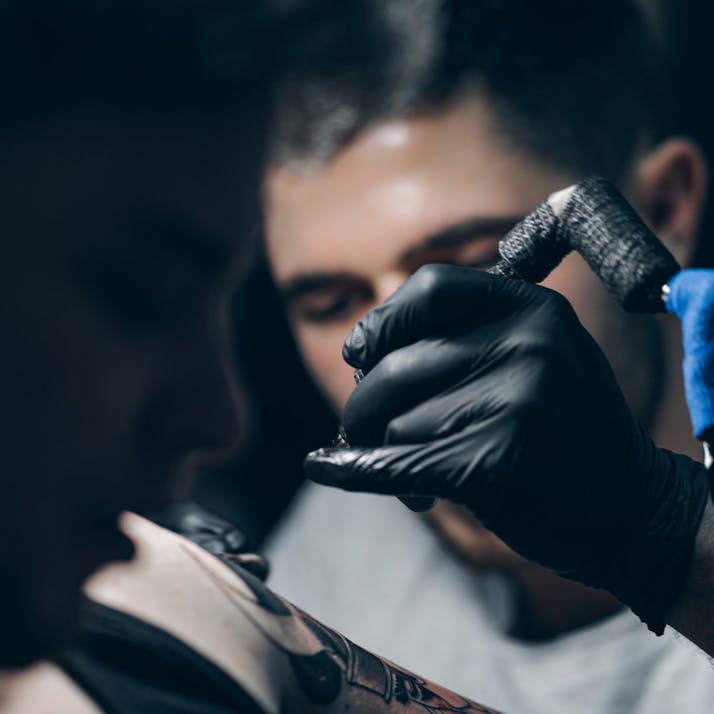 Inked Not Jinxed: Why I Got a Cowboys Super Bowl Tattoo
A die-hard Dallas fan reflects on his permanent prediction, and the side effects of going viral for it.
/ / /
It was the preseason. The Dallas Cowboys had just lost their star quarterback, Tony Romo, due to a fluke back fracture. While the whole Cowboy fanbase was losing its mind and throwing in the towel, one dude didn't. That dude was me.
No one gave us a shot. Not the professional analysts. Not the average Joe on the street. No one thought we had a chance in hell. But I was so sure the Cowboys were going all the way that season that I got my belief proudly, prematurely and permanently tattooed onto my skin forever. "Dallas Cowboys SUPER BOWL CHAMPS." (I have that Super Bowl's Roman numerals tattooed as well, but leave them out here for anonymity's sake.)
A New York Giants fan had actually dared me to do it, so I gladly accepted. He paid, I smiled and about two hours later, after I'd posted my ink on social media, it was everywhere. I received 300,000 retweets on Twitter and had a story in a major New York newspaper. I got death threats and gift baskets sent to my house; my grandmother's home phone number was leaked online; I even received a porn offer and a letter from the Super Bowl Committee that said I would be awarded four free tickets if the Cowboys made it to the final stage. It was a wild ride.
My Father Turned Me Into a Massive Cowboys Fan
So where does this story actually begin?
I had just turned 29 years old, which means I was born in 1992, the beginning of the Dallas Cowboys' dynasty rule of the '90s that saw them acquire three championships in four years. And I (kinda) missed it! I missed the glory days simply because I was too young to remember. As the Cowboys were winning rings, I was getting my diapers changed. I didn't start watching Cowboys games until the 1999 season when I was six. Born to a superfan, I really didn't have a choice—to this day, I'm so glad I didn't. I'll never forget it. I was awoken one Sunday morning and given a #8 dark navy jersey that read "Aikman" on the back along with a hat and a big star to go along with it. Something was different about this Sunday. Usually, I was dragged around to grocery stores with my mother, but this Sunday was different: I was going with Dad to watch the Cowboys play! 
We headed out to a place called JJ Mugs, which is now named Alabama Joe's. We sat at a high top while my father's friends and fellow Cowboy fans joined us. I'll never forget that day. The excitement was electric. We screamed, laughed and high fives flowed in every direction. It was like a whole new world was opened to me. My Sundays between August and January would never be the same. Mind you, that was 1999. The dynasty was over and "The Triplets" were diminishing. Michael Irvin retired in 1999, Troy Aikman retired after the 2000 season and Emmitt Smith went to the Cardinals in 2003.
I was stuck watching quarterbacks like Chad Hutchinson, Quincy Carter, Vinny Testaverde, Drew Henson and a shell of Drew Bledsoe. I felt cheated. But I'm not one of these fans who gives up on their team or turns off the TV when they're losing. No matter how bad it gets or got, I watched every snap. I'll be honest, it wasn't easy. It would have been so much easier to jump on the New England Patriots bandwagon like a lot of my classmates were doing back then, but I refused. The 5-11 and 6-10 seasons piled on for years.
Until the season in question. I had never seen anything like it. Our starting, legendary (in my opinion) quarterback was out with a broken back and we were left with two rookies to run the offense: Dak Prescott and Ezekiel Elliott. The connection these two had that year was historic. As was typical for me—now making my living as a comedian—I was relentless on social media. I guaranteed a Super Bowl victory in December.
My Super Bowl Tattoo Quickly Went Viral
My family friend, who was a Giants fan, finally had enough with my smack talk and offered to put his money where my mouth was. I remember it like it was yesterday: "If you're so confident, big boy, meet me at the tattoo parlor. We will etch it in right now!" he told me. "My treat." So there we were, two hours later, needle buzzing. There was no turning back now, and then: boom. I was marked forever. "Dallas Cowboys Super Bowl CHAMPIONS."
It took one single tweet to get me viral; I was internet famous at the buzz of a tattoo gun. Soon, I had radio stations from all over the United States contacting me with offers for exclusive interviews. I actually did call-ins, from hip-hop stations all the way to political radio, in all 50 states. Let's just say I wasn't getting much sleep for the next few days. Then came the local press wanting their piece. I appeared live on the local morning news stations and received requests from the local papers coming to my home for interviews and photoshoots. Little did I know, the madness was just ramping up and not all in a good way. Soon, I was getting death threats on social media and blocked phone calls with voicemails telling me that I "jinxed the Cowboys season [and] you will die for this!" They were laced with all sorts of expletives. I actually found these the most entertaining.
The Tattoo Represents My Undying Belief
"Look, dude," I'd answer occasionally. "I am a 24-year-old struggling comedian that lives on his grandmother's couch. If you really think a tattoo that some idiot got jinxed America's Team from getting a Super Bowl, then I think you are one that deserves to die." 
I know, harsh. But it's true. Who actually believes that? Sorry, no magical potions or witchcraft abilities here—just a chunky kid who loves and believes in his team. The craziness continued. I was offered a porn contract in Miami that I gladly turned down. My tattoo may be big, but not everything else is. Adults were stopping me around town asking me for autographs. I was receiving anonymous gift baskets to my house, a lot of which contained food. They were trashed immediately. They weren't going to poison me. I went from just 1,000 followers on Instagram to over 17,000. I was the number one trending topic on Twitter and Facebook. I had comedy clubs that previously wouldn't book me all of a sudden call me. It was great, but odd at times. I'm actually a good stand-up who has won numerous awards. It was kind of hard at first when people didn't want to hear me speak—they just wanted to gaze at my arm and take pictures of it. 
Ultimately, the Cowboys lost in heartbreaking fashion to the Green Bay Packers in the playoffs. I cried my eyes out that night. My free Super Bowl tickets were gone and my grandmother's phone number was leaked online. I stayed quiet for the next few days until I made one last trip to the tattoo shop. I added another "I" to my skin, turning the tattoo into a "Dallas Cowboys Super Bowl Champions" for the next season. We didn't win that year either, but the madness stopped. Do I regret my tattoo decisions? Hell no. You have to believe in life! You have to have faith and, most of all, you have to dream and dream big. Something tells me this won't be the last time you hear from the good ole "tattoo boy."