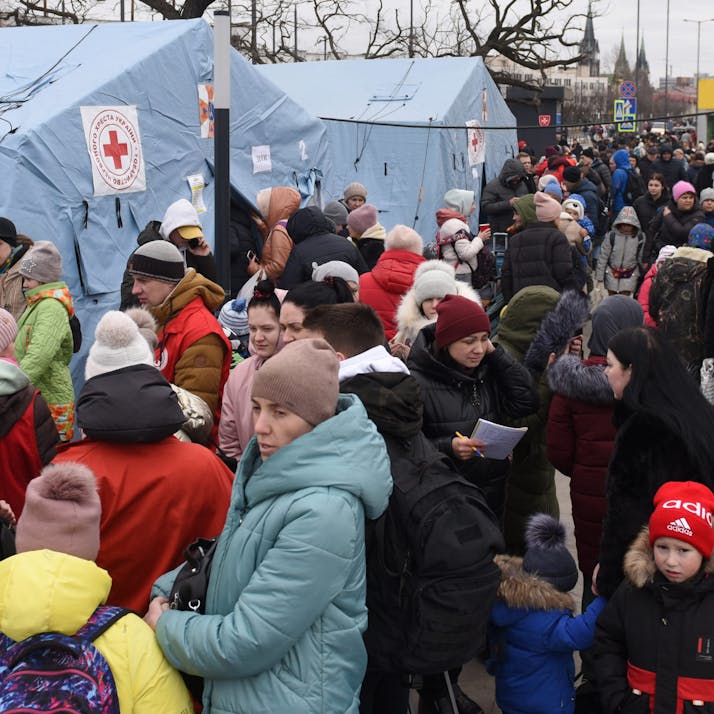 My Company Is Profiting From the War: We Are Sharing It With Ukraine
It is the duty of large private companies and wealthy individuals to aid Ukrainian refugees.
/ / /
Wars can be terrible for the supply chain—there can be disruptions and shortages, the biggest example being oil and energy right now. At the first sign of war, oil prices began soaring. But in Ukraine and other European countries, many different commodities—especially wheat, sugar and cooking oil—are also at stake. 
I work for a company that exports wheat and other food grains across the world and, honestly, right now, we're making huge profits from the surging prices and food demand. As a result, we have ramped up our production to the fullest capacity and are compensating our farmers more so that they'll collect a high yield of grain on their farms.
For Many Companies, War Is Great Business
Russia is the largest exporter of wheat, which makes up to 18 percent of its global exports—and it climbs to 25 percent when combined with Ukraine. When this supply chain is disrupted, shortages and price inflation of food grains are seen in every part of the world. Ukraine has already banned the export of food grains, and Russia has also announced a temporary partial ban on the export of food grain for Eurasian countries, meaning a quarter of the global supply disappeared overnight. 
Together, Ukraine and Russia also make up to 60 percent of the global exports of sunflower oil, and since the Ukrainian invasion, the supply has fallen. Compared to last year, sugar prices are up 20 percent globally, and the war is fueling more uncertainties and increasing prices, all because these commodities are staple goods. Wheat, oil and sugar are part of every humanitarian aid shipment, too, and top every family's grocery list. 
Still, many industries—metal, fertilizer, palm oil, coal and, of course, U.S. defense—are managing to reap profits during times of crisis. With the soaring price of wheat and its high demand across the world, my company's profit is surging with a huge backlog of international orders. Similarly, companies in other sectors are making record-breaking profits with the global inflation. 
War is a great business. You can sell more weapons to more people, and dozens of countries have already promised millions of dollars in military aid to Ukraine. The weapons industry is worth more than $110 billion worldwide, and even before the war, some of the top defense and arms manufacturing companies boasted that Ukraine-Russia tensions would be a boon for business. They were predicting this war and planned to make millions out of it as more European countries increased their budgets for defense spending.
My Company Has Promised a Cut of Its Profits to Aid Ukraine
To help support Ukraine financially, my company—and many of our employees—is pouring money into Ukraine government bonds. The company's founders organized a meeting with all of our team members to share our moral obligations and ideas to contribute aid to Ukrainian refugees by using our last two quarterly profits. Our company is also trying to educate and plan together with our partner organizations to do the same. I myself am using 20 percent of my monthly income to buy Ukraine government bonds while making small donations to refugees.
While different governments are announcing humanitarian and financial aid for Ukraine, and individuals are starting fundraising campaigns for refugees, nobody is holding the big profit-making corporate companies accountable to share their profits and contribute financially in the Ukraine-Russia crisis. It's not just the state government's responsibility to contribute resources for Ukrainian aid; it's a collective responsibility. Governments, corporate giants, high-net-worth individuals and even the common man share the duty to contribute humanitarian and financial aid to Ukraine.
This is the time for democracies across the world to unite in making big corporate houses and manufacturers in their countries benefiting from the war and the surging inflation to contribute with humanitarian and financial aid rather than continue to watch their pile of cash grow. I am hopeful that the world will gain greater empathy toward the suffering of innocent people and will stand together in the time of war to make efforts together in supporting the needy individuals and their countries.