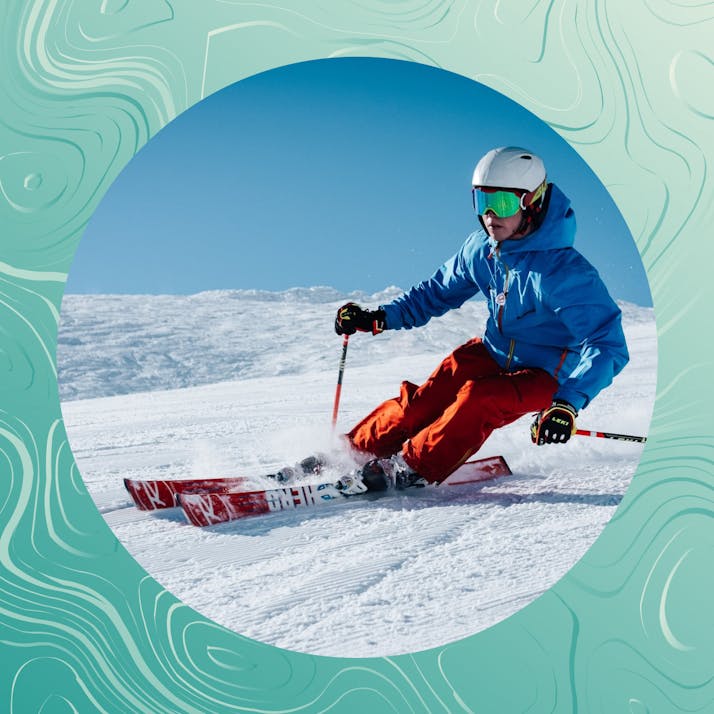 Climate Change Is Killing Skiing
A downhill racer wonders if the sport still has a future.
/ / /
"Should we slip it?" I asked my teammate as we looked down at the newly arranged slalom gates on the melting ski slope. We were getting ready to "pizza" around each pole in order to clear any excess snow in an effort to increase our speed for the race.
"Coach said if we push away any more snow, we might be skiing on dirt," they replied. The pathetically bare mid-January ski slope we stood on was yet another victim of our changing climate.
I've been skiing since I could walk, and slalom racing since I could run. Since then I've traveled the world, shredding the gnar on mountains from California to Switzerland. There's undoubtedly a certain amount of adventure and excitement that comes with flying to St. Anton, Austria, for some early-December skiing, but there's also a more pernicious reason for the nine-hour flight and three-hour train ride: The warming climate has made snow patterns around the world less consistent. These days the average weekend warrior can't just trek up to the Catskills in New York, the Green Mountains in Vermont or even the Wasatch Range in Utah and expect to find skiable slopes.
Our Ever-Shrinking Ski Season
The ski season is getting shorter. Every ski area in the United States is projected to lose up to half its skiable days by 2050, according to a 2017 study funded by the Environmental Protection Agency. By the middle of the century, the U.S. is projected to have 90 fewer days below freezing every year, according to a 2016 study based on data from the federally funded North American Regional Climate Change Assessment Program. New (and expensive) technologies—like cloud seeding, artificial clouds and snow guns that produce snow at temperatures above freezing—are being explored to counteract the shrinking season. But nothing can truly replace that fluffy champagne powder that nature's lake effect so kindly bestows.
The country has watched in horror the past few months as inconsistent snow has wreaked havoc on the nation. The western U.S. was hit with a series of early-season storms that seemed promising at first. But the storms stopped for too long a time, leaving the early season powder to freeze, melt and repeat until it formed a deadly base layer. When the snow came back in late January and eager skiers, boarders, snowshoers and hikers who've been cooped up in quarantine headed to the backcountry, they set off a series of avalanches that have already taken 33 lives, and may turn this into the deadliest avalanche season since records started being kept. Not that recent years have been much less dangerous. In 2008 and 2010, the Colorado Avalanche Information Center recorded 36 fatalities. 
Skiing Is a Family Tradition—and We're Losing It
For as long as I can remember, skiing was my family's safe space. When my great-grandmother died, we hit the slopes. When my dad lost his job, we hit the slopes. When my brother broke his ankle longboarding, we begrudgingly stayed home to give him some emotional support—but once he was healed, we hit the slopes. It was a way to let off stress, a way to bond and a way to mentor and teach. There was occasional drama: when my dad wanted first tracks on the corduroy groomers, but my mom wanted to work her legs on the moguls, or when I wanted to maneuver the obstacle course glades, but my brother wanted to speed down an untouched chute. By apres ski, though, all would be forgotten and we'd be one happy family yet again.
Christmas through New Year's and Presidents' Day week were our designated family ski vacations. Every year we'd choose a new mountain, and no matter where we were in the world, we'd all make sure to be there. As the season has gotten shorter, Christmas through New Year's skiing has been less reliable. Even mountains in the Northern Rockies, like Jackson Hole, Wyoming, or Whistler, British Columbia, don't necessarily have enough snow coverage to justify the trip. And you can forget about the gems further south, like Taos. We've canceled our Christmas ski trip in recent years. So far, it seems that Presidents' Day week is safe, but I wonder if that will be the case for much longer.  Will it even be worth it for my future kids to learn how to ski if the season's only a month and a half long like the data projects?
How Do We Stop the Melt?
The slow pace of global climate action is doing little to stem the melt. Mountain towns across the United States rely on winter tourism. For them, a bad snow season affects every facet of the town, from the resorts to the small businesses on Main Street. According to a 2012 study by Protect Our Winters and Natural Resources Defense Council, winter sports tourism generates $12.2 billion and attracts 23 million American participants. The study also found that the industry has lost over a billion dollars due to climate change over the last decade.
We need people in positions of power to take action immediately and stop the melt. Corporations that own ski resorts should ensure that all their ski infrastructure developments are carbon neutral. They also must ensure that every tree they clear for a new trail is replaced. Lastly, many ski resorts are in states with climate-change-denying state government officials. Ski mountains must use their political and monetary clout to lobby their government representatives to take immediate action.
The climate has changed, and the ski season has shrunk. With the proper action, the melting can be stopped and we can continue to ski on snowfall at or near our current level—which, while not as snowy as our forebears, is still incredibly fun.