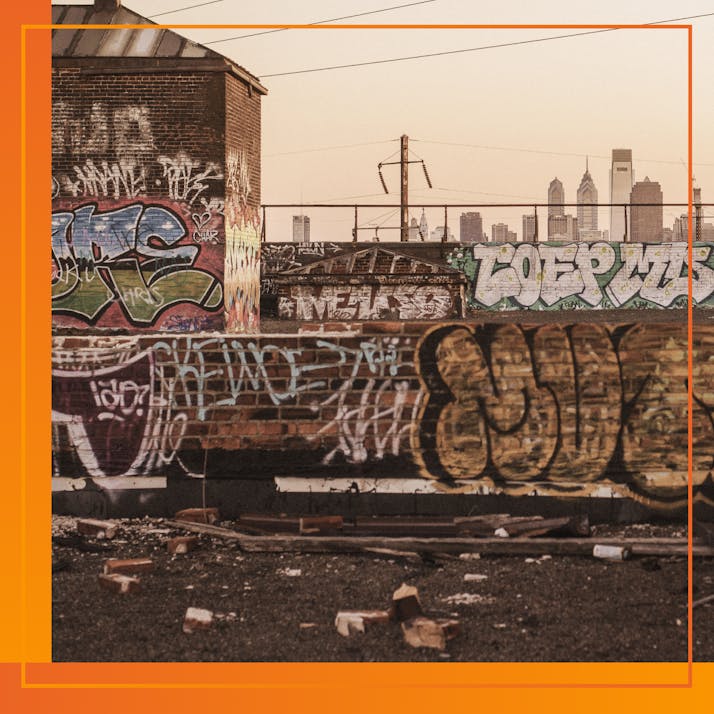 I Cleaned Up My Community and Answered an Ancestral Calling
A former corporate worker fled office life to clean up her community and reconnect with her roots.
/ / /
After a decade of working my way up the Madison Avenue ladder of success, I told myself that it was time for me to vacate my comfy corner of corporate America and enter the "real world" to make a difference in people's lives. 
The summer of 2015, I found myself in a small dejected city in New York's Mid-Hudson Valley. A city often referred to as a war zone. As I laid in bed, I could hear the sound of bullets echoing through the night. This city was a hidden gem that had deteriorated due to decades of neglect and crime. I witnessed firsthand the despair that imbued every corner of the city. I learned from speaking with people in the area that this place I now called home was a dumping ground. People there had come to believe themselves to be trash, and over time, began to adopt ways of treating themselves and each other as such.
After a couple of years of living there and participating in some neighborhood cleanups and revitalizations, I decided to create my own initiative. I endeavored in building a community green space with the intention to bring hope and joy to this dying place. My plan was to clean-up and establish this new space on the abandoned lot my siblings and I inherited from my mother after she passed away.
I Witnessed a Cycle of Brokenness
This decision and process ignited an inner struggle and many questions. I found myself wondering why people piled unwanted things here and how the habit begins. It seems to start with little things—broken fences, cracked windows, overgrown grass and one or two scattered discarded items carelessly thrust on the grounds. When people walk by they slowly start adding to the brokenness and the cycle goes on and on. As more and more people dump their trash in the space, the space becomes the place where all the unwanted things go, it's a graveyard for everything broken. No one considers it their "responsibility." This becomes an endless cycle. 
Rumi states, "Out beyond ideas of wrongdoing and right doing there is a field. I'll meet you there." The once abandoned lot became a special space beyond judgments and ideas of what was right or wrong about our community. I had moved beyond my own judgments and prejudice about this place and the one thing that pulled me away from these distractions was my pure intention to surrender to the need of my community for a safe place to gather and heal. 
At first, I was reserved and sometimes even resentful of all the work and degree of time I was dedicating to the vision. I saw that even though I was committed to doing what needed to be done, my heart was not yet completely in it. I was filled with doubt and regret. Flashbacks of the comfy life I left behind filled my mind and, suddenly, I would return to the reality of what seemed like a never-ending mess. I eventually realized that the only way to make this dream a reality was to completely dive into the mess. At this point, there was no turning back. 
Our Work Helped Mend the Community
When one person decides to surrender themselves to the greater good of the community, others eventually join in to help. What was built, I could never have done it alone. It took a diverse group of ever-changing faces with a shared commitment to make good things happen.
The more committed I became, the more we grew in numbers of committed dreamers. Over time, magic began to happen. Our community began to forge a new relationship with the earth, and along with it, a growing sense of responsibility for it. Collectively, we began to break a cycle that felt like a generational curse. Little by little, the work of one was made light by the hands of many.
Those days filled me with joy. Some of our greatest moments came from getting the youth involved and teaching them how to use garden tools. Many kids had never used them because they lived in buildings and had no access to green spaces. The work we were doing was impacting the people in the community. When one of the kids broke the lawnmower we were using for the cleanup, a good Samaritan who had learned about the work we were doing sent us a check so we could replace the broken machine. It was happening: People from the greater community began to show that the work we were doing mattered to them.
The cleanups continued for two summers and paved the way to a community festival. This proved to be an important and much-needed opportunity for people to come together and demonstrate collective care.
I Felt Closer to My Grandfather By Cleaning Up My Community
These experiences taught me that people have a deep need to be recognized as worthy of being invested in. I didn't have much, but what I had I gave. I believe that this is the way that our world will change. We benefit from acknowledging that we all are living on the same soil, and every community is sacred ground. Cleaning up began with heaps of garbage and ended with a healing green space and a community festival that united our community and inspired them to imagine new possibilities. 
This journey helped me weave a new ancestral narrative. Although I have no kids of my own, in ways, I adopted the kids of Heartbrooke Street as my own. I especially connected with a bright young boy who showed much promise. I found great joy in listening to Jay's dreams for the future and his enthusiasm to help build a community labyrinth. It was inspiring to witness his commitment to teaching other kids how to appreciate and participate in this newfound sense of a united community. That summer, he became the son I did not have.
Perhaps the desire to make a difference was deeply embedded in my DNA. I had grown up hearing about my maternal grandfather, Papa Louis. At a time of great need in Nigeria, he played the pivotal role of supplying essential resources and infrastructure to the Igbo community, before, after and during the Nigerian-Biafran War.
It was as if through service to the land, I answered my ancestral calling, my role and contribution toward the great healing and wholing of planet earth. It was said that anyone who showed up at Grandpa Louis's doorstep requesting support would receive a place to sleep, a job and food for a year so they could move forward. He played his part to help his community move forward, and I feel grateful that I played mine in my own village in Upstate New York.
Each one of us has a role to play in making the world a better place. I hope that we all find a patch of forgotten soil, a space that challenges us to dig deep, grow and remember.