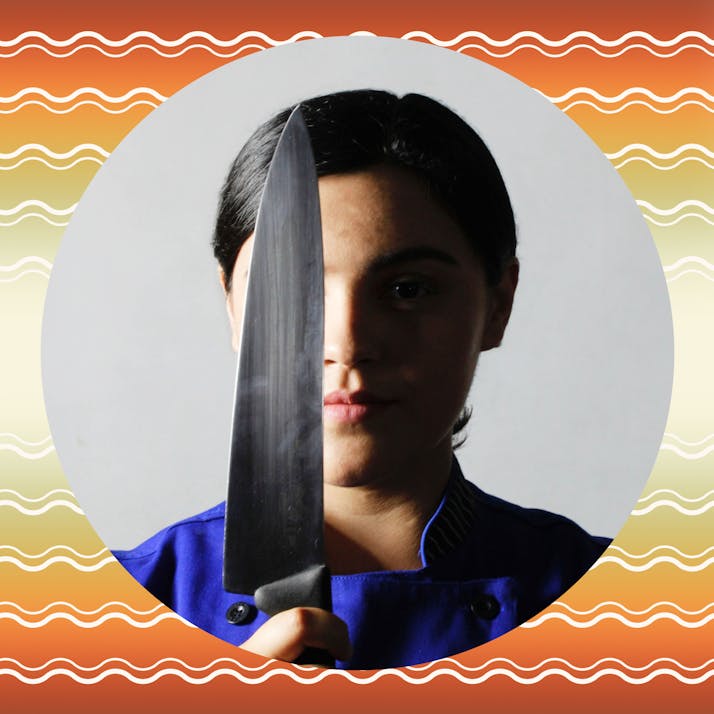 A 'Chopped' FAQ: What It's Like Competing on the Food Network
After winning the hit show, a former contestant takes you behind the scenes of the whirlwind cooking-on-camera experience.
/ / /
Whenever someone finds out I recently won an episode of the hit Food Network show Chopped, I get a wonderful reaction followed by the same set of questions. 
For example, somebody recently asked me if there were really only 20 or 30 minutes per round to make a dish. To answer them, I recounted the moment I realized I had no dipping sauce for my popcorn chicken tenders with just 10 seconds left in the round. I had plated everything—the tenders, cheesy smashed potatoes, sauteed broccoli rabe—but I ran out of time to make a spicy aioli. So I sprinted to the pantry to grab ketchup. The judges questioned my decision but cheered me on—and also counted down the clock out loud. At the buzzer, I finished putting a squeeze of ketchup on each plate. Yes, that ticking clock is real.
A couple of months removed from the show, I now have my answers down pretty well. So I figured what better way to talk about my experience than to tell the people what they want to know! 
How Did You Get On the Show?
A casting agency slid into my DMs on Instagram! I was shocked. I didn't have much of a following or even post that often (although since the show, I've been stepping my social media game up a bit). But when I got that first message asking if I would interview for the Food Network, my initial response was, "NOPE." 
There's a funny stigma from restaurant folks about going on shows like Chopped—as if it's not "cool" or something. But I went through with the interview because, in all honesty, I had been coming out of a deep COVID depression and had close to nothing lined up professionally. After a call and a recorded Zoom interview with the casting agency, I received an email from one of the show's producers congratulating me for being cast for the show. And after some convincing from loved ones, I decided to just go for it. 
But let me tell you: If the experience itself—the cameras, the rush, the people I met, the accomplishment—wasn't enough to convince me that participating in a show like Chopped is far from "lame," walking out with a paycheck like that after one long day of work sure did.
How Long Does It Take to Film?
All in a day's work, babe! Well, almost. The day before the competition, I went to the new Chopped film set—a beautiful old warehouse converted into studios in Paterson, New Jersey—for a couple of hours to film the introductory portion of the episode (I discussed who I am, what I do, my style as a chef). On competition day, I had to be on set by 5:45 a.m.
Less than three hours later, I was figuring out what to do with ingredients like nacho cheese and hot dogs. If you get the boot in the first round, your day is over by noon. But after making it through all three rounds—the emotion and adrenaline running rampant—I sat down for three hours afterward to talk about it all on camera before finally heading home at 9 p.m.
Is It Really Like What You See on TV?
The cooking and judging were as real as it gets. At the beginning of the day, we got to quickly tour the pantry, but for each round, you open your basket, look at the ingredients and start cooking because the time goes by fast. 
The narrations and interviews were scripted at times, but mostly things were just swayed. The producers would ask a question hoping for a certain response, and you'd have to reply in a full sentence so it didn't sound like an interview. For example, I really didn't want to speak poorly of any contestants on camera. But if I didn't give them a straightforward answer to, "Who do you think will be chopped first?" their next question was, "Who do you think will make it to the next round?" The introductions were written by the producers based on things I'd said in my recorded interview a month prior to the episode's filming. And while I would have maybe written things slightly differently in my own words, it was nice to have everything completed and ready to read the day before competing. 
When you're watching the show, contestants discuss what occurred in the present tense as the b-roll shows them running around like headless chickens trying to pull everything together. That narration actually gets filmed after you're done shooting. So, whether you win or lose, you have to sit down and narrate each moment of the show bit by bit by bit. As the producer asked me questions, he pointed me in the direction of what I should say or how I should say it in order to create the right narrative arc for the episode.
The interviews in between each cooking round are simply prompted by questions. The producer stands next to the camera and asks, "How are you feeling after that round?" and, "Who do you think will be chopped?" and, "What are the judges going to say about your dish?" That was hard, mostly because I wanted to support my competitors and be grateful for the opportunity. But, of course, there was pressure to say things that would make for good entertainment.
I walked into filming prepared to avoid saying anything cheesy. I had watched about 20 episodes of Chopped leading up to my taping and told myself I would not take part in the puns and the exaggerated statements. All that changed as soon as I got on set, which I found hilarious. Suddenly, I was the one making the puns and using a sing-songy voice that I so much wanted to avoid. But I'm glad I gave the people what they wanted. 
See, here's the thing: I think I know why I won the show (besides practicing at home with friends and family…and being an awesome cook *wink*). I love to have fun, no matter what I'm doing. I try not to take things too seriously because I'm not saving lives! I'm a chef. I'm passionate about what I do and bring a positive outlook with me wherever I go. So when the time came, I went with the flow and just had fun with it all. This leads to our next question.
Were You Nervous?
I was nervous until I got to the kitchen. 
Leading up to the show, the best advice I'd received was the simplest: just have fun. I didn't know how important that advice would be. I realized that all I could do was cook with my heart and be my crazy self. I didn't want to be upset if I lost, whether in the first or final round. I knew that I was stepping out of my comfort zone and taking on a new challenge. With that in mind, having fun became the only option. I went into each round playfully, followed my intuition and had an awesome time. I think that mentality was a big part of my success. It always has been throughout my life.
Has Winning the Show Changed Your Career?
It has! Not drastically, but certainly. 
Winning Chopped gave me credentials. When a new opportunity comes up, telling somebody about the show gives them a reason to believe I'm great at what I do. It's an indispensable part of my resume and an experience that I'll take with me throughout my career.
The biggest change has been my boost in confidence. To win Chopped, you have to have key culinary skills: creativity, technicality, time management, great taste and more. I've always struggled with imposter syndrome—the feeling of not being good enough or not knowing enough—because being a chef is an endless journey with infinite things to learn. Being named a winner gave me pride in those skills and proved I have what it takes to be great.