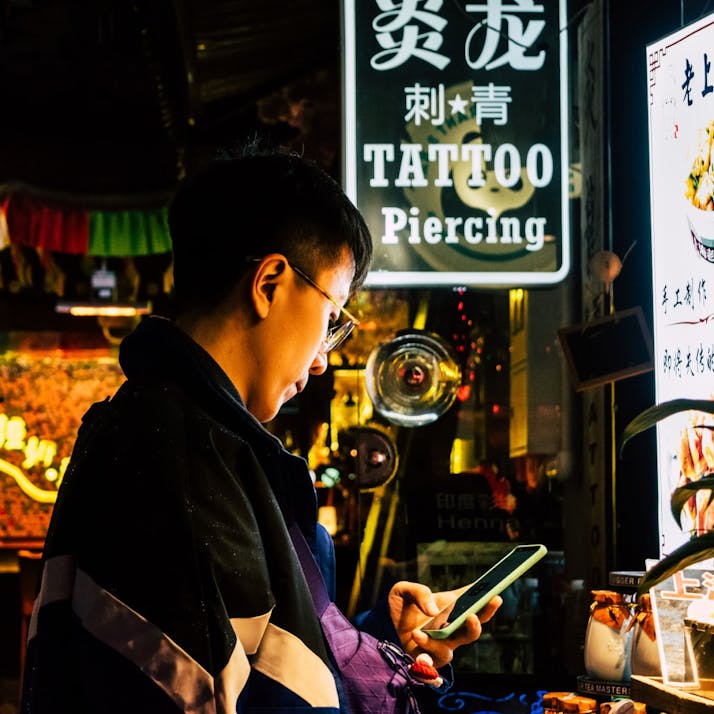 China Is Miles Ahead: A Look Into Life Transformed by Technology
A student whose family is from Guangzhou explains how tech impacts life there.
/ / /
I am an Australian-Chinese 19-year-old who went to school in Melbourne, and every summer break in December I would visit family in Guangzhou, the third-largest city in China. In the past decade, Guangzhou underwent incredible technological transformations, so much so that every year when I returned from Melbourne, I felt like a hermit coming out of my rock and being exposed to the technologies that make up the modern way of life—an embarrassing sentiment for a teenager. 
Instead of providing an in-depth comparison of the groundbreaking Silicon Valley-level technologies being developed, I want to shed light on the remarkable dominance of technology in daily life and the convenience it has created for ordinary individuals in China that is incomparable to any city in the U.S.
China's present represents the technological future. 
The Future Looks Like WeChat
The recent injunction against Donald Trump's WeChat ban has brought the app under scrutiny in the U.S. WeChat is a Chinese multipurpose app that allows users to message people like WhatsApp, post content like Facebook, subscribe to accounts like Twitter, make electronic payments like Apple Pay, access different services through its built-in mini-programs and even pay utility bills. Since its launch in 2011, WeChat has evolved into the default online social platform for Chinese people around the world. 
I first downloaded WeChat in 2012 but didn't use it, because my stubborn 11-year-old self believed that Facebook was superior. Then I returned to Guangzhou in 2015 to discover the revolutionary WeChat Pay feature in the app, one year after everyone else. In short, it allows users to link their credit card and keep a balance local to the WeChat app, which can be used to quickly transfer money (either directly, via messaging for existing contacts or by scanning QR codes), make payments to businesses and complete transactions in other online applications. 
The U.S. doesn't really have an alternative for electronic payments that matches WeChat Pay's scale and accessibility. According to Business Insider, WeChat Pay has 900 million monthly active users, while Apple Pay, a pre-installed app on all iPhones, has a meager 127 million users globally.
WeChat can be easily accessed on all types of devices, Apple or Android, so individuals and businesses alike in China fully participate in it. A 2017 Penguin Intelligence study found that 92 percent of people in China's largest cities use WeChat Pay or AliPay (another popular payment app) as their primary payment method. Once you try it, you quickly realize why dealing with loose and dirty notes is a thing of the past there. In fact, 45 percent of WeChat Pay users no longer carry cash, which is a very common trend among my Chinese friends (although I still feel uneasy going out without my wallet). To meet this shift in payment preferences, almost all restaurants, and many stores such as hair and nail salons, have a power bank station available for customers (in recognition of how indispensable phones have become). Even street hawkers have a WeChat Pay QR code displayed next to their products.
How many local stores accept Apple Pay in your city?
Life After Cash: A Short Story
I had a bizarre experience in 2017 when paying for some accessories at a small store. Everyone in the queue already had their green QR Code on their phone ready for payment, but at the time, I didn't have a SIM card or a Wi-Fi connection to launch the app, so I planned to pay by cash. 
It was my turn and the cashier had the QR scanner ready. 
"I'll pay by cash, thanks," I said. 
She looked at me rather oddly. "Our store accepts WeChat Pay, miss." 
"I know." I hand her a $50 note. 
She switched to a more patient tone, as though she picked up on the fact that I didn't live in Guangzhou. "Miss, you can use WeChat Pay, it's very easy. Just show me your QR code, or you can also scan our store's QR code here." 
"I understand, but I'll just pay with cash today, thanks." 
"We don't charge any transaction costs with WeChat Pay." 
"I know." 
She finally put down the QR scanner and took the cash. I had held up the line.
How WeChat Is Powering Innovation
WeChat's tremendous scope makes it a key player in facilitating the digitalization of Chinese cities. I had a look at my WeChat Pay transaction history to track how daily routines have changed in Guangzhou.
As soon as I returned in 2017, I was quickly swept into the new food delivery wave and became an avid user of Meituan Waimai, which at the time already had a 45 percent market share, according to Trustdata, and is currently the biggest player in the booming industry. Delivery drivers with a yellow Meituan Waimai uniform on yellow bikes have become part of the city landscape. 
The simultaneous rise of the bicycle sharing system Mobike (now Meituan Bike) across major Chinese cities created a national focus on leading a healthy lifestyle, and the extremely affordable price of RMB1.5 ($0.22 USD) per half hour makes the service much more attractive than taxis.
That same year I was also amazed to watch customers in a bank complete complicated procedures such as creating a bank account using self-service kiosks, with an assistant walking over to check their ID as a final step. 
In 2018, I was able to order food at average and large restaurants by scanning the unique QR code stuck at the corner of each table, which allows me to access the entire menu via WeChat and pay the bill with my WeChat wallet balance. 
A key point to note is that by the time I caught onto a new technology, it had already become widespread and no longer the next cool trend. People didn't visit a restaurant because ordering with their phones is novel—they did it because it was the norm. 
As Shenzhen becomes the first city in the world to have full 5G coverage, there is immense potential for technology to continue expanding exponentially in China, particularly in e-commerce and health. An example is the color-based health QR code launched earlier this year in response to COVID-19: Only people with a green health code can have unrestricted movement in public spaces. 
The digitalization of a city relies on big data and a public willingness to give up their data for daily conveniences. As an Australian-Chinese going to college in the U.S., I see that Chinese people are much less concerned with data privacy compared to the U.S. and other Western countries, where pressures for transparency and surveillance regulation is mounting. This could be where the way in which technology is integrated into daily life may diverge between the two superpowers. Although, regardless of whether you find China's current technocentric way of life revolutionary or grim, it certainly puts the U.S.'s position in the technology race in perspective.