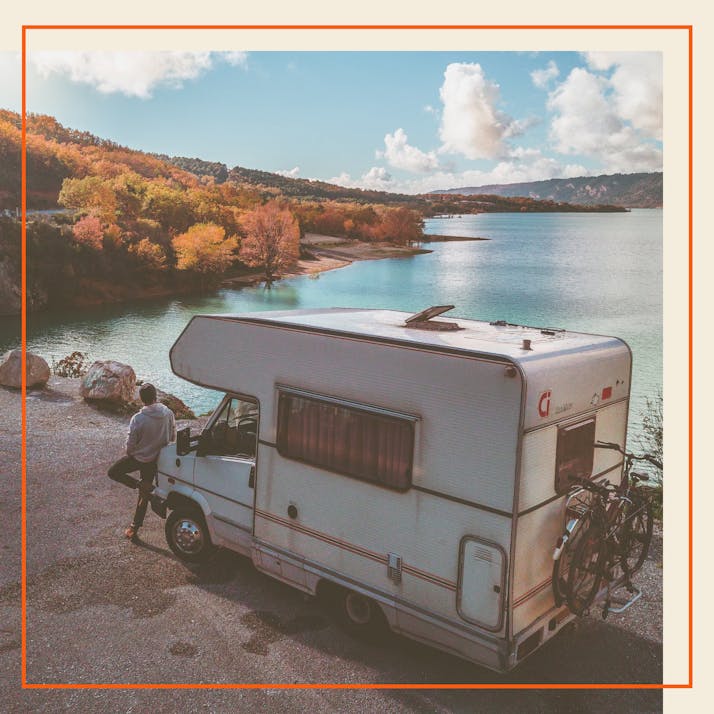 I Bought an RV and Drove Across the United States
I worked remotely inside my mobile home and experienced parts of the country I'd never seen before. It changed my life.
/ / /
About five years ago, I started to think about a future quest. I knew that my daughters would be going off to college, freeing up my day-to-day parenting responsibilities. I also believe that I have some sort of nomadic gene. My paternal grandmother came from a family of gypsies and I have an uncle and cousin who have both taken long solo treks in their lives. Over the past year, all of our worlds have changed with COVID-19. I decided to find the silver lining. 
Since many of us had to work from home, this was the prime time for me to change my home to an RV. I wasn't too concerned about getting the virus, as the vast majority of my experiences were going to be alone and outdoors. Most importantly, my four-month "work from home" trip around the country has continued to fulfill two voids in my life.  
The first is endurance. I used to be an ultra-marathoner and loved challenging all aspects of my mind and body. Going away for four months by myself would certainly provide that for me. I would be away from my girlfriend, my dog, my family and friends. I would have to re-invent my routines and learn how to live on the road in an RV, not for a long weekend or two-week vacation, but for 127 days. I needed to figure out how to pull a travel trailer, manage my water, find internet, sustain propane and electricity and, my favorite, deal with sewage—something the stationary world takes for granted.
The second reason is simply that I love to travel and explore. The combination of the two led me to this incredible journey.
I'm Able to Work as I Zigzag Across the West
I started the drive from my hometown in Virginia and worked my way to Austin, Texas, taking a southern route to California. From there, I zigzagged up the three Pacific Coast states, hitting Yosemite, Sequoia, Lake Tahoe, Crater Lake, Bend, Oregon, the Oregon Coast, Portland, Olympic National Park and Seattle. That entire leg took me two months. Then I started the second leg, heading east through Washington to Coeur d'Alene, Missoula, Montana, the Sawtooth Mountains, Sun Valley, Grand Teton National Park, Salt Lake City, Zion, Bryce, Monument Valley, Arches and, as of this writing, Canyonlands.  
In total, I've traveled over 13,000 miles, stayed in 60 different locations and hiked more than 300 miles since beginning in late February. At the same time, I decided to keep working my full-time job during the week, connecting to the internet with a portable hotspot with great success. Fortunately, being in the West, my day ends on East Coast time, which gives me extra hours to either travel or explore. So far, I haven't missed a beat at work and have gained the freedom to explore this amazing country.
The biggest challenge has been the distance from my girlfriend, family and friends—it's becoming increasingly difficult to be away from them. I miss my people, and I look forward to hitting the Virginia soil again. However, even on my own, I haven't always been alone. 
I Have Met Plenty of Characters During My Travels
One of the ways in which I find a home for Earl (the affectionate name for my travel trailer) is by using an app called Boondockers Welcome. It connects RVers like me with hosts, people around the country who open their backyards, fields and driveways to travelers. Most are located in rural areas, and the hosts are typically retired and want to give back to the RV community. Thus far, everyone that I've met along the way has been extremely gracious.  
Take Ted, from Alamogordo, New Mexico. I arrived for a two-day visit to see White Sands National Park and other local attractions. Earl and I pulled in around 6 p.m. on a Wednesday. Ted, an elderly, small-statured man, was there to greet and direct me to the spot on the side of his house. As I disconnected the trailer from my car, I asked Ted if he could recommend a place to grab a bite to eat. "Sure, I can cook you up a nice meal if you would like?" he said. 
Going into the trip, my goal was to keep an open mind and have an attitude of "yes." I didn't miss opportunities. So, after disconnecting and getting settled in, I entered Ted's home as he was cooking dinner. We chatted for a while and I learned that his wife passed away the previous year and that he had two grown children with families, both of which were not in the area. I can safely say his dinner was one of the worst-tasting meals of the trip, but one of my favorite experiences. Getting to know someone completely out of my social circle and learning about our commonalities was refreshing and promising. With so much division in the country, I have learned—through this conversation and so many more—that we're all essentially good people with so much to share, but we let small percentages of difference get in the way.  
Once the evening came to an end, I wanted to return the favor to Ted. I offered to buy him dinner for the next evening. I gave him an easy option: "Anywhere he'd like." He chose to eat Long John Silver's. I hadn't had that…ever, but it was ten times better than the first night's meal.
Hiking the National Parks Has Been the Best Part of the Trip
We often gravitate towards National Parks and monuments, iconic parts of the U.S. landscape. However, some of the best places I've been are the lesser-known spots. For example, there's a state park outside of Salem, Oregon, called Silver Falls. It contained one of the most spectacular hikes, with ten waterfalls (three of which you could walk under) over a seven-mile trek. Another great find was Serene Lake on Mount Index in Washington State. It's a solid hike to the top, where there's a beautiful lake, jagged mountaintops, vast views and a waterfall to boot.
People often ask about my all-time favorite hike. To make the top of the list, it has to be challenging, scenic throughout and have a great ending, whether it's an up-and-back or a loop. Mount Rose in the southern portion of Olympic National Park takes the first-place prize. I hiked it with my friend Mark, and we knew it was going to be tough (it had a 3,000-foot elevation for three miles). Basically, it's a switch and straight all the way. To add to the difficulty, there were two feet of snow for the last 100 yards. The hike was in an old spruce forest with excessively large trees. As we walked up the mountain, the view of the lake continued to expand and we knew that if the clouds cleared up at the summit, we would be in for one heck of a panoramic view.  
After two and half hours, we finally made it to the top. The clouds had moved on and the view was spectacular. What made this extra special was the Canada Jay sitting on the spruce next to me at the summit. We had a staring contest for a while, and neither he nor I were budging. So, I decided to be Dr. Doolittle and put trail mix on my hand. Funnily enough, the jay swooped down onto my hands and  casually pecked at it, avoiding the M&M's (it probably knew there was some sort of unnatural food coloring). He left just as quickly as he arrived. I did it again, adding more trail mix to my hand, and quickly found more friends. This continued for several minutes, and by the time I stopped, there were three or four more jays eating from my hand. It was one of those amazing moments, sitting in such a beautiful place, experiencing nature.
The Trip Has Taken Me Out of My Comfort Zone
This trip has been epic. I have met so many wonderful people, visited countless places, including farms, wineries, parks, cities and small towns. I have not really had a single mechanical issue, as I knock on wood for the 43rd time.  
One of my more memorable encounters was meeting Rick and Judy in Hailey, Idaho, just outside of Sun Valley. When I pulled up to their home, I noticed a class-A RV in the yard. These are the large, bus-shaped rigs that are often used as a celebrity's tour vehicle. Typically, during a stay, you may have a cordial "hello" and a brief conversation. But as I was getting ready to leave, Rick sparked up a conversation and invited me into the "palace" to meet his wife, Judy. Both retired, they sold everything and have been living happily on the road for the past three years. 
We spent the next hour talking about family, our experiences on the road and why flavored bourbon is underrated. As I left the RV, we realized we would be in the same place the next week, so we planned another dinner and drinks in their rig in Pocatello, and then again on Antelope Island, Utah the next week. I'm not sure when I will see them again, but when I do, we will certainly pick up where we left off—with a cherry-flavored Jim Beam on the rocks.
If there's a space in time where you can afford to make something like this happen, you should ask yourself, "Why not?" It's taken me way outside of my comfort zone, but I couldn't be any more grateful for the forever experiences I've had over the past several months.