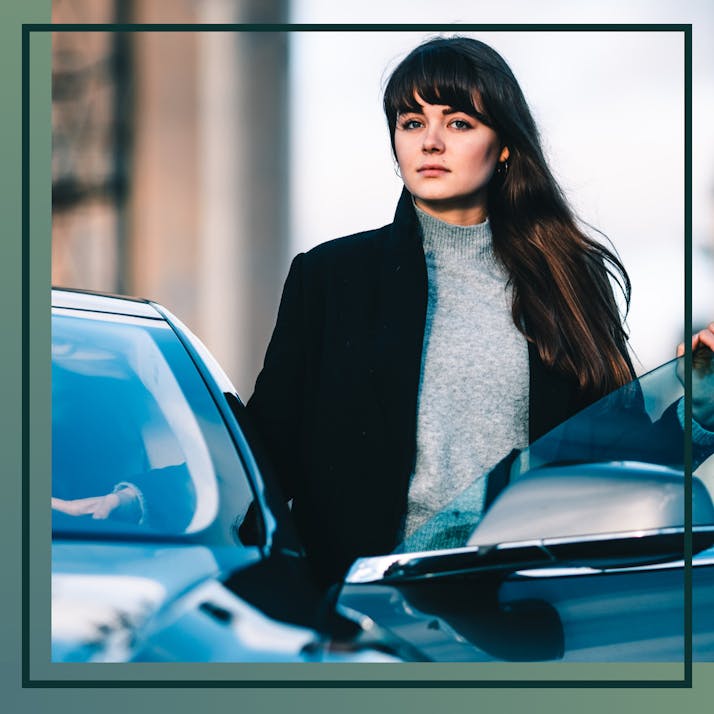 Behind the Scenes: I'm a Car Saleswoman
In a mostly masculine environment, I've made my bones by telling it straight.
/ / /
In my early 20s, I was in college with two small children. Needing more income, I looked for a job and came across a car dealership hiring people with no experience. As I walked across the lot in five-inch heels, I realized I may have been a bit overdressed.
"Do you know anything about Lincolns?" the manager, wearing a button-down Hawaiian shirt, asked me.
"I drive a Ford. I like Ford," I said. "They're related, right?" 
I was hired, but he should have asked if I could drive a stick shift. (I can't.)
The Car Dealership Industry Clicked With Me
I loved absolutely everything about selling cars: training, marketing, (so much) selling and eventually management and finance. After more than a decade in dealerships, I started working privately by sourcing vehicles and consulting for owners.
I'll get right down to the juicy details. In a typical new car dealership, there are three to five managers, 13 or so salespeople, a porter, plus a service department, with their own similar setup and detail crew. There is a receptionist and office staff, who are often the only women. Female managers are rare gems, and female owners are like unicorns. In many ways, it's still very much a good old boys' club. 
The majority of people who stick around in the business are natural alpha types, strong personalities who crave competition. Throw a soft-spoken but strong-willed young lady with major curves in the mix and things change a bit. At my very first dealership, I realized this could be a painful experience if I chose to stay in this industry. The majority of women in this field have dealt with sexual harassment on multiple occasions. I dealt with it at every level of my career. I once had a manager who wouldn't get my deals done because I said I didn't want to have a dinner date with him. He was screwing the new owner and they liked to drink on the clock.
Being a Woman in a Male-Dominated Industry Can Have Its Perks
Over the years, after working in several states and settling a lawsuit, I built a reputation as a woman who wouldn't tolerate any nonsense from men. Then things changed for the better, and I had extremely different experiences than equally qualified men in similar positions. With clients, it was beneficial. Buyers seemed to trust me more, open up and genuinely enjoyed working with me. I always tried to be helpful, remembering how challenging the car buying process feels to the average person.
In order to be successful in this field, you have to be pretty feisty, and I bumped heads with men on a regular basis. My morals and values were never up for negotiation. I have seen it all: fake licenses, dead people's social security numbers, fake pay stubs, forged documents, packed payments, stolen vehicles sold by dealers. There are so many stories I'd love to share, but that would take forever.
When people start considering the process of buying a new vehicle, it can be overwhelming. There are a plethora of choices—the type of car, trim level, dealership, financing, extended service contract, etc. Then add immense sums of money into the equation. Because car dealers work every day, they get desensitized to the emotional rollercoaster that buyers often go through. Obviously, they are in business to make big profits. Combine all of this and it's easy to see why car salespeople can have a shady reputation. But I've spent my entire career believing and sharing that ethical business practices are the only way to do things.
Car Dealerships Don't Rip You off as Much as You'd Think
Because of the pandemic, and because more people are working remotely, the auto industry has now moved into the digital space. One of the benefits is that it allows buyers to feel comfortable while going through a more transparent experience. The big question everyone really wants to know: Do car dealers really rip people off?
The truth will probably surprise you: They don't. I'm not saying it never happens—it does, unfortunately. However, in general, the answer is no. There's not enough profit margin in most vehicles or in bank loan terms to add in thousands of extra dollars. Banks require what's called a loan-to -value ratio that's about 120 percent. That (seemingly) extra 20 percent is often used for taxes, fees and extended warranties. And before profit, there are costs associated with servicing, detailing and advertising the vehicle. 
Furthermore, dealerships spend unbelievable amounts on software, staffing, inventory, car washes, fuel, parking lots and buildings. There's just not much profit left in most car deals these days. Additionally, there are a ton of laws and regulations that require dealers to disclose loads of information. So, if you pay attention to the math and use a car loan calculator, it's pretty hard to get ripped off. Even today, in the midst of a national chip shortage for new vehicles, making used car prices skyrocket, I preach fairness.
Being a Car Saleswoman Is Tough, but Can Be Incredibly Rewarding
Let's talk about cash. Do you think that you would get a better deal if you paid for a vehicle outright? Nope, you're actually more likely to get a worse deal by paying cash, if the dealer even agrees to it. Weird, right? I'll explain. The dealership wants to keep you. Forever! They want you to use their banks for financing, their service department, their warranty companies, trading in your vehicle with them. 
In fact, I recently had a deal funded within a few hours—the dealership sent the completed paperwork to the bank, and the bank wrote the dealership a check. It's just as fast as a cash transaction. Or maybe us car folks just really enjoy doing lots of paperwork; the world may never know. I can't give away all the secrets.
There is no shortage of amazing individuals in the car business. Some of the best people I have ever met have spent their lives in the transportation industry. It's a tough business to be in sometimes, especially for a woman. There is absolutely no balance between home and work life unless you get creative and serve your time in dealerships before branching out on your own. Mistakes can cost the price of the vehicles you're selling. 
But one great thing is that it's never boring. When I think I have seen it all, something new happens. It's immensely rewarding to help people purchase vehicles they love. It's an adventurous career choice, one that I'm proud of doing. And if you're cute, you don't even need to learn to drive a stick shift. All the guys will be happy to move anything you need! I always got a kick out of that.