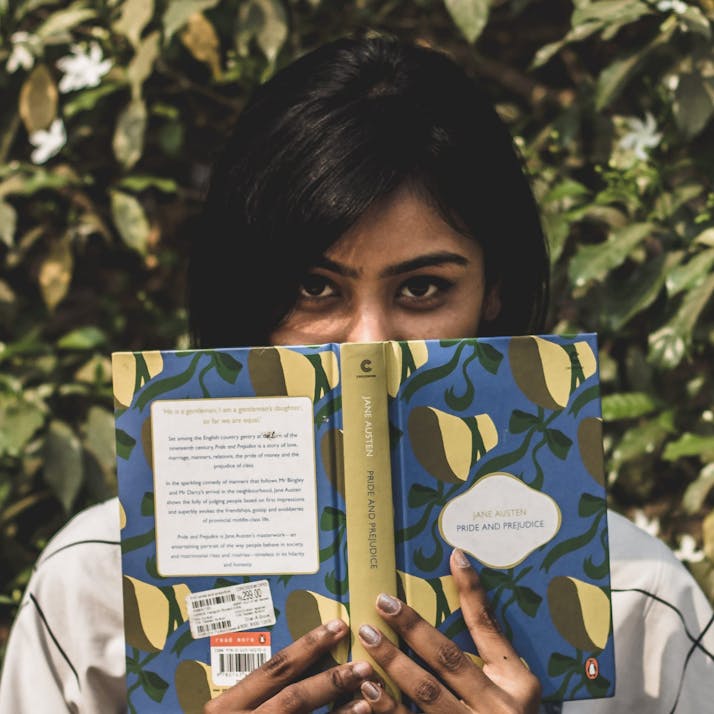 I Became a Writer to Impress a Girl
How I came to terms with my sexuality while learning to love reading.
/ / /
I hated reading as a child. It was long, boring and often didn't make any sense. My parents worried about my slow development, especially when compared to my math skills, in which I excelled. The first time I truly enjoyed reading was in high school.
My Friend Instilled in Me a Love of Literature
My freshman year, I made a close friend: Charlie. I can't remember exactly when we met, but I know it must have been in those awkward few days of orientation, when everyone was shy and no one knew what to do. We were two of the 48 girls spread throughout our Catholic school's mansion lobby. But Charlie and I found each other in that inconceivable world of San Francisco private schools, drawn together by a mutual awkwardness of puberty and new experiences.
Charlie loved books. She read everything. A trip to a bookstore was an exciting outing for her. Through months of effort, she finally forced me to read a book. It was The Hunger Games. The first of the movies was due to come out in a few months. Movies got me excited enough to actually read, so I reluctantly borrowed Charlie's copy of the first book in the series. And it turned out that I liked it. I finished it overnight and, later that week, she gave me the sequel.
She was kind and smart. We spent weekends watching movies or staying up until 1 a.m. watching J-pop music videos before falling asleep on her couch. She stood a few inches taller than me, with blonde hair and skin so pale, she sometimes wore sunscreen on cloudy days. On weekends, we had sleepovers where we would watch movies and talk about the indie bands we were listening to (back then, Ed Sheeran was still an unknown artist who would sometimes play free concerts in Golden Gate Park). 
After school, Charlie and I would often take trips to bookstores, either ones near school or near her house. Sometimes, we would each buy a book, read it, then switch. We'd always go to the teen fiction section in the back left corner of the bookstore on West Portal. After seeing the trailer for the movie adaptation of The Perks of Being a Wallflower, we both read the book, and it later became something I read three or four times through the course of high school.
Soon, I learned I didn't just read because of Charlie; I genuinely enjoyed it. I'd often walk to class with a book in my hand. I read all the trending teen fiction of the time, like The Fault in Our Stars and Divergent, along with some higher fiction. Frankenstein became one of my favorite books and still is to this day. I read The Goldfinch upon recommendation from Charlie's mom, and it instilled in me an avid love for Donna Tart. English class became my domain; I would fiercely argue with anyone who contradicted me and was outspoken in every lecture.
Were It Not for Charlie, I Would've Been a Completely Different Person
When it came time to apply to college, I decided to pursue English literature. At 17, I, like so many other teenagers, didn't know what I wanted to do with my life, but I knew I loved reading and writing.
Once off to college, Charlie and I quickly lost touch. Our relationship had already begun to wane in our final year of high school. We rarely took trips to the bookstore or stayed up all night talking. The distance of college merely solidified the growing chasm between us.
I spent my days working in the library and reading the classics. College also helped me come to terms with my sexuality as a queer person. I don't know if you've noticed this, but girls are very pretty and they smell good. For years, I told myself that's a universal truth that everyone agrees with. At a certain point, I looked around and all of my friends were queer, I sought out queer undertones in books, and I thought, "Maybe this is a sign." What really did me in was going to see a lesbian comedian one night and spending the whole time thinking, "Do I want to have sex with women?" And when you're asking yourself that question, the answer is almost always "yes." I also realized I used to love Charlie. 
My impressionable teenage brain would have done anything she asked me. Read a book? Sure. Help each other with homework? Always. Sneak out? No—because we were both nerds who didn't get invited to parties, but I would have done it in other circumstances. I started reading because she wanted me to start reading, and I loved it because she loved it. 
Even now in my New York apartment with my M.A. in journalism and a stack of thousand-page novels in my office, knowing I haven't spoken to Charlie in years, I can't help but notice how she changed everything for me. Without her, I wouldn't have studied English literature or met some of my closest friends or gone to grad school. I'm one of the few people I know who has a career path that I actually love, and it's all because I had a crush on her so many years ago. She gave me direction for my life. Without Charlie, I wouldn't be a writer.