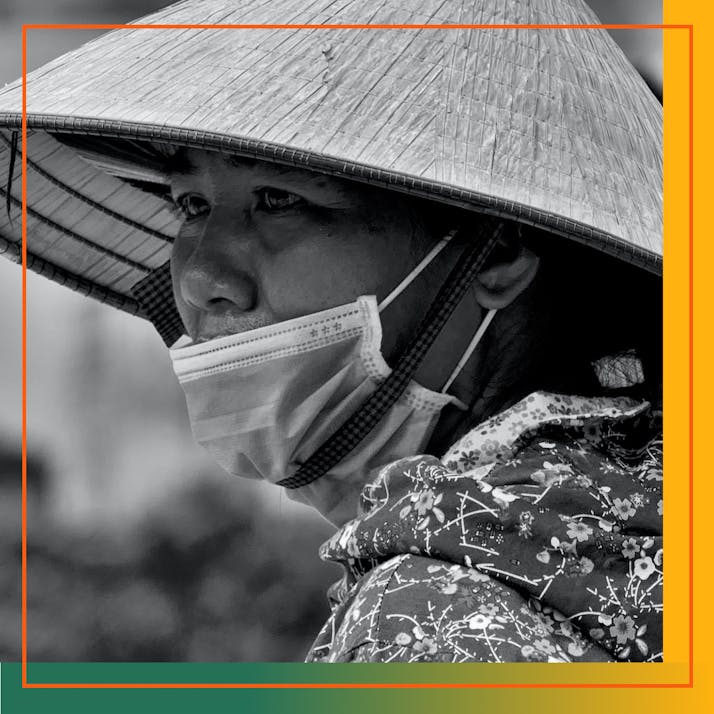 How I Avoided (Most of) the Pandemic in Vietnam
While the pandemic raged on in the United States, I was stuck in Vietnam, where the COVID-19 lockdown actually worked.
/ / /
In September 2019, I boarded a plane with a one-way ticket from LAX to Ho Chi Minh City. 
My plan was to use Vietnam as a base and travel around Asia for a year. That world was open to me. I had friends in Taiwan, Bangkok and China whom I could visit. I had never been to Malaysia or Indonesia, so Kuala Lumpur and Bali were options. On the top of my list, however, was Japan. I wanted to see the crowded megacity of Tokyo, the majesty of Mount Fuji, and the soft beauty of the sakura festival in Kyoto. 
I spent the rainy season in Da Nang, where I had settled, planning the trip with a fellow traveler I had met. We had tickets to Studio Ghibli, rail passes and flights for March 8, 2020. Of course, news of the new coronavirus originating in Wuhan, China had already begun to filter in, but we were going to Japan and not China. That wouldn't be a problem, right? 
Once Italy began shutting down cities, and then the entire country, we had a decision to make:  scrap the dream trip we spent weeks planning or take the risk and go anyway. 
My intuition told me not to go. Although it was still early on and we didn't know the full extent of how contagious or deadly the disease was, something told me it was a bad idea. This turned out to be the best decision of my life. Vietnam closed its borders on March 22. Our return ticket was for March 24th.  We would have made it to Japan, but we would have found ourselves stuck there with no way to return to Vietnam.
Vietnam's Authoritarian Government Handled the Lockdown Beautifully
Then began a different kind of adventure —figuring out how to live in a foreign country during a global pandemic. As the severity of the virus became clear, many of my friends and family expected me to return to the States immediately. However, it turns out that a developing country with an authoritarian government was one of the best places in the world to be. 
While the citizens in the United States refused to wear masks and argued that a shutdown was untenable, the people and government of Vietnam took a different tack. In addition to refusing visas to tourists for the foreseeable future, Vietnam shut down domestic travel and closed non-essential services such as massage parlors, karaoke rooms, bars, dine-in restaurants, beauty salons and shopping malls. Restaurants were open for take-out and delivery and, of course, supermarkets remained open. Public spaces, including the beautiful beach I live next to, were shut down. Masks were required in public and gatherings larger than 10 were discouraged, and even then with a two-meter distance between.  
And it worked. Unlike the U.S., everyone complied with the guidelines and our first lockdown was only three weeks long. After a few weeks of no community transfer, everything opened back up.  While the world was falling apart, we were able to eat at our favorite seafood restaurant, celebrate a birthday at a karaoke parlor, get a haircut and a manicure and swim in the ocean. As the deaths in the U.S. rose past 200,000 and the infection rate reached one million, we were able to forget there was even a virus to worry about. 
People in Vietnam did not protest because there is no system for protesting. The government makes the edict with no input from the populace. There is no town hall meeting; there is no petition to sign; there are no representatives to call. As an American, this type of authoritarian government grates against my trained sense of freedom and recourse for redress of wrongs. However, during a pandemic, the authoritarian government handled the pandemic beautifully. 
It Was Safer to Stay in Vietnam Than Return to the U.S.
It was more than a government order, though. The Vietnamese people I spoke to took the virus 100 percent seriously from day one. It may be that they had some experience with similar viral outbreaks (SARS in 2002 and Avian flu in 2013). There is a genuine understanding that social distancing, closing businesses and wearing masks work to help the spread of disease. There is genuine buy-in for the process. It also may be that the communist history of Vietnam created a different culture. In contrast to American individualism, Vietnamese culture emphasizes community. There is an understanding that everyone needs to do their part to ensure the health of those around them. 
As the virus raged on, my friends continued to ask me when I was returning to the United States. It was hard to explain that I was far safer here than I would be there. It seemed ridiculous to return from a country that was COVID-free to a country that could not agree that there was even a pandemic. 
A second wave hit Vietnam in July 2020 and it recorded its first death. (As of May 2021, there have been just 35 COVID-related deaths.) The second lockdown was more strict in Da Nang, as the outbreak originated here. We were given tickets for the market to avoid crowding and all restaurants, including take-out and delivery, were closed. It was much more emotional as well, as I watched the social upheaval and wished that I could participate in the many peaceful Black Lives Matter protests.  
We were in lockdown for a total of six weeks. Six weeks of my own cooking and my own company, listening to podcasts and stress drawing. Even so, I would gladly trade six weeks of complete lockdown for months of complete freedom than the continual half lockdown the United States went through for a year.
International Travel May Never Be the Same
By the fall of 2020, life began again in Vietnam and everything reopened. Vietnam is a microcosm of life after the pandemic. I know when COVID cases pop up somewhere in the country not from the news, but by the sudden wearing of masks in public. People resume their life as before, but are cautious and ever ready to shut it down if necessary. 
At the beginning of 2021, I felt safe enough to travel around the country. I took a week-long motorbike ride along the Ha Giang loop in the north, visited some friends in Ho Chi Minh City, and took a retreat in quiet Da Lat. 
With the new administration and the efficient roll-out of the vaccine, it seems that I could safely return to the States this summer. However, with the increase in anti-Asian violence, staying in Vietnam still seems like the safer bet. 
Looking back, I envy that woman who boarded that plane in September 2019. She lived in a world full of possibilities and with so few restrictions. As an American, the only barrier to any destination was a lack of time or money. It seems now that international travel will never be the same. Even with the talk of vaccine passports, there will still be many countries that will be off-limits, require testing and quarantines, and have limited activities available. There is no going back.