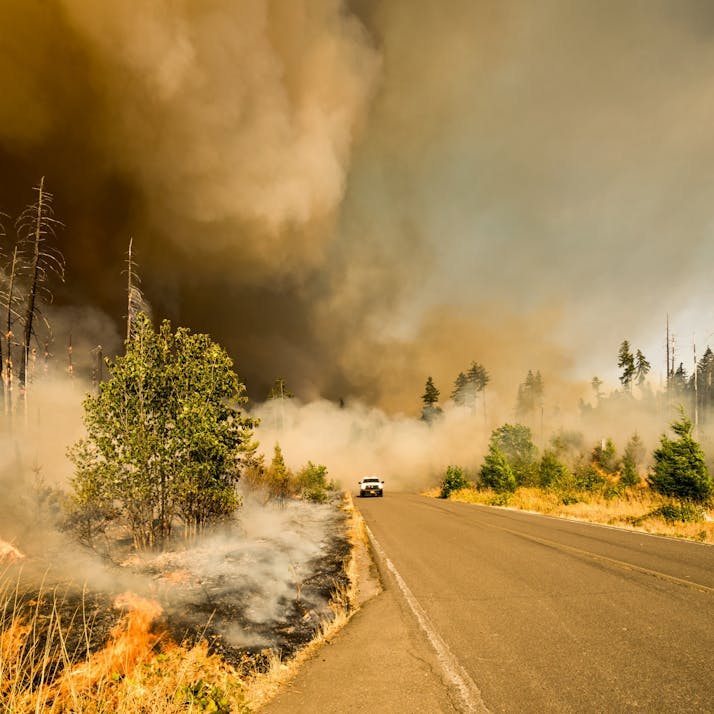 I'm a Firefighter in Australia and Climate Change Is Killing Us
A member of the Rural Fire Service explains how fires caused by climate change are ravaging his homeland.
/ / /
I've been in the Rural Fire Service since I was 16. My father was always a great inspiration; I always wanted to join because of Dad.
It's the Aussie thing. We do things for our community. That's what we do. We're very proud of our trucks, and we're very proud of our station.
I was born in Batlow, Australia in 2001. Ever since I was a kid, we've owned a truffle farm in regional New South Wales. Just a normal country kid out here, doing all the fun stuff. We were Australia's highest producing per acre truffle farm, one of the highest quality producers on the planet. It's a family business that was set up 20 years ago. It takes about 16 years for the trees to start producing. So it's a long haul.
We lost all of that to the fires. We lost a lot of our farm. We lost our sheds. We lost everything. We still have the house, so we're lucky. We've managed to find a few different trees that haven't burnt fully and we're waiting for winter to see whether it'll last or not.
We will rebuild. None of us live off the farm. My father is the principal of a school and I work at a mill as an electrician. Since I work in the timber industry I can't see my job being there in five years.
For Those Fighting the Fires, the Signs Are Obvious
Over the years, I've been in lots of big fires. I went up and fought in North Australia when they were having their fires. I think I had a week's rest. I got home from their fires, came home and we had our big one on our doorstep. Nothing like it. We have people in RFS who have been in it for 60-or-70-something years and they said they've never seen anything like it.
Our truck got caught in a few firestorms. I was in our CAT-1—with my father and our good friend, Roger—which is the biggest tanker you can get. It carries 3,500 liters. It's an absolute rig of a machine, full draw. It goes anywhere. We were on that and we got caught in some quite heavy grass fires. We get caught in a big storm, it basically became a sand storm that swallowed our truck two or three times. Our truck melted. I was on the back of it fighting it. It was pretty rough.
The Australian Government Denies Global Warming
We're very happy with what the government has given us—not the current government. The preceding government gave us brand new tankers in our brigade, and we're not a very big town. We're only a town of 1,500, if I'm not mistaken, but we have one of the quickest responding Rural Forest Services in this region and we have one the strongest RFSs in this region.
Our current government is completely ignoring climate change. It's a joke. It's an absolute joke. It's very sad. The American government makes ours look like a walk in the park actually.
I can tell you now it's because we're not preparing for it. Climate is changing. It's climate change. We're dealing with hotter summers and colder winters. The frost draws moisture out of the ground—the colder winters we're getting, the harder it is on the ground. So it's dead during the summer months. Forestry has been an absolute joke. Our forestry industry around here, they just don't maintain anything anymore because it's all been privatized. If forestry was better maintained, we wouldn't have lost so much ground.
The old buggers aren't gonna listen about climate change, no matter what. You'll always have your old guard and your naysayers, but I can see it. I can see it in the last ten years. It's been a radical change, yeah. So, if somebody who is only 18 going on 19 can see that, someone who's nearly 40 should definitely be able to see that. I think a lot of them are starting to change their minds after all of this. It's been bad, it's been terrible, but it's definitely opened a few people's eyes: a silver lining.
We're definitely looking at having to do it year after year. That's our biggest issue at the current time. It's not getting better. Even here at the current time it's still pretty bad. Everything can burn again.
There's no solution, sadly. People aren't going to give up their cars and factories and the way we live. We will destroy ourselves, sadly. Not until it's terribly bad are people going to do anything. It's getting there. Now with the fires: I've spent a month fighting them this year and I don't see any good come out of it because Australia then flooded. It's one problem then the next at the current time. It's not fair.