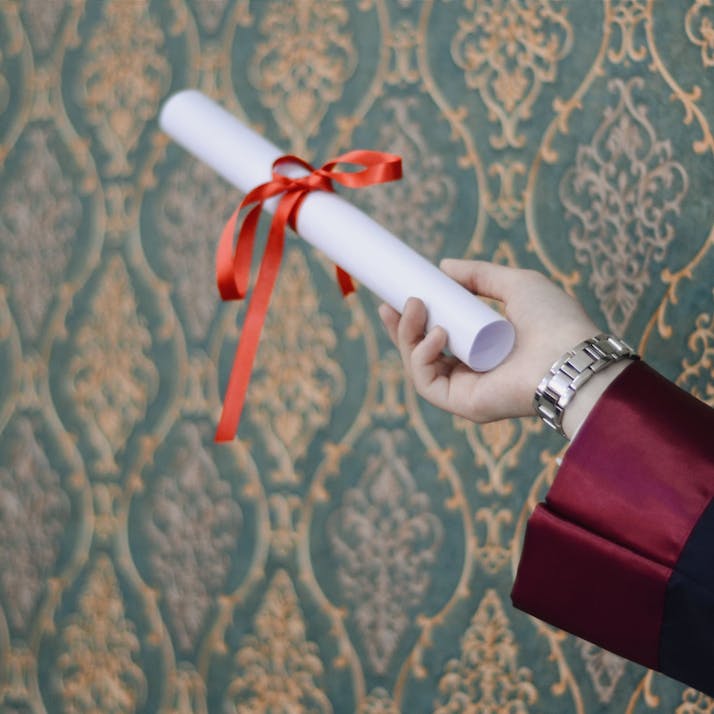 My Aunts and Uncles Gave Me Their Savings for My Education
When the pandemic affected her ability to study abroad, relatives invested in the author's dream.
/ / /
Acquiring a master's degree was my big dream—and a big shot in life. It was something I knew I wanted to do since graduating with a bachelor's. And I was all set to achieve it and have a great future.
Then the pandemic happened. 
I'm from a strange corner of the world. The South of Brazil is not the tropical paradise most people associate with the rest of the country. It is cold in the winter and lacks the paradisiac beaches. But it shares the same diversity as the rest of the country, especially among its people. My family members are descendants of immigrants. Spanish, Italian, German, Japanese, Uruguayan—somehow, centuries of population movement converges inside the same familiar group. We're a big family. I have around 30 close relatives between uncles, aunts and cousins. To grow up in this context is quite peculiar. Everything was a mixture—the languages, the foods, the beliefs. But under the same Brazilian identity, all of us find common ground. 
We were also united by my grandmother, the matriarch with Italian origins, who had the ability to congregate as many people together as she could. She had nine children and raised them by herself when my grandfather suddenly passed away in the 1970s. At the time, her youngest was only four. She had a few core values that she was very strict about: charity is a priority; well-being comes from good (Italian) food; and education is the most valuable resource in the world. She worked hard, without ever stopping to help others in need, and made my mother, my uncles and my aunts graduate from university. She could even see the next generation graduating from higher levels, but passed away right before my bachelor's graduation ceremony in 2017.
That's why my master's degree was such an important thing. My academic career brings joy and a sense of accomplishment to the family. Not only because of the honor, but because I'm studying ways to improve journalism in Latin America. That reached another level when I was approved for a degree abroad. It was all set—the documents, the money, the luggage. And I did it. I left the family behind to follow new paths and learn more. 
The Pandemic Impacted My Family's Way of Life
The world quickly changed. As I was finishing my first year in Denmark, the pandemic spread across the globe. Suddenly, I found myself on a plane going back to Brazil. The courses migrated online, and I didn't have the money to stay in Europe. I didn't even feel like it was happening. It was outside of my control. "I'll make it work," I kept telling myself. 
Not long after, my father's company closed and our financial situation changed. From March to July, we had some difficult moments struggling to pay all the bills. My father, the sweetest German guy you'll ever meet, was broken. I didn't see him smile for months. My mother, who also worked with him, started to behave in survival mode, learning what she could to build a new business. Even though I had a partial scholarship, my parents were the main sponsors of my degree. As the semester continued, I didn't know if I would be able to finish the program at all. 
With Brazil facing a major recession, my entire family was affected. I never considered asking for help; it wasn't the right time. And, on top of that, I couldn't see all my relatives. Being back home was like being in limbo—I had to stay inside of my household, with my parents, focusing on what we could do to sustain ourselves without seeing anyone else.
I Was Overwhelmed by My Family's Generosity
Then my eight aunts and uncles did something amazing. They got together (virtually) and showed their kindness by pulling out their savings and investing in my education. It's what vó (grandma, in Portuguese) taught us: "Help the ones in need first, especially with education—and I know you'll buy some pasta, too," one of my aunts told me. She called me on a Friday afternoon to tell me that. I was crying over the phone. My mind shut down. I remember not being able to think, to rationalize. It was an overwhelming feeling. On that specific day, I had a headache crisis. I'd started to work remotely for a media company that week. Suddenly, I was the only employed member of my household. I knew it would be a challenge to balance that and a thesis, but it's what I needed to do. 
For a long time in my life, I didn't see my family with the value that they have. We are all different, we all disagree. But we will never abandon each other. We never chose to be born into this context, but we choose every day to remain in it. The kindness in their acts goes way beyond the money they lent me. They provided a young, dreamy journalist with hope and security. I'm currently back in the program and living in Europe. And I'm focusing all my energy on repaying them the best way I can: being a better journalist, helping to improve democracy in my country and telling stories that matter. Like my own.