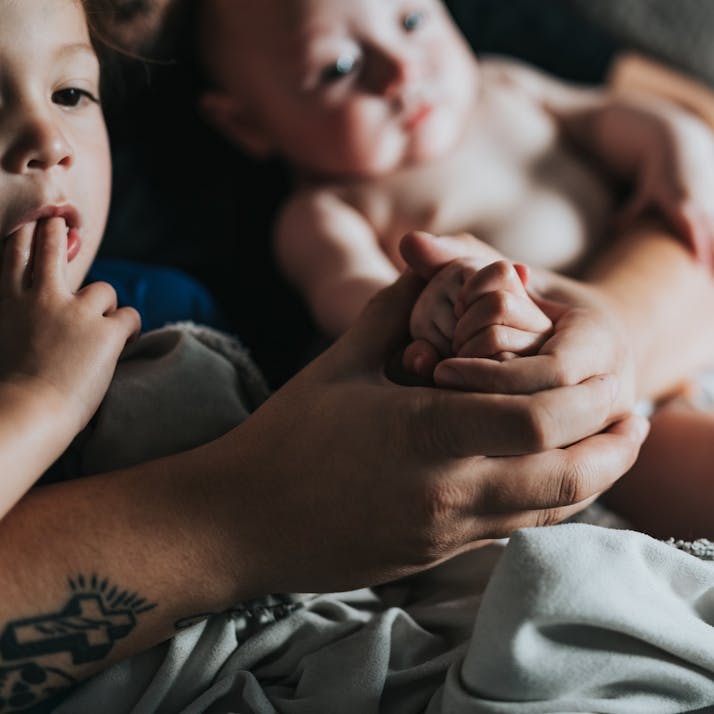 I Was Adopted: My Parents and the Significance of Selflessness
A man describes how his adoptive parents saved his life and the lives of his brothers and sister.
/ / /
I was six or seven years old when I first learned that I was adopted. My siblings and I were playing in our family's suburban backyard, equipped with a swimming pool and a clubhouse, while my mother and father gathered palm fronds and threw them in a garbage bin. When they were finished, my dad took off his gloves and corralled my two brothers, my sister and me over to a spot by the lake. As I sat crisscrossed and picked at blades of grass, my parents informed us that while they did not bring us into the world, they were our "real" parents in every other sense of the word. 
Then they offered to answer our questions, and that's how we learned that we had three other half-siblings, and all sharing the same biological mother. I'll call her Jane. Jane was unfit to take care of us, for reasons I wasn't yet ready to understand, but my mom had assured me that one day I'd be able to meet her and find out for myself.  
Our Unique Family, and How It Came to Be
Before we moved to the suburbs, my parents owned and operated a jewelry business together in the city. My mom and dad had been married for six months when they applied through the Department of Health and Rehabilitative Services to become foster parents. Shortly thereafter, they were in a meeting at their bank when HRS called to deliver news that there was a healthy baby girl in need of a foster home. Two weeks later, my parents picked up my five-month-old sister, Rita. 
My birth mom had attempted to take on the onus of parenting my older sister by herself, just as she had twice before, until the state eventually terminated her parental rights. This time didn't prove to be any different. When Rita was 12 weeks old, Jane called the police sounding agitated and incoherent. When a squad car finally pulled up, Jane ran out into the street and set my sister on the hood. She told the police and an HRS protective investigator that she was at her "wit's end" because my sister wouldn't stop crying. Once again, Jane relinquished her child to the care of the state. 
My parents loved Rita. They'd bring her to work with them, keeping her in the back office of the jewelry shop and taking turns caring for her while the other worked up front. Photo albums and home videos from that time reflect the happiness and love that my parents poured into this new life. They nurtured Rita in the ways that my birth mom couldn't. 
My mom stayed in touch with Jane's brother John. Uncle John lived just a few hundred miles away, and would often drive up to see us, bearing gifts and bizarre stories. He'd spent his early 20s investigating some of the first American UFO sightings, and recounted his excursions to anyone who would listen. We all loved Uncle John, and his presence in our lives reinforced the common link between the siblings. 
One day, a couple of months after Rita's first birthday, Uncle John phoned my parents' townhouse in the city. My mom answered. "Jane had another baby," my uncle reported. "It's a boy."
Our Birth Mother Wanted to Take Care of Us, but She Couldn't
I was 13 years old when I first heard Julian's story. At this point, I'd spoken to my birth mom over the phone a handful of times, mostly on holidays. Our conversations could at best be described as whimsical, but the truth was she was mostly erratic and difficult to keep up with. My mom, who worked as a psychiatric nurse practitioner, explained to my siblings and me that Jane had schizophrenia. My dad never tried to conceal his disdain for her. When she'd call the house, he would intentionally let the phone ring until it went to voicemail. 
We were in the family minivan one afternoon when tensions had begun heating up, as they often did. My dad was angry that my younger brother Tommy and I had been skipping out on Sunday school. At the time, my dad was being sued by a former business partner who was trying to steal the company, and it was wearing on him. After I retaliated by confronting him about forwarding Jane's calls, he finally collapsed under the weight of it all. 
"You don't know what the fuck you're talking about," he yelled. My dad is six feet, four inches tall, and a powerhouse of a man. When he raised his sonorous baritone to a shout, it was terrifying. Then, in a slightly softer voice, he said, "She almost killed your brother Julian."
By the time Jane gave birth to Julian, there were numerous hospital records expounding on her mental illness, and the hospital staff was instructed not to leave her alone with the baby. But through cunning, Jane managed to exit the hospital with Julian in her arms. At the height of winter, she got on a plane with my one-week-old brother and flew across the country, living as a  vagabond and sleeping on sidewalks. She kept this up for weeks until she finally capitulated and called my Uncle John to bail her out. He pleaded with her to come back and grant parental custody of Julian to my parents. 
When Jane handed off my brother at the airport, she told them that he had a cold. His diaper was many sizes too large and desperately needed to be changed.
Julian Almost Died, but Our Birth Mother's Illness Affected All of Us
The next morning, as my parents got ready to take Julian to the doctor, he stopped breathing. My dad was on the phone with an emergency dispatcher as my mom performed CPR on my newborn brother. My mom went with him as he was airlifted in a helicopter to the hospital. 
At five weeks old, Julian weighed less than his birth weight. He'd contracted pneumonia while in my birth mom's care, and spent a week in the intensive care unit as my parents waited for him to recover. 
"One more day and he would've been dead," my dad said in a broken voice. He was behind the steering wheel, sobbing now as he finished telling Tommy and me about how our brother had narrowly escaped death. I felt a lump rise to my throat, and I couldn't speak. I'd never been so angry in my entire life, sitting there reliving my father's trauma, trying to picture my life without Julian. 
As the years went on, I began dissecting my own feelings of rejection and guilt. There were countless instances in which my mom came home from a 13-hour workday to hysteria and chaos. Many objects were broken or completely destroyed from us fighting, playing or a combination of the two. It was becoming more and more apparent to my mom that while all of us were healthy, intelligent children, none of us had passed through Jane unscathed.
My Parents' Selflessness Saved Our Lives
When my sister Rita got addicted to drugs and started stealing money out of my mom's purse, my mom didn't give up on her. She did everything she could for Rita, paying for multiple stints in rehab until Rita finally got clean. When Tommy got kicked out of school, my dad added 40 minutes to his morning commute, without protest, in order to take my younger brother to school the next district over. 
But my parents didn't just deal with our bad days. They were right there for the good ones, too. When Julian displayed an affinity for acting, my mom and dad were in the audience when he performed as the lead in our high school play. I've lost count of the number of times I've looked up to find my parents settling into the crowd at one of my gigs. 
My parents chose us and accepted us, and never gave up on us. They kept my siblings and me together, and a collective sense of camaraderie has flourished among the four of us. We all share a bond that will forever unify us, distinguish us and strengthen us. 
The continual selflessness and support from my parents encouraged me from an early age to begin cultivating a sense of gratitude. It continues to inspire me to act selflessly. And while I occasionally contend with feelings of guilt and imposter syndrome, I never lose sight of how grateful I am to be here, every single day.