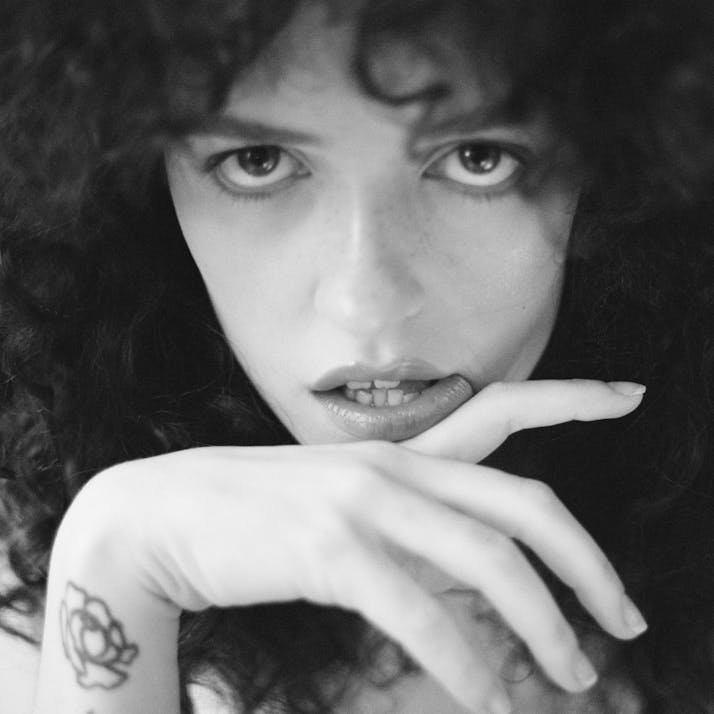 Addiction Made Me a Sacred Monster
Heroin almost killed me, but it also made me stronger.
/ / /
I am a sacred monster.
My friends Andy, Laverne and Shelly were talking after a meeting one time. "She asked me to sponsor her, but I don't know. I'm kinda afraid," said Laverne, a recovering coke addict. "She's getting off heroin."
"It's all the same," said Shelly. "An addict is an addict is an addict, regardless of their drug of choice." This is of course not true, but I would never say so. Because it both is, and it isn't.
"I disagree," Andy said. "I need a heroin addict to sponsor me. The bottoms are much harsher." I am of course Andy's sponsor, but that is nobody's business but ours.
We are both sacred monsters.
Heroin Made Me Who I Am
There was a time where, when I came back to New York, I would have people coming up to me on the street to tell me, "Oh my God, I thought you were dead." And you know, I have been dead before. But I'm not now. 
I have so many gruesome horror stories I could weave through this essay about spending my 20s shooting heroin in NYC. Maybe I'll subject you to some. Or then again maybe I won't. Maybe it's a little less charming without the movie soundtrack. It's a part of my history. I was also a Girl Scout. 
I was on the first date with my husband, at a Santa Monica lunch joint almost eight years ago. We were sharing a Greek salad when I told him, "You know, I need to get this out of the way. I was a junkie for most of my 20s."
It's the ultimate elimination tactic. Can you handle that? Wait for it. 
"Oh, wow that's interesting," he finally replied. "What a strong person you must be to have overcome something like that." 
And I am, bless him. My slightly more conservative, double-Harvard-degree now-husband has zero concept of what being a junkie means. I think he may have been distracted by the fact that I'm also really hot. Did he know, looking at me then, that he was in for a life of purple stories and premium blow jobs? This innocence he has is partly why I married him, and why I love him so much still. I have enough knowledge for the both of us. I don't need or want him to understand what heroin addiction looks like. Ever.
I still don't tell most people that part of my history. That I'm an addict—or more specifically, that I was a heroin addict—will always be present, despite the fact I have not touched any drugs or alcohol for 12 years. It's complicated to explain to people, not that most are interested. Addiction is a mental illness that, if you have it, you're regularly told is your fault. Every time you say it, you take the risk of inviting a myriad of fucked-up, insensitive comments. 
Most people will never understand it, unless they absolutely have to learn: the moment when we see it firsthand, intimately. Even then, people don't get it. When someone's significant other cannot stop using drugs—regardless of how educated or sensitive the aggrieved party might be in all other areas in their life—they always believe that if their addict "loved me enough" they'd simply stop. Police departments complain about giving naltrexone shots repeatedly to overdosing addicts who "never learn." I have been told myself, many times, that I deserve to die. "You have a beautiful smile," a nurse said to me in the hospital after a nearly fatal overdose. "What a waste." 
I pulled out my IV and walked out the door. "Tell me something I don't know, bitch."
I Would Jump Out of a Window to Get High—and I Did
Addiction, to me, is the inability to stop a destructive behavior regardless of the consequences. And if you're a heroin addict then those consequences can be severe. It has nothing to do with cognitive function; knowing that something is killing you unfortunately doesn't do shit. Being active in heroin addiction reminds me of a time I saw a squirrel trapped in a cage, the level of frantic desperation it had made me physically sick. Imagine being so consumed with obsession and compulsion that nothing else in your life, regardless of how important it is, gets a chance to matter for more than an instant. Imagine that going on for years. 
Imagine being so consumed with hunger and so wild from withdrawal that when your boyfriend locks you in an apartment to stop you from using, you jump off a three-story fire escape like fucking Spider-Man, then run off barefoot into the snow to score. Essentially, imagine being a werewolf. A werewolf with a moral failing. A werewolf that could stop being a werewolf if they only wanted to. I personally don't know anyone who ever just stopped being a werewolf. 
Maybe you can imagine. Or maybe you already know. If you do, then you also know that if you need help to stop being a werewolf, the foundation for almost all treatment is a Christian-based spiritual program that came out of the Oxford group in the 1930s. It's either 12 Step, Jesus or a Suboxone prescription, and there aren't a lot of other choices, baby. A psychiatrist once told me that only ten percent of IV heroin addicts survive. That was in 2003. I'd like to think that now, decades deep into America's opioid crisis, kids like me who are around today would have more options and support, but, honestly, from what I've seen, they don't. There's a whole rehab industry that has sprung up, but after that 28 days—or 60, or 90—the suggestion is always to go to 12 Step. 
Kids like me do have people like me: the ten percent, the sacred monsters. It can be enough, if you want it. The 12 Steps saved my life; I am passionate about it. But I usually save my feelings about it for other addicts, the same as my horror stories. If someone I encounter needs to hear how I stared down fire, that addict can call me every day and I will drive an hour to pick their ass up and take them to a meeting, listen, buy them lunch. There's something we know deeply, innately, in each other—that wound. We also know how closely death hovers. 
But does my Beverly Hills doctor need to know? Will it affect my care as a patient? My sister, a nurse, stepped in once when another nurse giving an ultrasound to a pregnant patient with "recovering IV heroin addict" in her chart asked if she was "terrified her baby would end up like her?" When every single phlebotomist struggles to get a blood sample on the second or third try—do I say why? Do I tell my in-laws? My adult stepchildren? My colleagues and classmates in graduate school? Someone who offers me wine at a dinner party after I've already declined six times? Who deserves to know this about me?
There is a lot of vulnerability when I say I'm an addict. For me, it feels like it's making public that "wound," the trauma that I experienced getting to—as Andy put it—my harsh bottom. The rapes, the assaults, the degrading sex work fueled by my frantic need for more. The deliberate overdoses. Being told by medical professionals that I wasn't worth helping. Being rejected by family and friends. Multiple hospitalizations, three treatment centers, total insanity.
It was years and years of carnage.
Addiction Is an Experience That Never Leaves You
I lost my mind deep in heroin addiction. I could not stop. When I walked past a mirror in a treatment center toward the end, I didn't physically recognize myself—I thought I'd walked past a window with a strange girl on the other side. My arms were like hamburger meat, and my body so malnourished and emaciated that sitting in a folding chair left a horizontal purple bruise from the weight of my own thighs. 
And the shame, the shame. 
When I vocalize that I am an addict, and even more that I'm a heroin addict, all that history comes back into existence. No one can see my mental illness or my wound when they look at me. Addicts are so good at hiding it. The most dangerous thing an addict can do is hide so well that they forget it themselves. 
People don't see me like that today. Not through 12 years of distance, multiple college degrees, the way that I carry myself, my beautiful family, my five-carat diamond and all the work I've done learning to survive living in this body with this brain on this planet. My kaleidoscopic identity falls into new colors and forms continuously, the same as all of us. I was a junkie. Now I am other things too. It's not something you can un-know about someone, and so I usually keep it private. You take a chance; I'm not always that generous. It has taken me all of these past 12 years to accept that I am the way I am, to believe that it's not all my fault, that I have a mental illness. 
Heroin addiction isn't an experience I'd wish on anyone. It drags you all the way to the bottom of human suffering, and for nine out of ten addicts, that's where it ends: family and friends heartbroken and exhausted sitting at a wake, wishing they could have helped, powerless, having seen a vibrant, loving being fade to primer gray. In these last decades, it's become a commonplace American tragedy, a statistic. 
But if you're like me, and for some unfathomable reason you're the one to come out the other side, you will be a new person. You will have died and have come back from the dead will spend the rest of your life shedding skins of your former bullshit self until very little remains that weren't there in early childhood. You will have to make sense of the why; you will search to find god. And having done nothing particularly deserving to receive this pardon, you must change and find meaning. You must help others when they ask. And when you look in the mirror, you will carry all of this with you, from here till the end, because now you are a sacred monster.