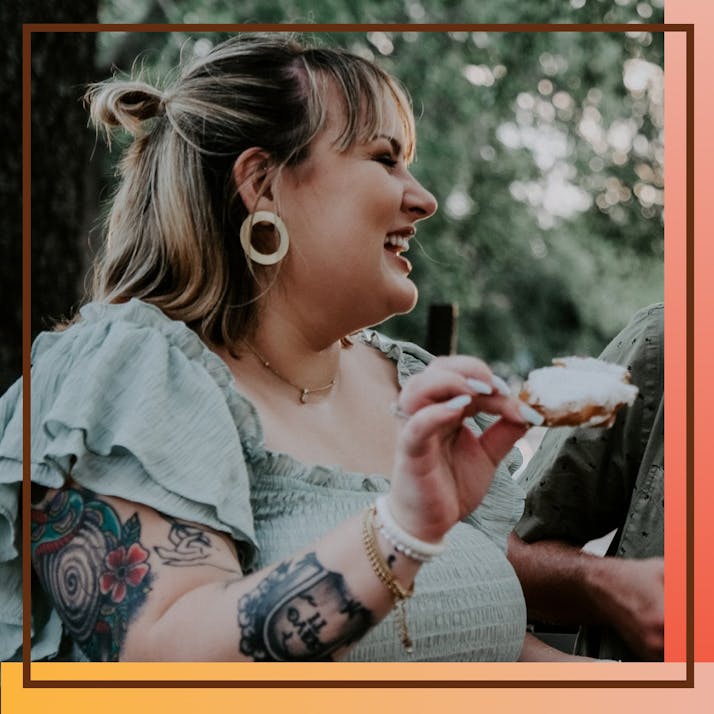 Accepting My Fat Body Helped Me Pursue a Food Career
I'd experienced the effects of fatphobia throughout my life, but I didn't let that deter me from my passion. 
/ / /
For as long as I can remember, I was the chubby child, always trying to lose weight. When I turned 8, my parents actively encouraged me to diet. They constantly made comments about my body. They also insulted their friends who were bigger—they called them lazy and commented about how much dessert they'd eaten at dinner. Seeing extended family was much the same. "Oh, you've gained weight!" they'd say, calling us names meant to be endearing in our language that really meant "cute fatty." I clocked all of this messaging, and I knew that the thing I wanted to be the least was fat.   
The catch was that our family loved to eat. We were all passionate about food and cooking. We could spend hours discussing recipes and meals we liked, down to fine details about ingredients and spices. But if we ate too much, there were always sentiments of guilt and self-hate. My father would often pinch his belly between his fingers with disgust. I developed a binge-eating habit where I would hide and binge on chocolates, cookies, ice cream, whatever I found. I'd always save up the little pocket money I had to buy more chocolates and hide them in my room, eating them when I was alone. After a few particularly big binges, I'd try throwing up. I never managed to make it work though—my body wouldn't comply. This didn't stop me from trying, but the fact that I never actually threw up gave me a false sense of security that I didn't have an eating disorder. Plus, I was the fat brown girl. Only skinny white girls had eating disorders. 
My Complicated Relationship With Food Limited My Career Aspirations
After college, I worked in the nonprofit industry. But its hectic activist environment made me feel burnt out and always anxious, and I started having depression. Cooking became a source of joy in my life, and it became my escape from the tough work culture I'd thrown myself into. My weight fluctuated, but it usually went up more every time I gained it. Sometimes, I'd daydream about pursuing a food career, but I never let my mind wander too far. "You can't be fat and admit to loving food," I thought, or at least, I was made to think. 
After a few more years of working hectic jobs, I experienced an even deeper burnout and depression, leaving me unemployed for three years. I searched for jobs but never got anywhere. My self-esteem plummeted with each rejection. I ended up setting up a stall at food markets, making all sorts of baked goods, hot meals and iced teas to try to make some money. I was financially dependent on my husband, and my desperation for wanting to help out made me put all concerns about working with food aside. 
Even though it was really hard work for little pay, I always enjoyed talking to customers and other vendors about food—their stories, their memories and their recipes. I'd always write about these conversations in my journal, finding pleasure in reliving them and storing new cooking tips. I discovered community through these conversations, and I realized that my food passion actually made me good at something. When it came to food, I knew my stuff.
The food career daydreams started to come back. Still, I'd started to come to terms with the fact that I had some complicated issues around it. My therapist never used the term eating disorder, but she made me aware of my relationship with food. This became my self-imposed obstacle for not pursuing a culinary career. There was no way I could think and write about food all day, consuming food media, without making my "issue" worse. Plus, I would just gain more weight.
Therapy Helped Me Admit My Eating Disorder
Around this time, I learned about a term I'd never known about: fatphobia. When I first heard about it, I felt some resistance. My whole life, my family wanted me to lose weight for my "health." Wasn't it unhealthy to be fat? They were just caring about me, I thought. I started reading more and educating myself about it. I couldn't believe some of what I'd read, about the flaws behind the scientific research on body weight and BMI. I'd also started to read about how society was anti-fat and how fat people experienced all kinds of discrimination by doctors, the media and family and friends. All of it was familiar from experience, but I'd found it more difficult to swallow seeing it happen to someone else. It made me reevaluate everything. 
The breakthrough didn't happen all at once. It took months to digest this whole different mindset, finding resources on intuitive eating and the negative effects of dieting. Thanks to help from a psychologist, I eventually admitted I had an eating disorder. I also wrote my first journalistic article about food and it was really well-received. I had so much fun writing it. For the people who knew and loved me, it just made sense. I continued writing and interviewing more people. I discovered that I loved the story behind food more than actually cooking it, and that food journalism was a legitimate career. 
While practicing intuitive eating, I actually gained more weight. But this time, I understood I was healing and no longer had a scarcity mindset. I wasn't binging anymore, enjoying all sorts of food without feeling heightened anxiety around the amount I was eating or when and how I would burn it off. I was simply eating. I even found more pleasure in eating vegetables and salads. Letting go of the notions of "good foods" and "bad foods" helped me to find true joy in all the food I had eaten in my dieting attempts. My mental health was in a good place for the first time in years. I was visiting all sorts of cafes and restaurants, trying different foods to write about them, their makers and their histories. I was a fat food journalist, and it's exactly what I was meant to be. 
I'm Not Giving up on My Career, Despite the Challenges I Still Face
Over the years, I've become more aware of how fatphobia plays out in the culinary industry. Have you ever noticed that you don't see fat people eat at restaurants? It was gendered, racialized and classed, of course. Other than the treatment you can get from staff and other diners, in many places, seats just couldn't accommodate a fat body. Sometimes, I could barely squeeze myself into them. And there were times I had to ask for a different chair, which wasn't always available. 
This whole interaction made me feel uncomfortable and unwelcomed. And even though I had done so much mental work about being fat positive, I'd feel ashamed. However, it helped me not to give up on my career. I wanted to be unapologetically fat and a gourmand. There is a lot that needs to change in this industry—from racism, sexism, ableism, homophobia, abuse and much, much more. As for me, I'm going to continue taking up as much space—physically and metaphorically—as I need to.